Elisabete Caseiro is the creator of this Amazing Sport Cake for Peace which is part of the Sport Cakes for Peace Cake Collaboration.
Sport Cakes for Peace is a cake collaboration created by Elisabete Caseiro from BetySugarland – Cake Design by Elisabete Caseiro to celebrate the International Day of Sport for Development and Peace, April 6th, 2017. This collaboration features a wide range of edible sports masterpieces created by 50 cake decorators and sugar artists from 22 different countries.
The International Day of Sport for Development and Peace – April 6 – is a UN proclaimed celebration of the power of sport to drive social change, community development and to foster peace and understanding. This date also marks the opening of the first modern Olympic Games in Athens in 1896.
This Splendid Basebass Cake was made by Lusie Lioe from Dixie Delightdd.
Here is Lusie's description of this Amazing piece: I choose baseball as my theme because my son is a baseball player and he has many records for the game. It took so much time and effort to following him from one competition to another that's why I love this game so much so I dedicate this piece of sugar art to honour all the Olympic game and players around the world. I used fondant to make all the characters and all by hand made.
This Splendid Cyclism Cake was made by Angela Barry of A&M cake designs.
Here's Angela's description of this Amazing piece: Freedom Run. This is an abstract interpretation of the runners who self-propel their dreams. The base is fondant where a masking technique was applied for the rainbow tire mark effect. The abstract forms are made of pastillage with airbrushed color accents. The cyclists bodies are made of modeling chocolate and the bicycle wheels where made with pastillage and royal icing.
This Superb Figure Skating Cake was made by Aurelia Czarnecka of Aurelia's Cake.
Here's Aurelia's description of this Amazing piece: For Sport Cakes for Peace Collaboration I have chosen one of the winter sport I like the most – figure skating. Skating is particularly close to my heart as brings memories from my childhood, every year during the winter time there was an ice rink set up next to my house, every day children were gathering there and skating until late evening. I always felt joy, peace and freedom when I was skating. Love to coming back to those memories. In my cake I tried to combine the beauty of figure skating and winter season. My bottom marble effect tier with silver and white crystals represents ice rink, middle tier represents figure skater in motion, white flower on top of the cake stand for innocence, peace and freedom.
This Superb Disc Throw Cake was made by Ickie Mag Gie.
I really like the way this piece reminds me of an ancient Greek statue.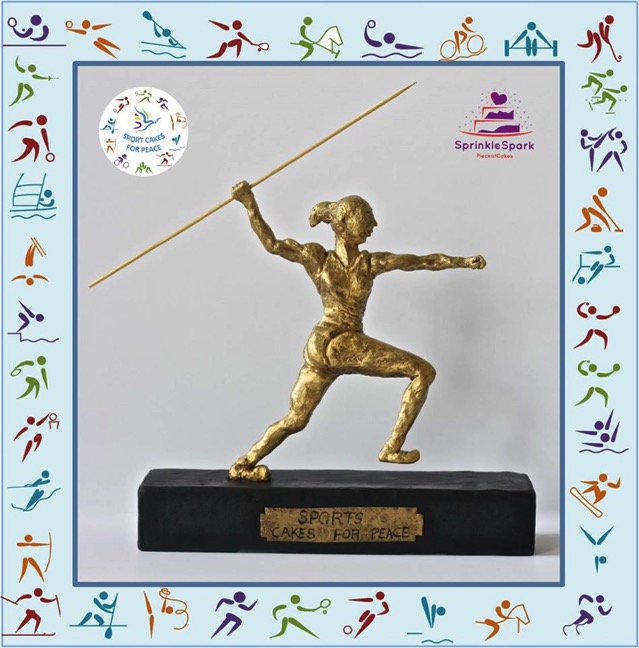 This Superb Javelin Throw cake was made by Sandhya Kiran of Sprinkle Spark.
Here's Sandhya's description of this Amazing piece: I picked Javelin Throw for my piece because I personally have very less exposure to sports and took my husband's recommended sport. I chosed to make a trophy to show the victory of this collaboration.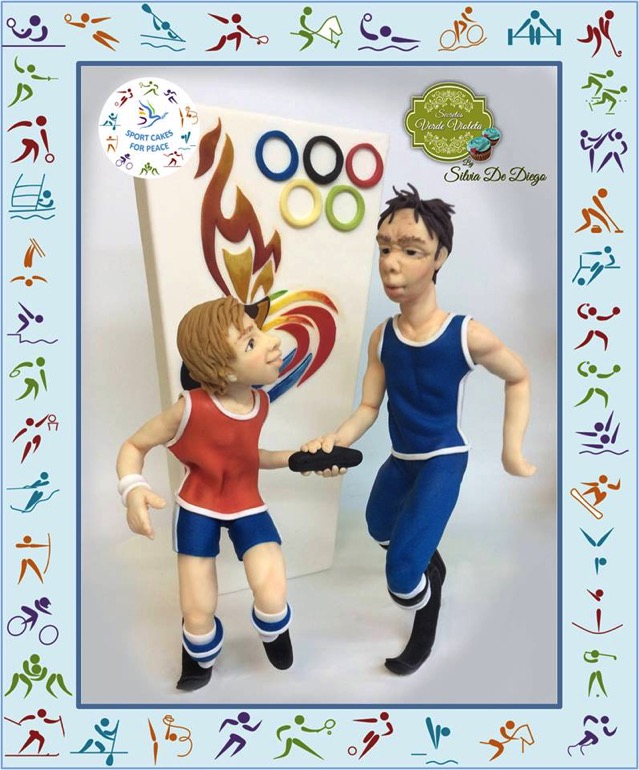 This Splendid Paralympics Athletics Cake was made by Silvia de Diego of Secretos Verdo Voleta.
Here's Silvia's description of this Amazing piece: On social issues of great importance. I have chosen to represent a Paralympic sport, a special example of overcoming our own limitations and how we must transmit this force to future generations, because while there is life, there is hope, from love and trust.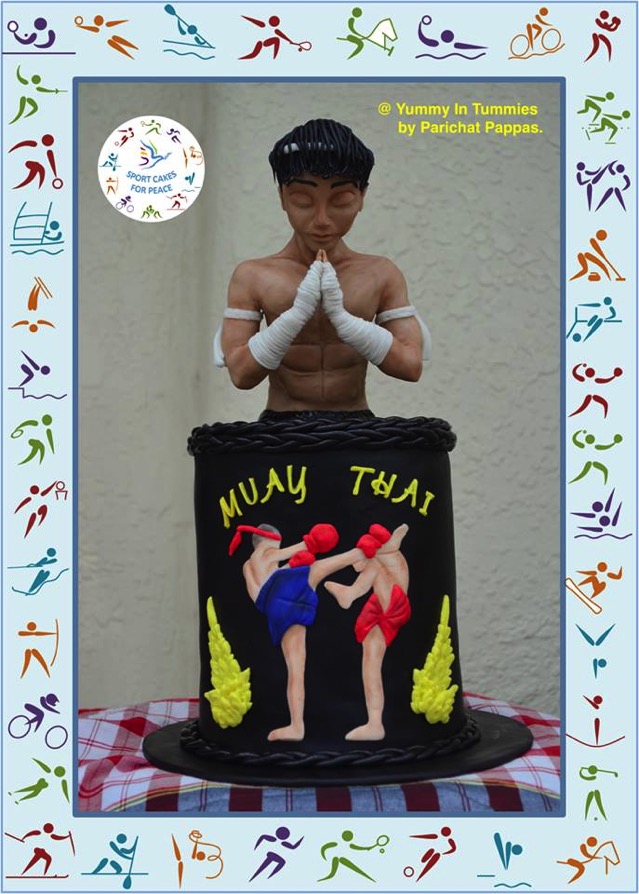 This Superb Muay Thai cake was made by Parichat Pappas of Yummy In Tummies.
Here's Parichat's description of this Marvelous piece: Muay Thai is a combat sport of Thailand that uses stand-up striking along with various clinching techniques. This physical and mental discipline which includes combat on shins is known as "the art of eight limbs" because it is characterized by the combined use of fists, elbows, knees, shins, being associated with a good physical preparation that makes a full-contact fighter very efficient. Muay Thai became widespread internationally in the twentieth century, when practitioners defeated notable practitioners of other martial arts. The professional league is governed by The Professional Boxing Association of Thailand (P.A.T) sanctioned by The Sport Authority of Thailand (S.A.T.), and World Muaythai Federation (WMF) overseas.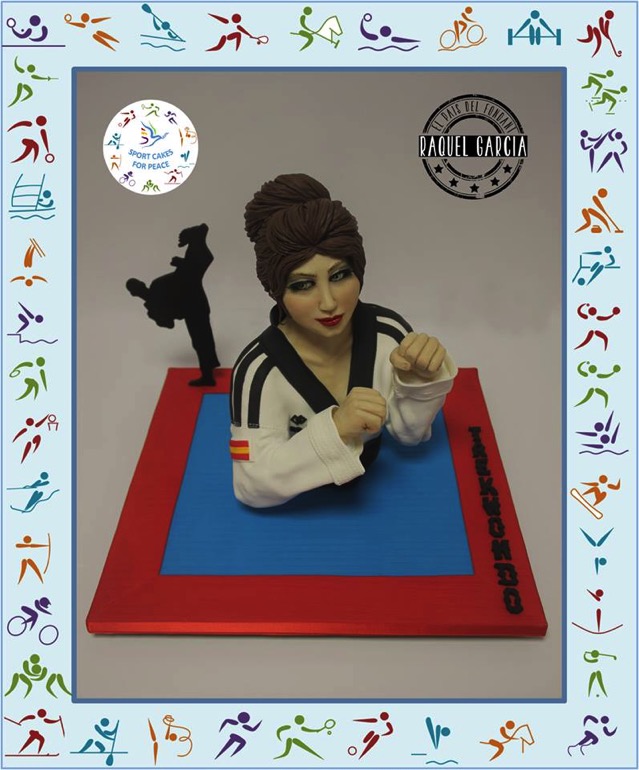 This Splendid Tae Kwon Do Cake was made by Raquel Garcia of Raquel Garcia – El Pais Del Fondant.
The baker made this piece for the many family members who have excelled in Tae Kwon Do.
This Splendid Stained Glass Skiing Cake was made by Marlene Debattista of Cake Heaven by Marlene.
I like the way the skier looks like he is part of a stained glass window and I like the way the color bands on the other layers match the stained glass colors.
This Superb Dressage Cake was made by Sandra Smiley of Sugar Sugar by SSmiley.
Here's Sandra's description of this Amazing piece: My subject is Dressage, one of the three equestrian events included in the Olympic games. My piece was inspired by the "dancing horses" of dressage. The horse is hand painted on fondant, cut out in the shape of the horse, using Crisco and petal dusts (major mistake as the Crisco never drys!) and the ribbon is made of gum paste. The horse plaque was allowed to harden, then glued to the bottom, square tier. The sequined separator is made from circular sprinkles painted with gold luster dust and the rope on the top tier is gum paste painted with gold luster dust.
I have featured just a few of these Terrific creations in this post. Please go over to Sports Cake For Peace to see all of the rest.