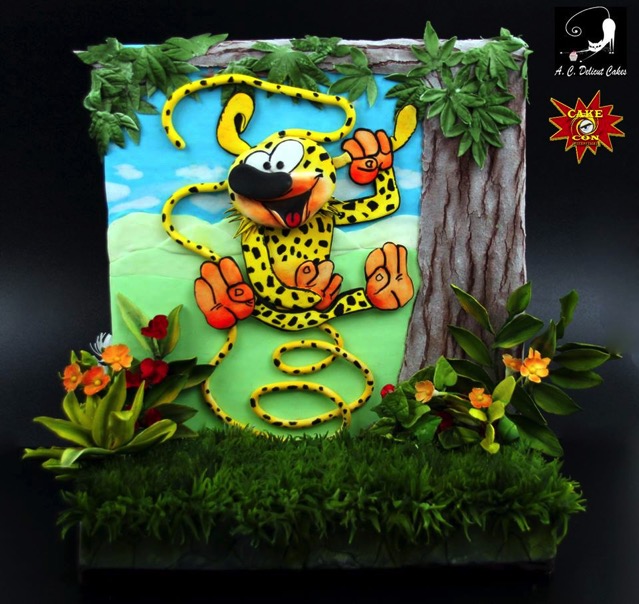 This Terrific Marsupilami Cake was made by Emilia Calvo of Delicut Cakes. This Cake is based on the cover of Marsupilami Les Aventures du Marsupilami comic book.
This splendid cake was made for the Cake Con Collaboration. Cake Con is a collaboration featuring amazing artists who have created sugar art inspired by TV series, comics & video game characters.
Franquin, the creator of the Marsupilami comic book, came up with the name Marsupilami by combining three words- marsuipial, Pilou-Pilou, and ami.
Marsupials are mammals who carry their young in a pouch.
Pilou-Piloou is the French name for Eugene the Jeep. Franquin loved Eugene the Jeep when he was a child. Eugene the Jeep appeared in Popeye comic books. The Jeep was a magical dog who could disappear.
Ami is the French word for friend.
The Marsupilami are a fictional family of black-spotted yellow monkey-like creatures with dog-like ears. Male marsupilami have a long flexible prehensile tail that can be used to do many things.
A Disney version of Marsupilami appeared in Raw Toonage.
Marsupilami also appeared in Asterix and Obelix's Birthday: The Golden Book.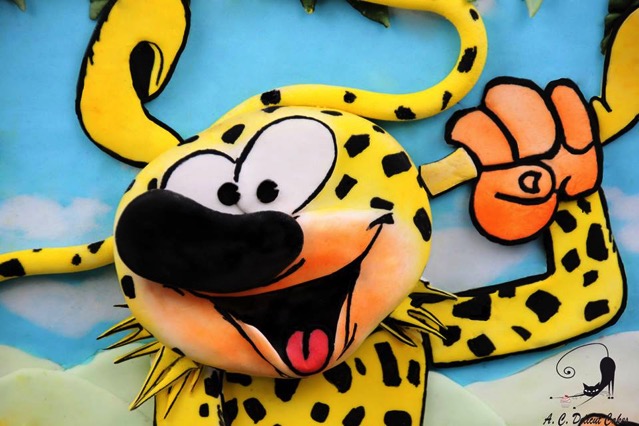 Here is Emilia's description of this Amazing cake:
Marsupilami is a comic book created by André Franquin, it was first published on January 31 1952 and then it appeared regularly in the popular comics but Franquin stopped working on the series in 1968 and the character dropped out soon afterward. I loved this little creature which is so full of beans! Marsupilami is curious about everything loves to have all kinds of adventures.