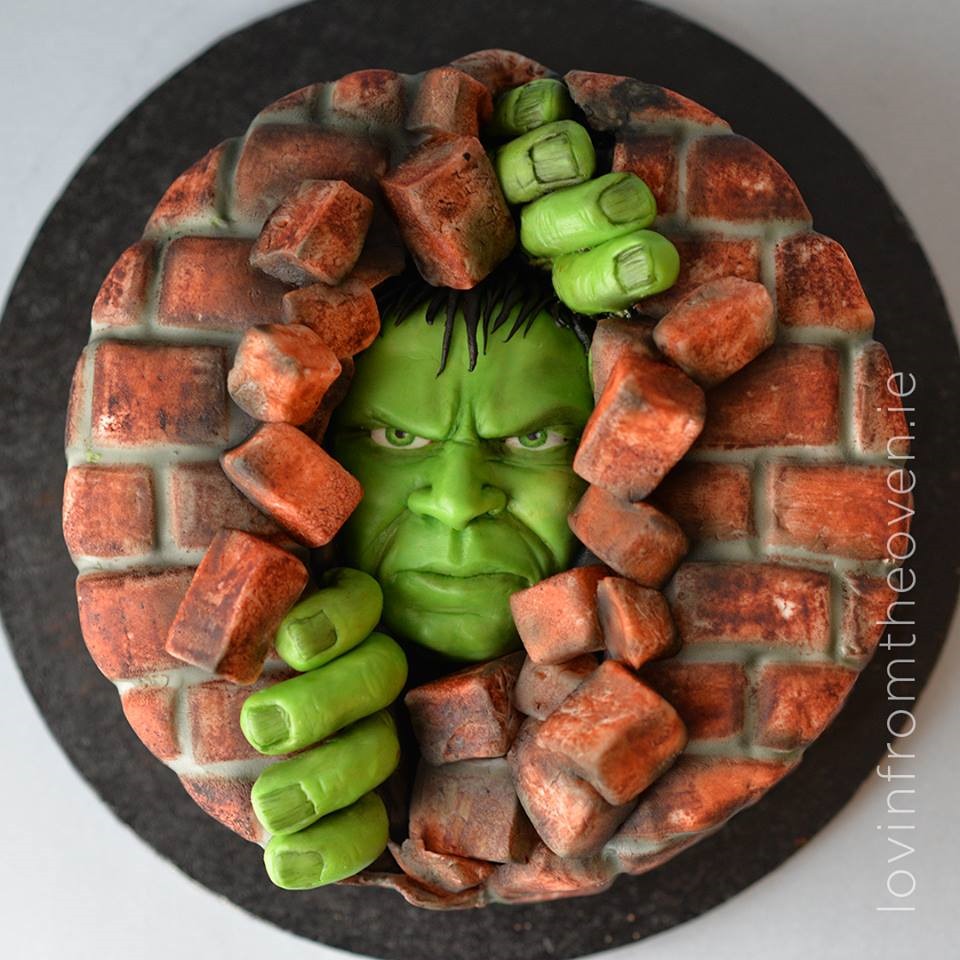 Hulk Cake
This stunning Hulk Cake was made by Lovin' From The Oven. It features the Hulk bursting through a brick wall.
Corinna wrote about this cake on her blog.
Corinna made this cake for her son's birthday. She modeled the Hulk's face and hands, using Vera Miklas modelling chocolate, some Cerart and some Sugar Shaper modelling tools. She also did a little dusting and painting on him to add some depth. This way, when she made the cake itself she could just 'insert' them in.
The detail on the Hulk's face is perfect.
One of the coolest things about this cake can't be seen. It has candy hidden in it. Under the Hulk's face, Corinna used a thin cake card to make a tube to hold up his head securely and also to keep the candy inside nice and dry. She cut out a circle of cake from the base layer and popped in the secret candy compartment.
Corinna carved out a rough and jagged 'crevice' from the top layer of the cake to go on either side of his head to build the wall. After icing and covering it with white fondant, she placed in the head and started making the indentations of the bricks using a sugar shaper.
After marking the bricks out, Corinna pressed crinkled tin foil on them to give them a rough texture. With a soft sponge, she dabbed each brick with a mix of terracotta petal dust and vodka. Once it had dried a bit, she placed in his fingers at an angle to look like he was pulling the wall/cake apart.
But the wall needed some more 'exploding' bricks too. She could have used marshmallows for them but she wanted to make sure that the colours would be the same so she kept with the fondant and just cut out 'bricks' and used the same method to texture and dust them.
They were still wet enough to stick to the cake when she placed them on. So no edible glue needed.
Finally she airbrushed the mortar between the bricks lightly with a bit of black edible airbrush paint. This also worked at shading the sides of the bricks too. She also shaded under his fingers and around the exploding bricks to add some depth and colour and job done!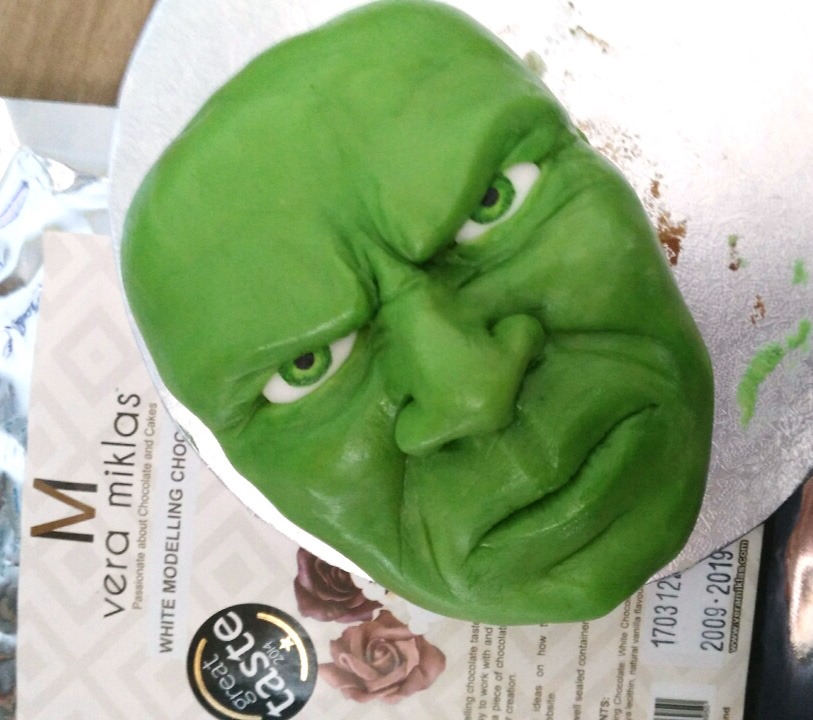 Planning a Hulk themed Party? Take a look at these marvelous Incredible Hulk Cakes & Cookies.