I made this Muppet Science Graduation book cake for my niece's graduation. It has three books that are cakes covered in fondant. She studied Cell Biology so there is a Cell Biology book cake, a Genetics book cake, and a Muppet Biology book cake since she is a huge Muppets fan. A 3-D strand of DNA is on top of the genetics book.
There are word balloons with the words Congrats and Class of 2017.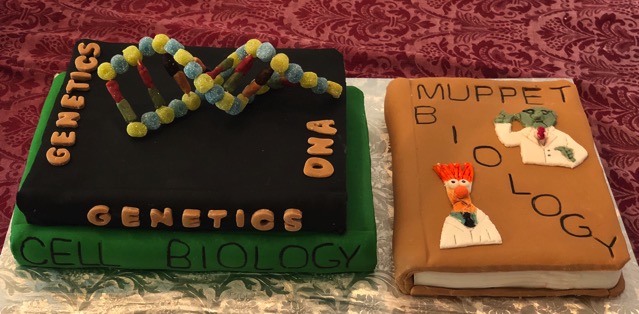 This is the first book cake that I have made. I decided to have three thinner textbook cakes instead of one large cake.
A Wilton Fondant Rolling Pin was used to roll out the fondant for the figures and letters.
Tylose powder was used to attach the letters, figures, and book edges.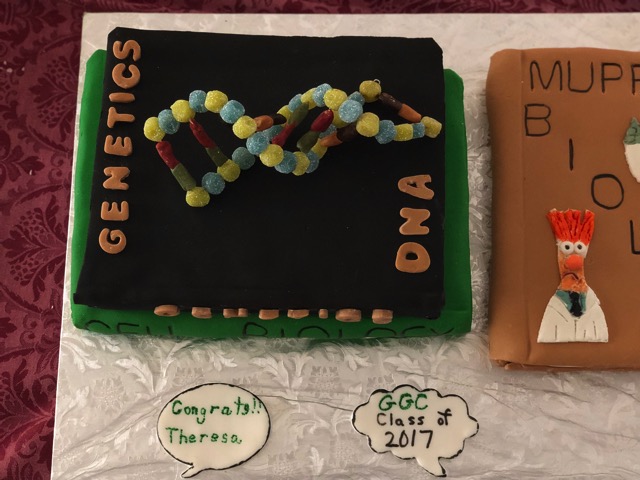 The DNA was made with Wilton Gum Paste Floral Wire, SweeTARTS Mini Gummy Bites Candy, Kraft Caramels that I colored, and toothpicks. I found that small wire that was fairly bendable worked best. I tried a thicker wire, but it did not let the DNA bend correctly.
The Genetics letters were made using fondant and the Wilton Alphabet & Numbers Fondant Cut-Outs.
Beaker and Bunsen are on the front of the Muppet Biology book cake. The letters on the book were made using the Wilton Letter/ Number Press Set and were painted using edible markers and powdered food colors.
They are based on figures that I saw on another science cake made by Baked Custom Cakes. Their splendid Bar Mitzvah chemistry cake had elements from the periodic table all around the sides of the cake and Bunsen and Beaker standing up on top.