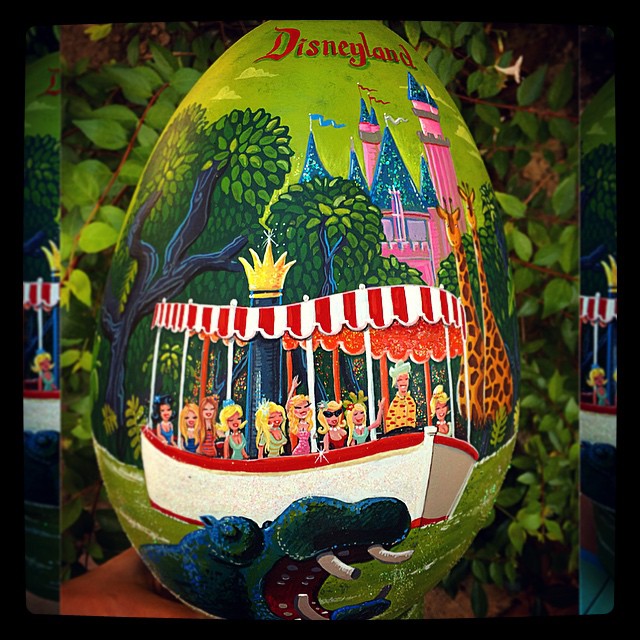 This Jungle Cruise Easter egg shows the boat and a hippo in the water. The pink Sleeping Beauty castle can be seen in the background.
All of the Terrific Disneyland Easter eggs in this post were made by Bridget McCarty.
I always enjoy riding this ride at Walt Disney World and Disneyland. Even though the animals are not real, the tour guides do a great job keeping the guests entertained with a lot of one liners like:
He'll get the point in the end – while talking about the guy at the bottom of a line of people who have climbed up the pole to get away from the rhino and its horn.
See the back side of water as the boat goes behind the falls.
And one of my favorites is when the guide says the witch doctor is running a special today. – two of his heads for one of yours. You'll always come out ahead.
There's a dock on the left and a dock on the right. We call those a pair of docks.(paradox)
This Disneyland Enchanted Tiki Room Easter egg was painted onto an Emu egg. The bird is bright yellow, red, and blue. There's a small carved pineapple on top of this egg.
The bottom of this egg says Tiki Room. There are pictures of birds and carved wooden faces.
This Tiki Room Easter egg represents the floral Tiki Room at Disneyland.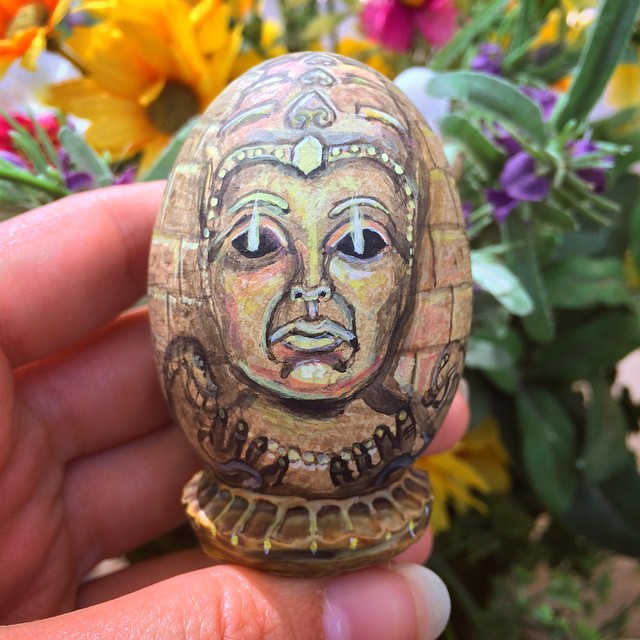 This Indiana Jones Easter egg is from the Indiana Jone ride at Disneyland.
Here's the Haunted Mansion Easter egg with the Hatbox ghost. My husband's favorite ride at Walt Disney World is The Haunted Mansion.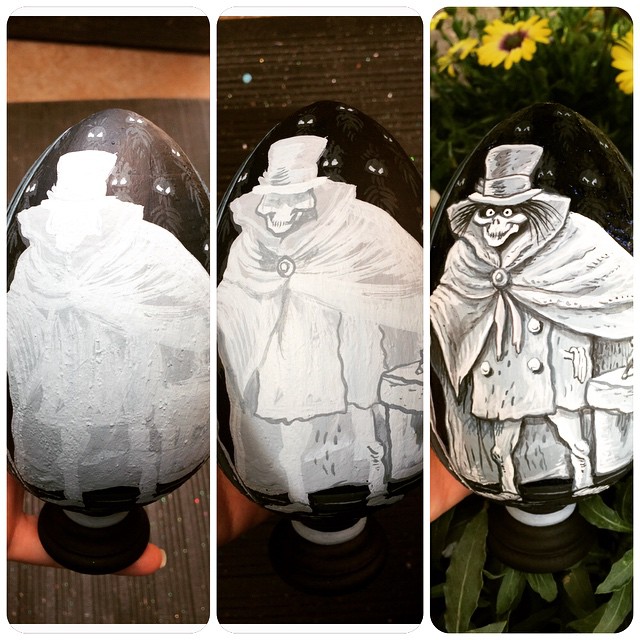 It looks like the faintest of outlines of the ghost was drawn on the egg. Ones were gradually added and areas shaded in until the ghost took form.