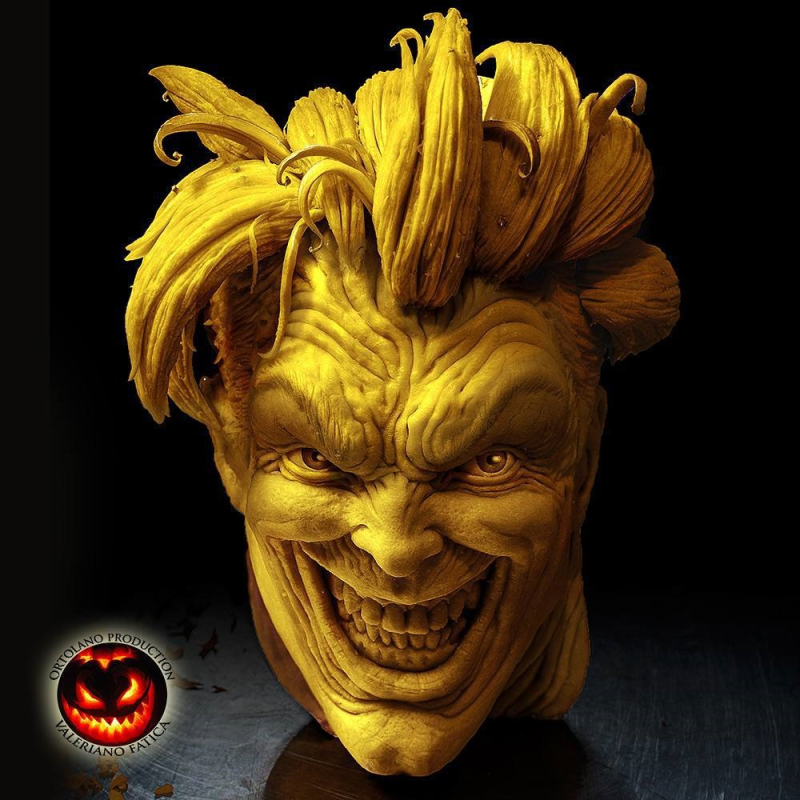 This stunning Joker Pumpkin Carving was made by Valeriano Fatica.  Valeriano is an amazing sculptor who carves masterpieces from pumpkins, watermelons, cheese, soap, and truffles.
The detail on this carving is simply amazing. It looks more like a sculpture than a pumpkin carving. The Joker has a maniacal grin. You can see his gums and each and every tooth. The detail on his eyes are perfect. He is  looking straight at you which makes this really creepy. My favorite part is the Joker's unkempt hair. The pulp in a pumpkin is very stringy. Valeriano used that to his advantage here and gave the Joker wild stringy hair.
Here is a high speed video of Valeriano carving the Joker.
Valeriano also made this equally amazing Venom Watermelon carving. It is just as amazing as his Joker carving.
Looking for more creeptastic Joker treats? These will slay you:
This Joker and Harley Quinn Wedding Cake Topper is spectacular. This is the Batman: The Animated Series versions of these two characters.
No fooling, this Joker Cake is wonderful. This is the classic Joker with the purple suit, orange shirt, green tie and the deadly squirting flower.
Why am I featuring a bronze bust of the Joker on my blog? Because it is really a stunning cake.