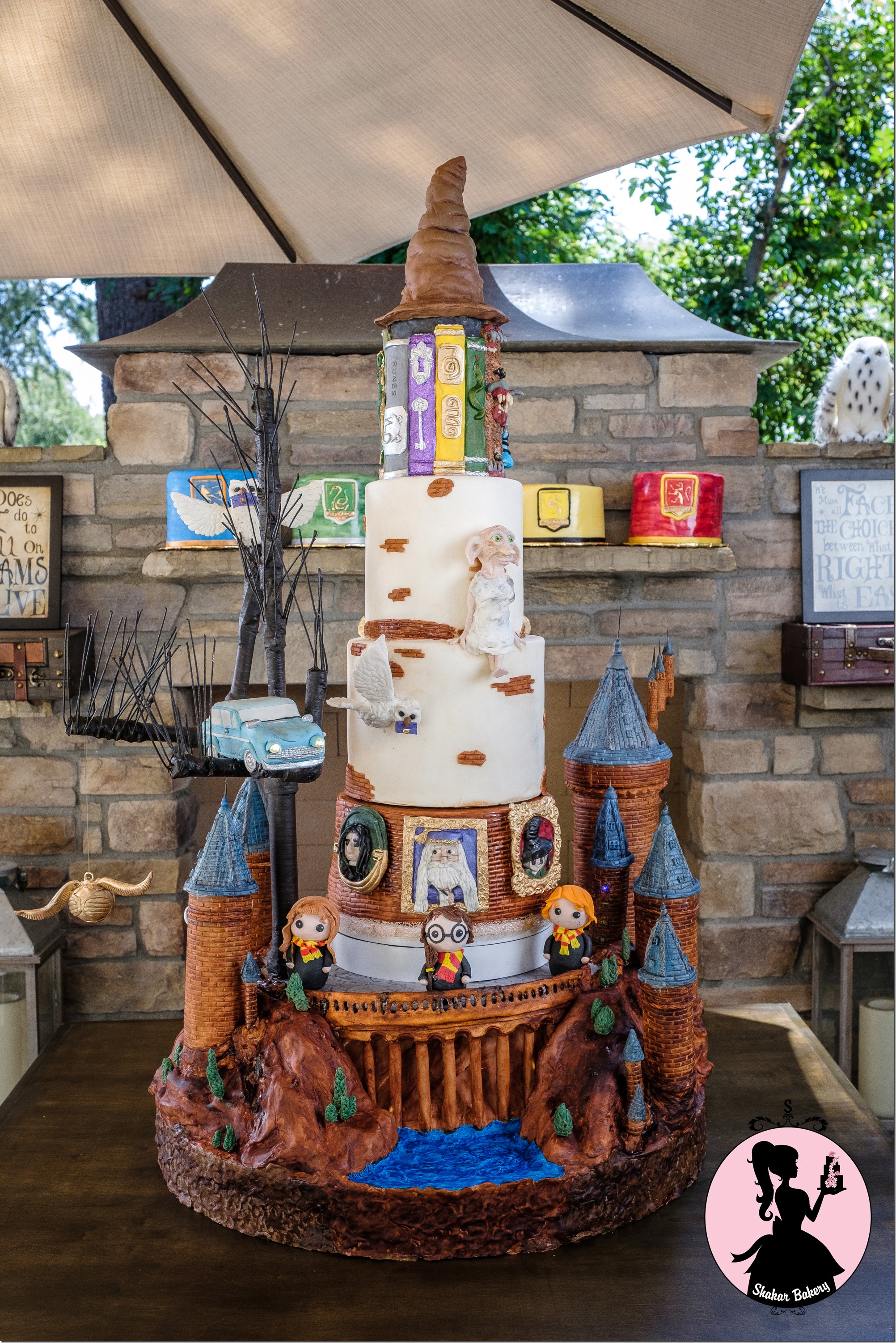 Have I got a treat for you today! Make sure your favorite cup is filled to the brim with butterbeer because I have a ton of magic to share with you today.
Take a close look at these two pictures above. They're both pictures of an absolutely magical Harry Potter cake.
Notice something strange about these pictures? The bottom of this cake has Harry, Ron, and Hermione standing in front of Hogwarts. While the top of the first picture gives us a view into the Great Hall. The top of the second picture is the portraits of Severus Snape, Albus Dumledore, and Minerva McGonagall. While Hedwig and Dobby are higher above.
The reason for the change? While the bottom of this cake stays still, the top layers gradually rotate around.
This absolutely mindboggling cake was made by Shakar Bakery. Shantal Der Boghosian sent me pictures of this magical cake and asked me to feature it here on Between the Pages.
Here is Shantal's description of this magical cake:
"Shantal Der Boghosian, owner of Shakar Bakery in Los Angeles, California, is a long-time Harry Potter fan and waited years to design her dream Hogwarts cake. Having competed on Food Network's Cake Wars twice (winning the first time!) and Holiday Wars, Shantal wanted to bring the "wow" factor of television into her design. Together with her partner and mom, Elizabeth Itutmazian, Shakar Bakery invested over 500 hours to execute this four-foot-tall, two and half foot-wide animatronic cake! There is no shortage of detail on this epic cake. A true masterpiece that shows that Hogwarts has never been sweeter. To see more photos and a video of the cake, follow Shakar Bakery on Facebook and Instagram! You can also reach Shakar Bakery at www.shakarbakery.com or learn from her YouTube tutorials!"
Here is a video that shows this amazing cake in action:
Here is Shantal's description of her video:
"This masterpiece of mine took 500 hours to create and was created by me and my mom Elizabeth Itutmazian … the design alone took me 1.5 months of thinking, sketching, sizing and questioning my sanity. I'm a huge Harry Potter fan (I have read the entire book series several times) and have waited years for someone to finally order one. I got lucky to have a client that gave me full creative freedom and no limits on imagination!
Let's start describing the cake bottom up. The cake base is 28″ in diameter and the overall height of the cake is 45″. The base starts the theme of Hogwarts Castle and is comprised of mountains and itty bitty trees. Moving up, we enter the great lake and see the famous bridge. Harry Potter is smack center as the main character in the series, and he is holding his precious broom. He stands 6 inches tall. To the left of Harry you'll find Hermione Grainger holding a little wand. Behind her, standing 3ft tall is the Whomping Willow!
I chose to make the Whomping Willow inedible to make it look more life like. I built it out of PVC pipes, floral wire and floral tape. It took a total of 8 hours to complete.
The main attraction on the tree is the Weasley car that famously crashed into the tree when Ron helps Harry sneak out of his house and back to Hogwarts. My mom sculpted the car and it took her two weeks to finalize. She did amazing!!!
To the left of the car you'll see a suspended snitch. I designed the hanging part, my mom designed the snitch. To immediate right on the cake you will see Quidditch goal posts! top right of the Whomping Willow you'll see an owl fluttering its wings, holding a purple and gold envelope in its mouth (the color of my client's university)!
To the right of Harry Potter, you'll find Ron Weasley and a bunch of Hogwarts castle towers. Each tower took 2 days to make and many tears from my end as I tried to figure out the execution. The tallest tower measures 1.5ft tall and 4.5″ in diameter. Now we go to the next cake tier! This is the real cake tier and measures 12″ in diameter and 6″ in height. Since it was real cake, i wanted to keep the design as simple as possible. You don't see all of the details in this photo since the cake rotates (see posted video), but the back has AMAZING details!! Cant wait to post more photos and videos! Anyway, for the front of the cake I designed a doorway to enter Hogwarts. I LOOOVVVEEEE doors. This one took hours to design and execute, mainly because I was winging the design. In the back of the cake you will see (in future photos) three frames holding sculpted figures: Severus Snape, Albus Dumbledore and Minerva Mcgonnegal. I LOVE THEM!
Then we go up to the most WOWING tier: the great dining hall. This hall was built and destroyed over and over until we executed what you see today. Inside you'll find suspended candles, house banners, owl podium, a great window, and plates with sliced cake. I dont think i need to say more since this tier speaks for itself!
Behind this tier you will see (in future posts and videos) a suspended owl in mid flight as well as a sitting Dobby. DOBBY measures a good 8″.
Next comes my favorite tier: the books!!!!! I cant tell you how many times I redid these books! First of all, I carved each book out of styrofoam. Then, I went on full creative mode as I designed each book title I imagined Hermione read at Hogwarts. My absolute favorite is the occlumency, the mermaid, and the monster! My moms favorites are the runes!
At the very top, is our Sorting Hat. He was the easiest thing to make. it was a true team effort between me and my mom.
Last, at the very back, you see four 6″ cakes for each House of Hogwarts.
Photo credit: Mher Vahakn Ajamian of Mher Vahakn Photo . I especially hired him to photograph the cake for me since I 100% trust his artistic eye and natural style of editing 🙂 its mostly "no filter" photos.
Backdrop decor by Hasmig Jasmine Boyajian of Planit LA!"
Notice the fireplace mantel behind the cake? It has cakes for each of the four houses.
Ravenclaw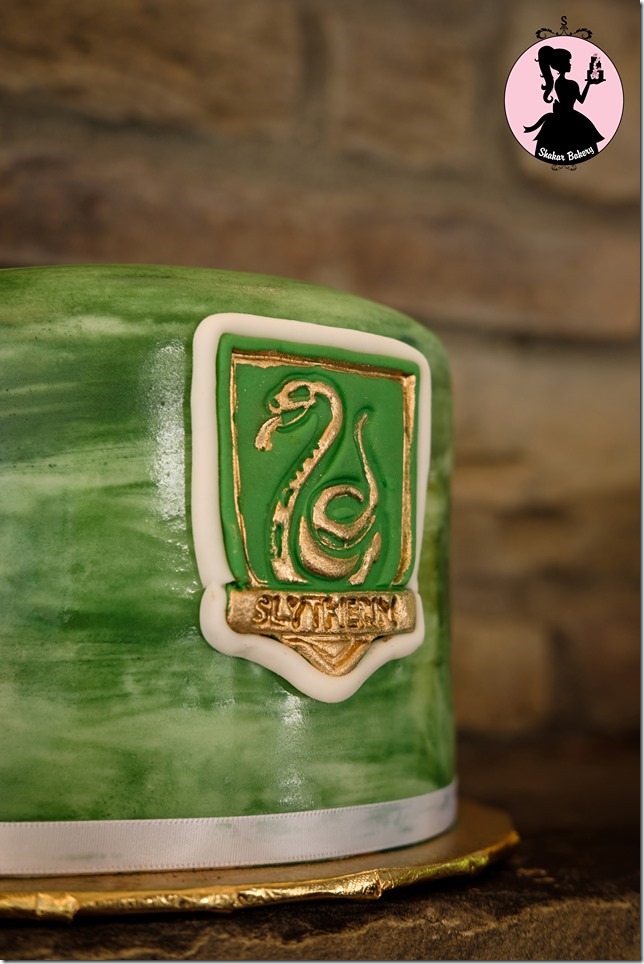 Slytherin
Hufflepuff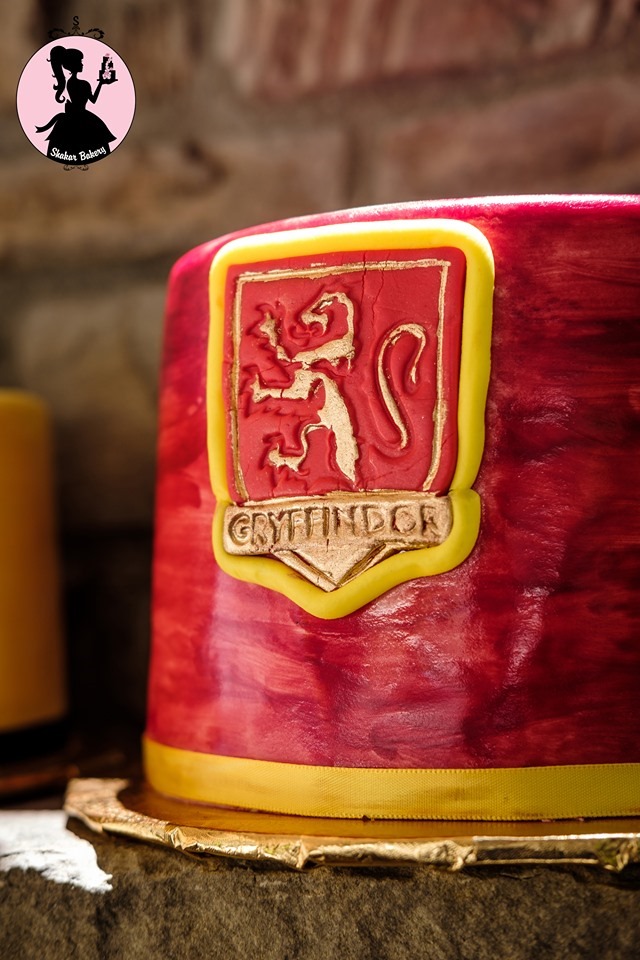 Gryffindor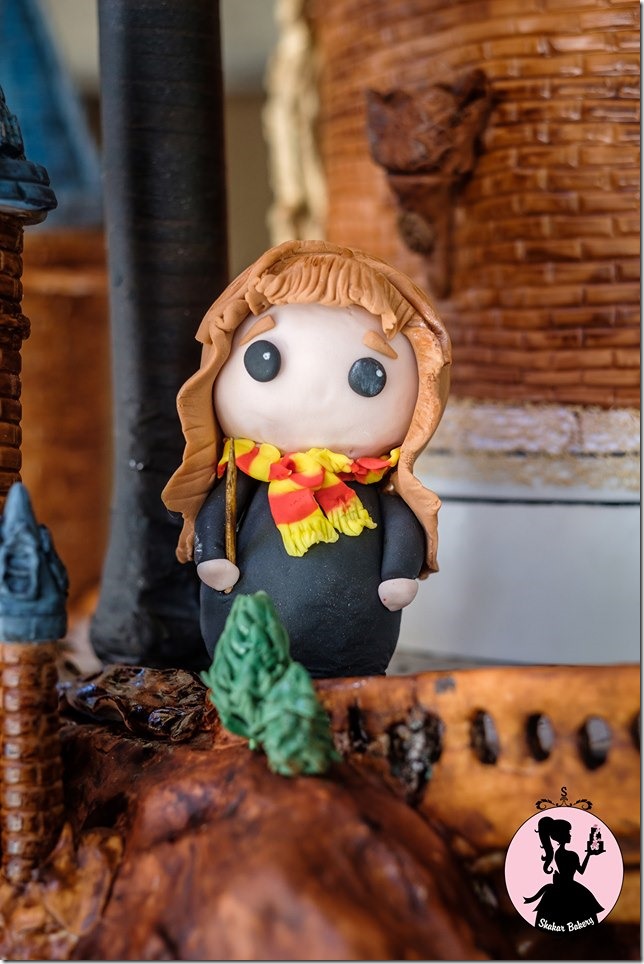 Hermione Granger
Harry Potter
Ron Weasley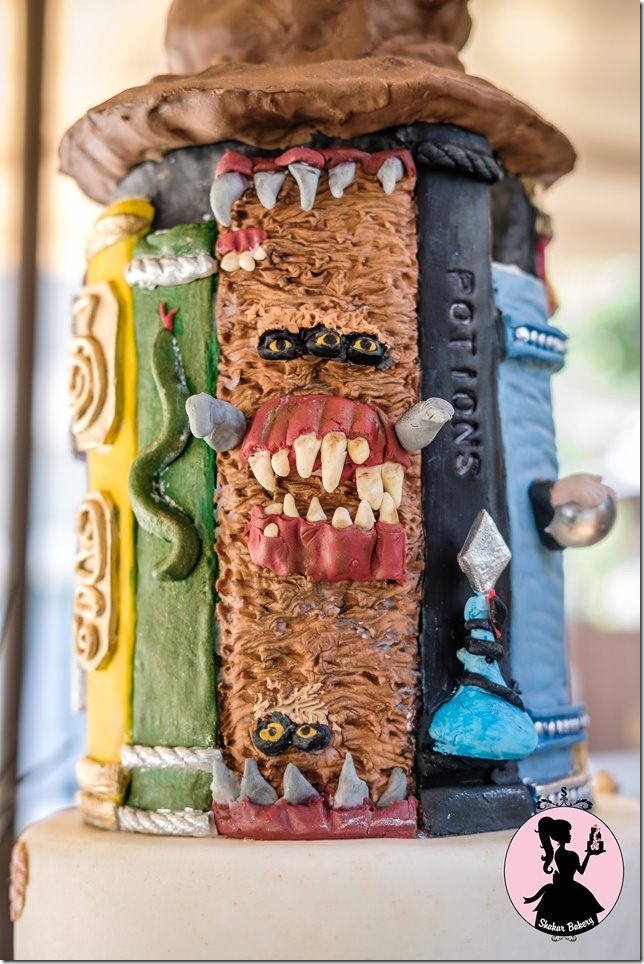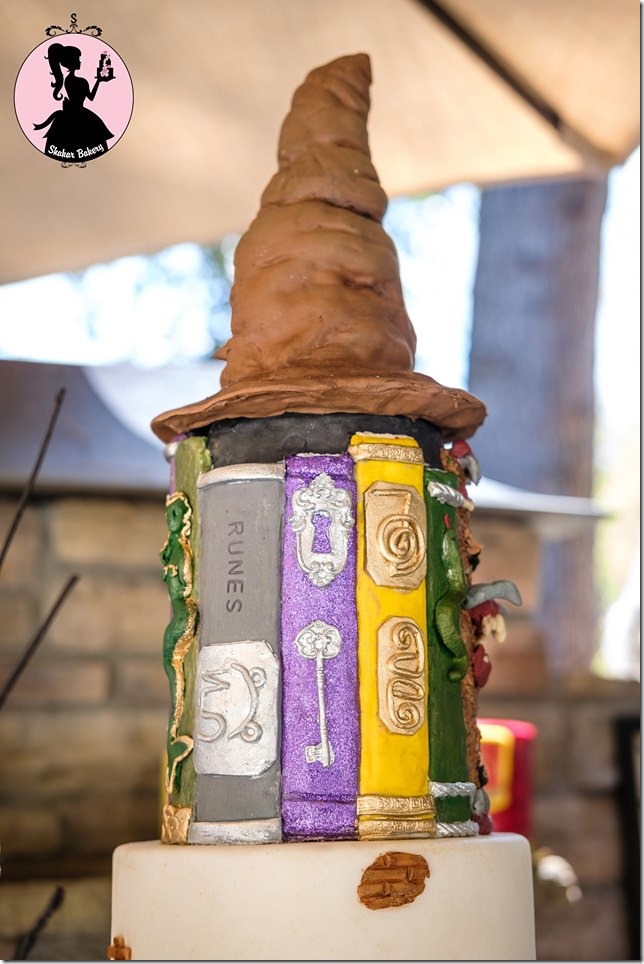 The top of the cake is the Sorting Hat resting on top of a bunch of magic books. I love how the spines of each book is decorated.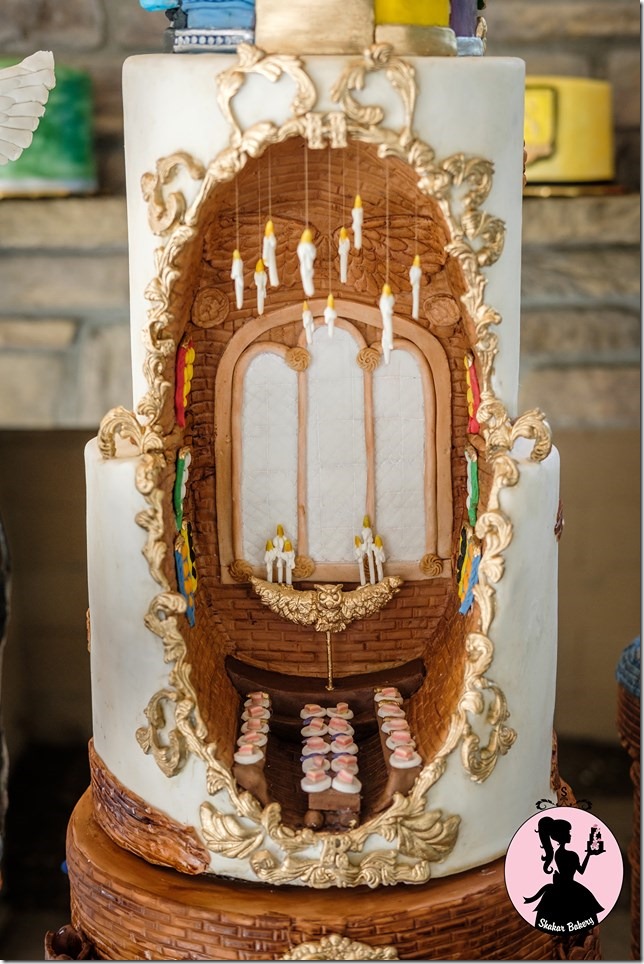 Like all of this cake, the detail on the Great Hall is amazing!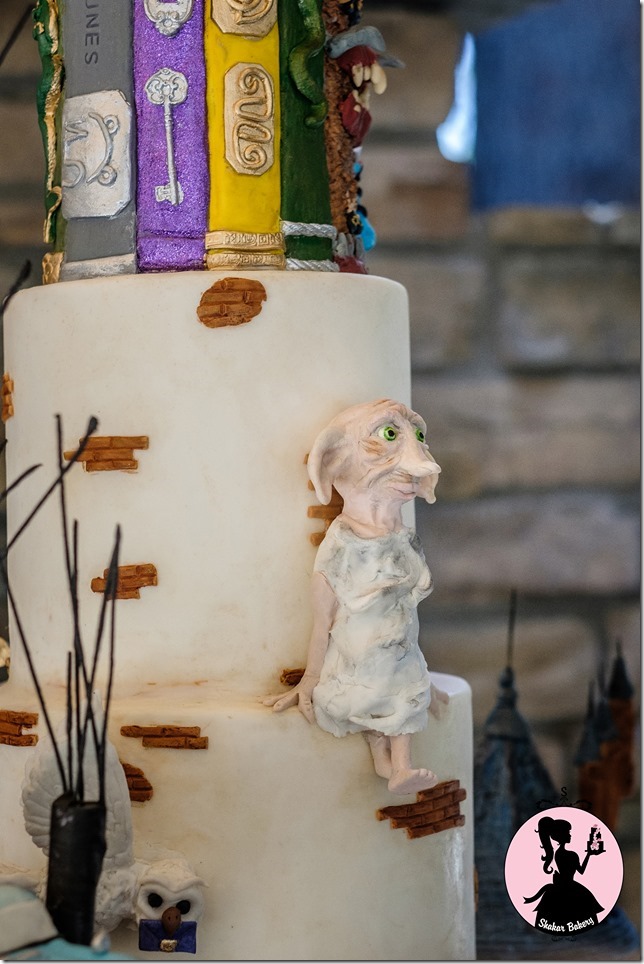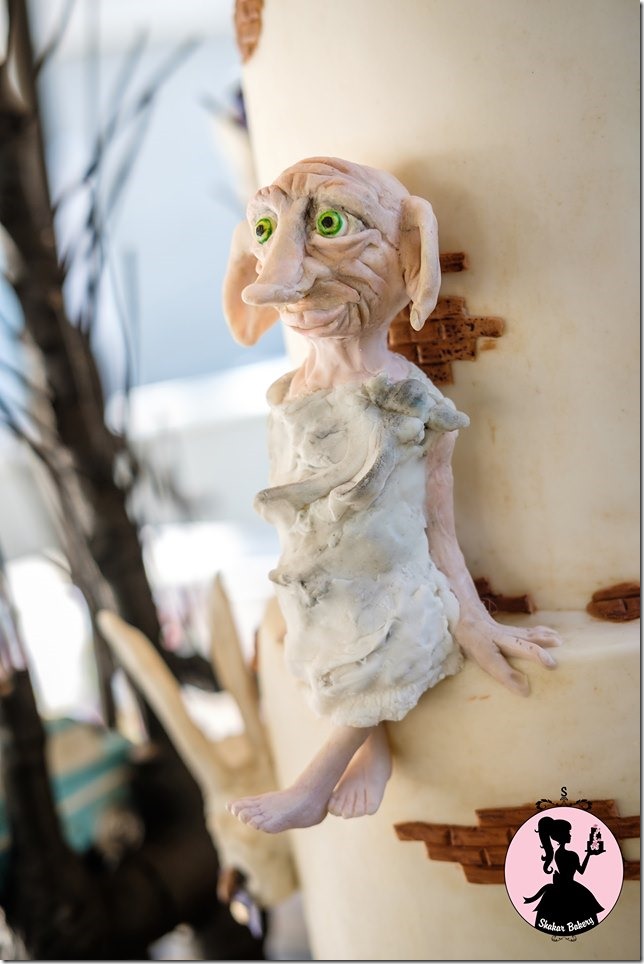 Dobby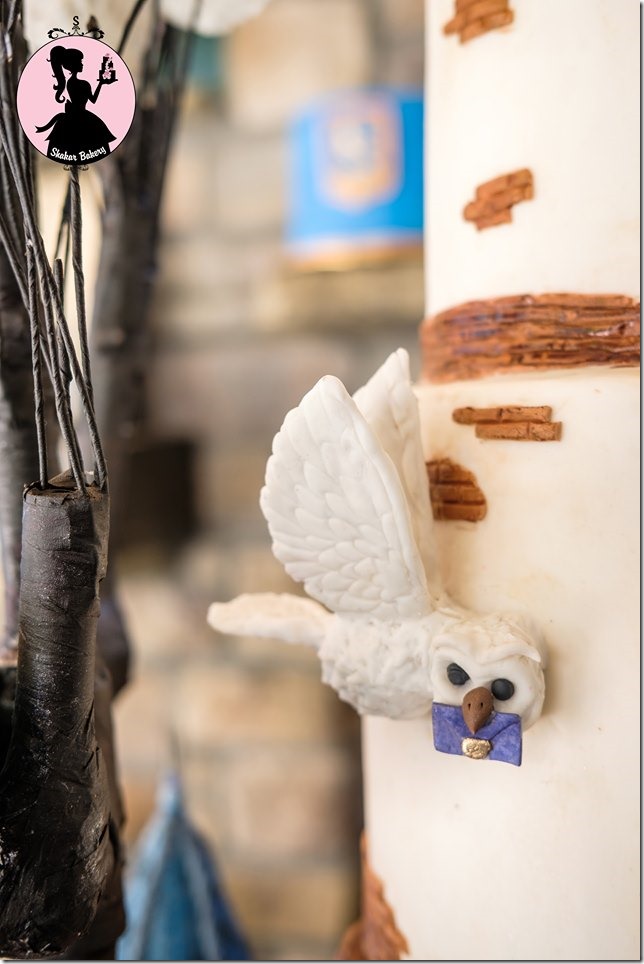 Hedwig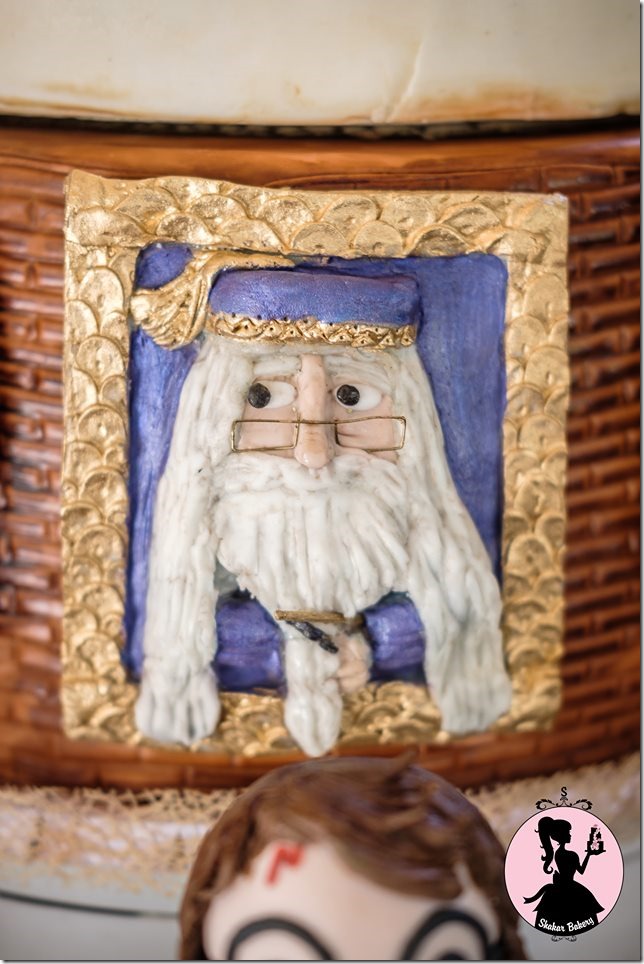 Portraits of Severus Snape, Albus Dumledore, and Minerva McGonagall.
A golden snitch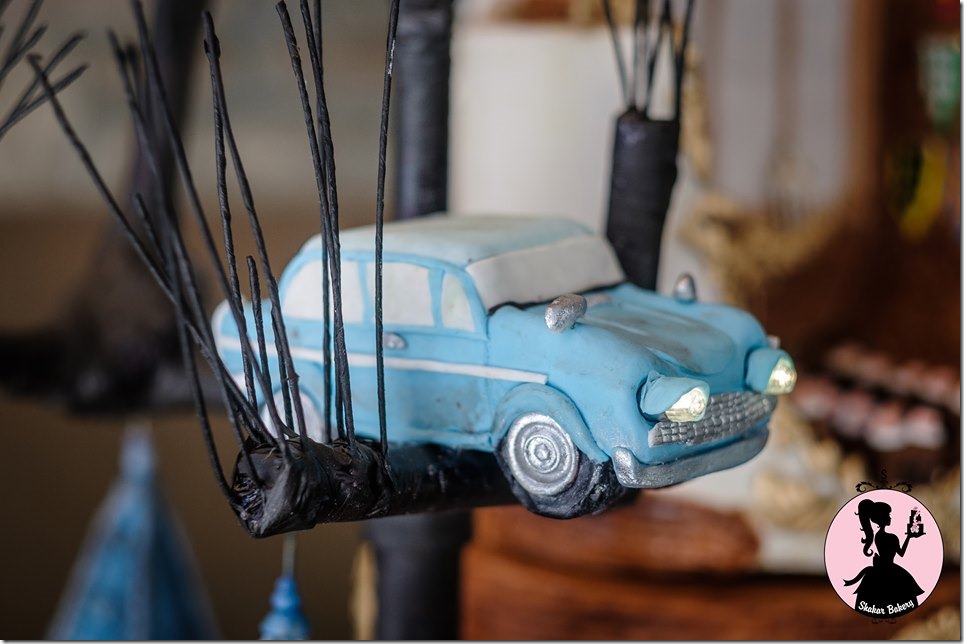 The Weasley's Car – a turquoise 1962 Ford Anglia