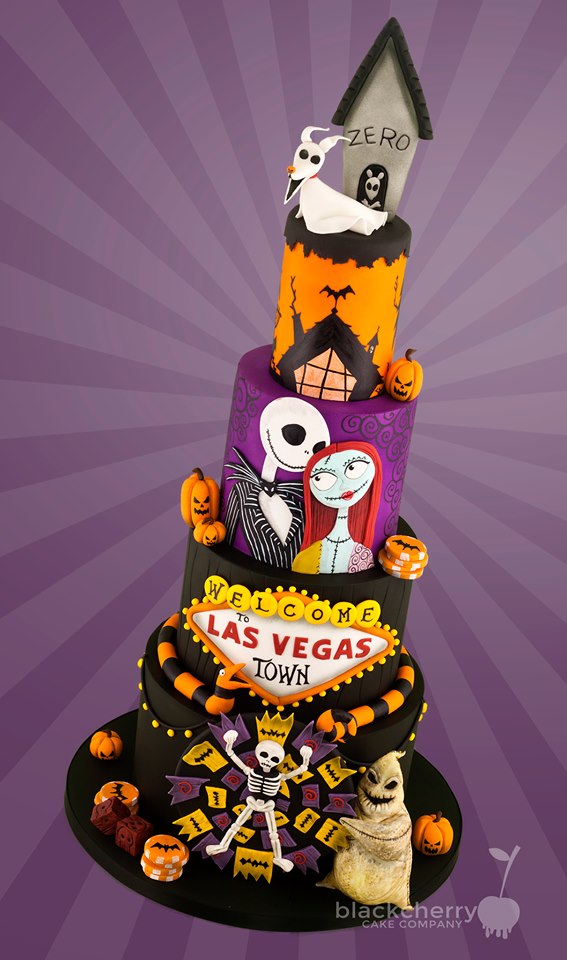 What a great way to celebrate Halloween with Jack Skellington, Sally, Oogie Boogie, and Zero!
This wonderful cake was made by Little Cherry Cake Company. This cake would make a wonderful wedding cake.
Zero and his doghouse are at the top of this Nightmare Before Christmas Comes to Las Vegas cake. The top tier of the cake is orange with a silhouette of a haunted house. An orange Jack-o-lantern is beside this tier and the tier below it.
The next tier has Jack and Sally. Orange poker chips are beside this tier.
The next tier is black and has a marquee sign saying Welcome to Las Vegas town. An orange and black striped snake is circled around the tier.
The bottom tier has a skeleton in the middle with purple and yellow banners surround it. Oogie Boogie is standing beside the skeleton. Orange Jack-o-Lanterns and orange poker chips are beside the cake on the cake board. Beside the poker chips are red dice with skulls.
This cake looks much like one of the middle tiers of this cake. On this cake, black vines frame Jack and Sally. YAZ is at the top and a 30 is not he cake board of this birthday cake.