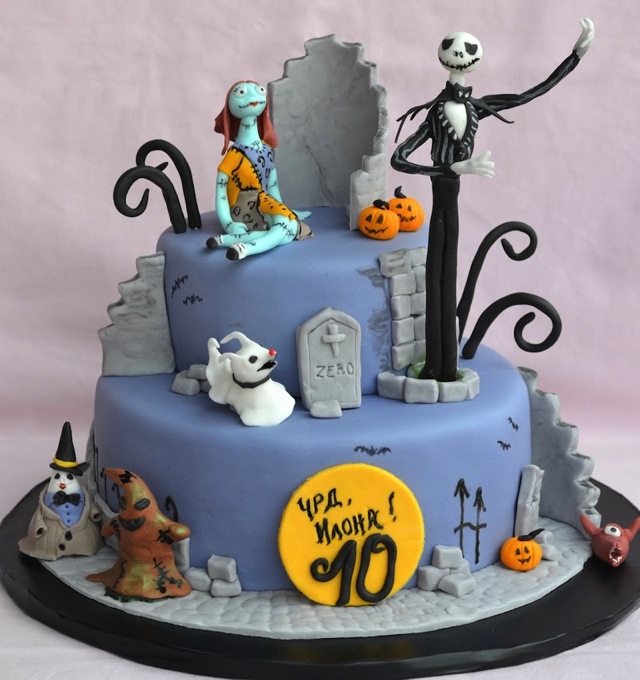 This Amazing Nightmare Before Christmas Cake was made by Mary Scik. This Disney cake features Jack Skellington, Sally, Zero, Oogie Boogie, and the Mayor of Halloween Town. The cake board is made to look like white cobblestone. At the center of the cake is a yellow moon with the Birthday name and age. The cake is a light purple color and has paintings of bats and fence pieces. There are small stacks of stones scattered around the layers of the cake. At the bottom of the cake is the Mayor of Halloween Town. He is wearing a gray jacket, a black bow tie, and a black witches hat with a yellow band. Oogie Boogie is standing beside him. He is brown with black stitches and a large black mouth and two large black eyes. Jack Skellington is standing on the bottom layer of the cake. He is surrounded by a stone border. There is a black curly q's behind him and Sally. Zero's tombstone is beside him and Zero is just on the other side of the tombstone. Zero is white with a black collar, black mouth and eyes, and a red nose. Sally is sitting on the top of the cake beside pieces of a stone structure. She is wearing a patchwork dress. Two orange Jack-O-Lanterns with brown stems are near her.
Jack Skellington
Side view of cake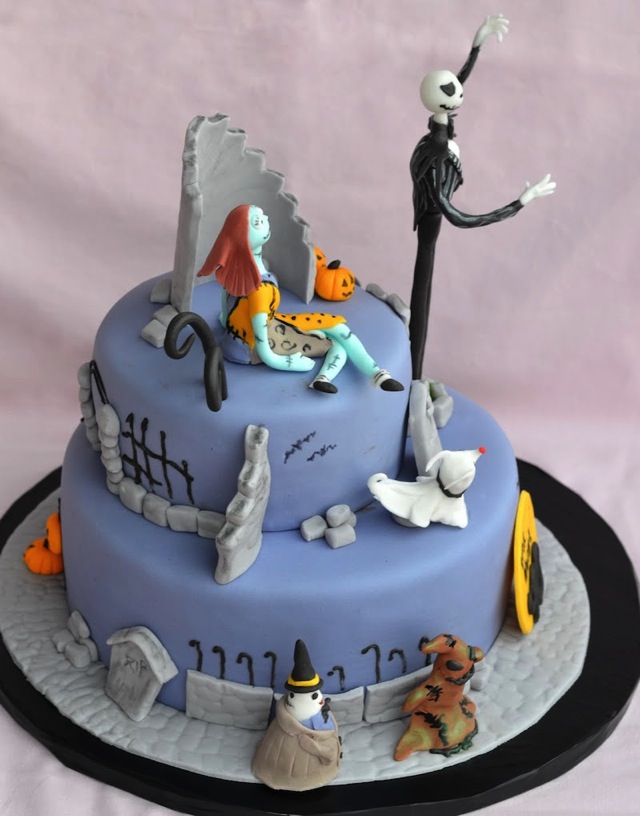 other side of cake
back of cake
Sally
Oogie Boogy and Mayor of Halloween Town
In addition check out these amazing Nightmare Before Christmas Cakes and Cookies.