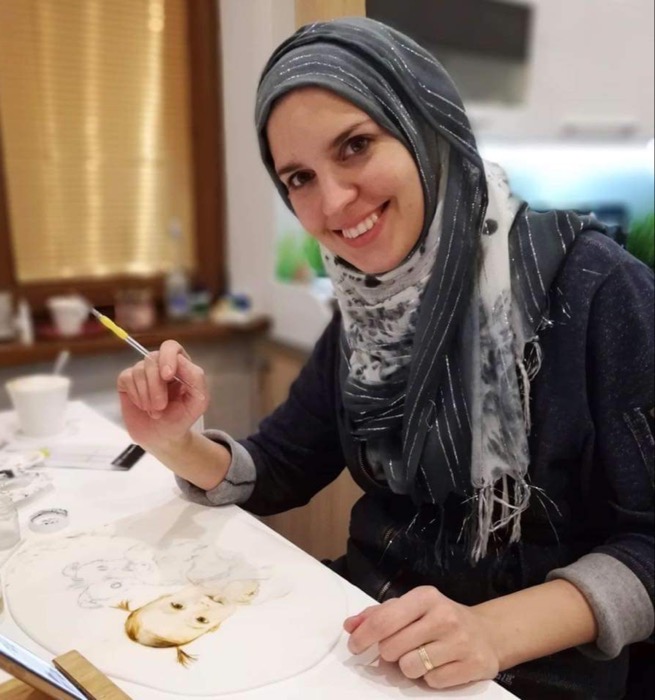 Andrea Aldiry from Torty / Cakes by LaylaA.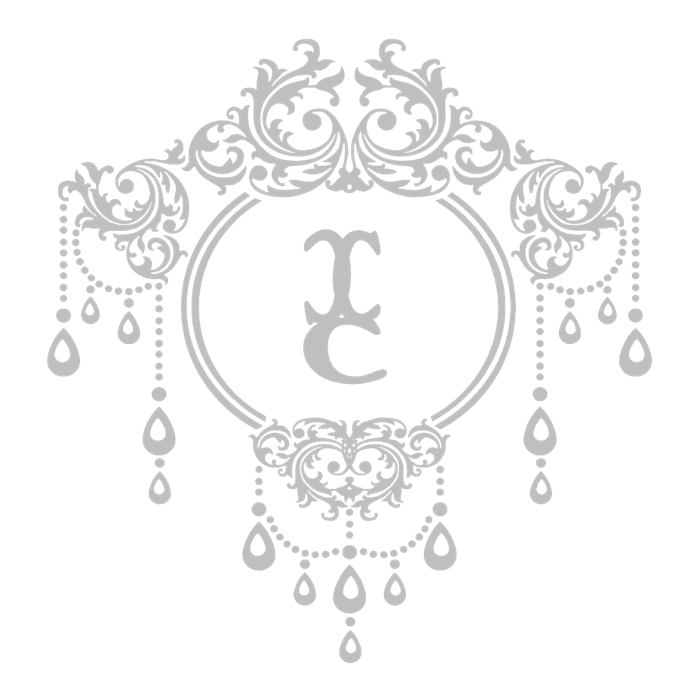 Couture Cakers International Sugar Art Collaboration is hosted by Heba M Elalfy of Sweet Dreams by Heba. This is the fourth annual celebration of couture using all types of sugar medium as created by an international team of Sugar Artists. The theme this year is Islamic / Hijabi Bridal Dresses.
For the next few days I will be interviewing sugar artists who are participating in the collaboration.
Here is my interview with Andrea Aldiry.
Tell me about yourself. How long have you been decorating? How did you learn to decorate? Do you decorate professionally? Have you taught any cake decorating classes? Have you competed in any competitions?
My name is Andrea Aldiry and I'm from Slovakia . My cakes are my hobbies. I started baking when my children were small around 6 years ago. I saw a program on TV about professional cakes and cake decorators and it excited me so much that I wanted to try it.
And I'm trying till now.. I learned from YouTube videos mainly. Everything I saw, I wanted to try. Slowly , I dared to bake not only for family but also for friends.
I'm happy with what I already know and at the same time, I like to remember my hard and fun beginnings. My first " covered "cake was covered by my husband because I didn't dare to do it and he had more experience with baking than me 🙂 Not with decorating, just baking . So we spread the fondant for about half a millimeter..You can imagine what it looked like, mainly on the side of the cake . I put chocolate pieces on the side of the cake and on the top some sugar animals from the shop. Pink ribbon around and voilà , the cake was ready , masterpiece :)) At least that's how I felt when I finished it . I don't know if I mentioned that the cake was from muffin's dough because it was the only one dough I knew to bake. The cake was for my little niece . At the celebration of her birthday, we all ate it happily 🙂
So I learned from videos, my husband and family supported me and enjoyed my progress. Only last year I attended a sugar doll course with very talented Denis Zuev. It was a very important and useful experience for me. I haven't participated in any competition yet.

What is the name of your business/bakery, where you are located, what area you serve, and what you specialize in.
I publish my cakes on my FB page under my nick LaylaA :

Social Media Links
Torty / Cakes by LaylaA
https://www.facebook.com/Torty-Cakes-by-LaylaA-773407152717456/

Tell me about your design.
My cake inspired by islamic wedding dress
I was very pleased and honored when I was invited by Heba Elalfy to collaboration Couture Cakers International and very pleased with the theme of Islamic wedding dresses with hijab becouse it's very close to me.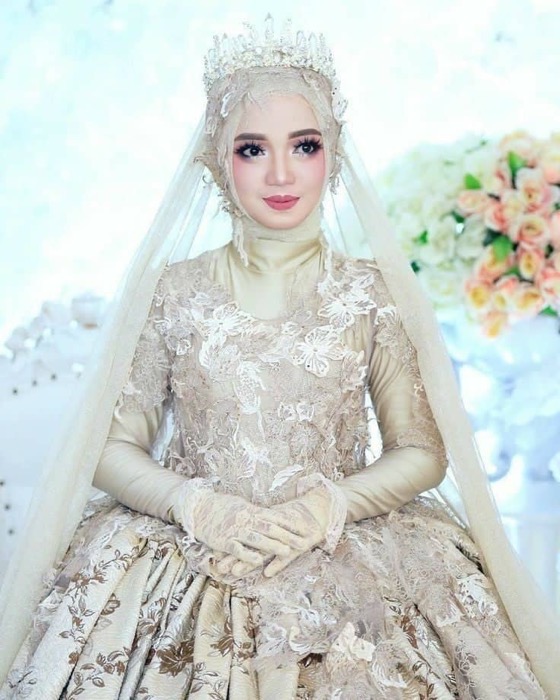 I chose wedding dress in a shade of cream or little beige color with lace and floral pattern, with crystal crown on the bride's head .They enchanted me by their gentleness and elegance and shade. It's one of my favorite colors.
I tried to make my cake elegant and noble as the dress is.The lower tier is styled like a voluminous skirt of wedding dress with a hand painted pattern of flowers and petals.
Edible lace dominate on the second tier which is folded and airy. The flowers on it are carved from wafer paper framed by royal icing with little sugar pearls in the middle. The highest tier is similar. On the top is crown made from isomalt ,which is decorated by edible lace ,sugar pearls and some details of fondant..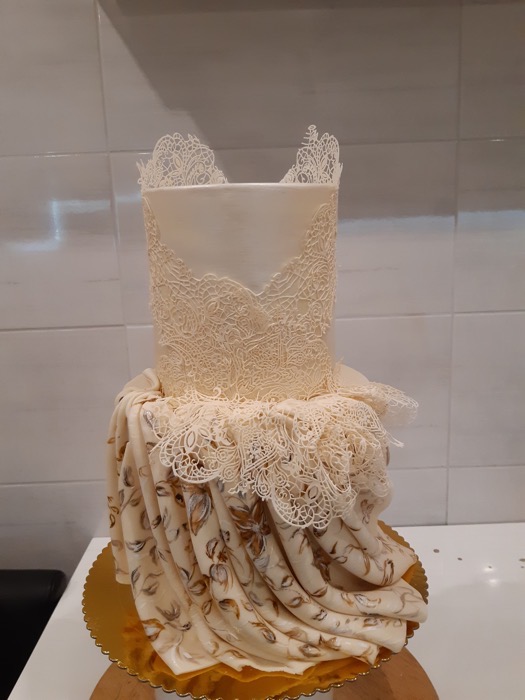 Who is your favorite Harry Potter character? If you went to Hogwarts, which house would you want to be sorted into? Which house would you actual be sorted into? If you were a teacher at Hogwarts, what class would you want to teach? What would your Patronus be?
I like Harry Potter films . My favourite character is Harry and Hermione , off course . I love that fantasy world with magics and unreal characters. I think we all go back to childhood when we watch it . I made one cake last year at this theme ,there was hand painted Harry and map of Hogwarts with modeled golden snitch on the top . And old looking envelope with seal. On sides of the cake was written inscription of magic spells .. I enjoyed the cake very much .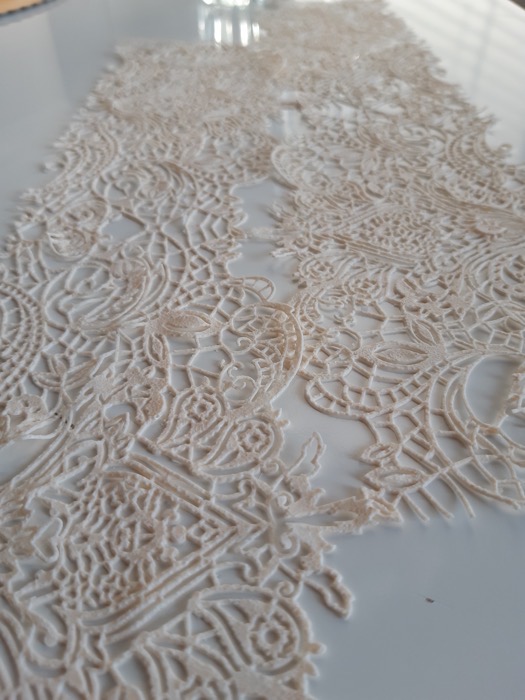 Do you have a favorite superhero? What is your favorite superhero movie? If you read comics, what is your favorite comic or run on a comic? If you could be any superhero, who would you want to be? If you could have one super power, what would it be?
About superheroes.. When I was small I watched a Superman but when I became a woman I found one real and got married to him 🙂