Rubab Mehdiyan from Sweet Fantasy. 
Couture Cakers International Sugar Art Collaboration is hosted by Heba M Elalfy of Sweet Dreams by Heba.  This is the fourth annual celebration of couture using all types of sugar medium as created by an international team of Sugar Artists. The theme this year is Islamic / Hijabi Bridal Dresses.
For the next few days I will be interviewing sugar artists who are participating in the collaboration.  
Here is my interview with Rubab Mehdiyan.
Tell me about yourself. How long have you been decorating? How did you learn to decorate? Do you decorate professionally? Have you taught any cake decorating classes? Have you competed in any competitions?
It has been quite a journey, and one that's given me a lot of satisfaction. It is so heartening to create something that not only fits the vision of the client but goes above and beyond their imagination. I love to see their faces light up with exclamations like 'wow', 'amazing', 'oooh', etc. 
Back when I was a student at the Catering Institute in Mumbai, which is almost 40 plus years ago, I had no idea what I was going to do. All I knew was that I liked to bake and wanted to learn to decorate cakes the old-fashioned, simple way, like use the piping bag to make flowers, different designs with different nozzles, etc. I had no plans on a career or any such thing.
This is all due to God's blessings and some confluence of events that propelled me into the space of cake designing and decoration. When my oldest child was a toddler, I searched high and low for a good cake with a good design/decoration but was disappointed with the offerings. Soon thereafter, my sister-in-law asked me to bake a Barbie cake for her daughter. Looking back, this was the moment that led me on my journey into baking and decorating. I designed that Barbie cake after looking at images from magazines and memorizing the details and that cake became my milestone moment because it was exceptional and appreciated by everyone who saw it and more by those who savored it. It set off a chain effect that led to me getting more and more orders. 
I aligned myself with a group of parents that sent their kids to an elite educational institution and this was my launching pad. The parents, the school authorities, the teachers, all made a beeline to my door placing orders that were outrageous and daunting but somehow through my sheer hard work and determination, I delivered. This was the pre-internet, pre-social media days, which meant that I had to scrounge through old American/European magazines and look intently at cake designs to memorize them. I would then go home and sketch the design and create the cakes. I had never heard of fondant, but taught myself the technique after studying it through books at the American and British library.
What is the name of your business/bakery, where you are located, what area you serve, and what you specialize in.
Sweet Fantasy 
Social Media Links
https://www.facebook.com/sweetfantasyrubab/
Tell me about your design.  
For Couture Cakers International,we were asked to create cakes that resembled a gorgeous dress of a bride who wears a hijab. I was greatly inspired by a dress posted by Radden Anissa brides on Instagram.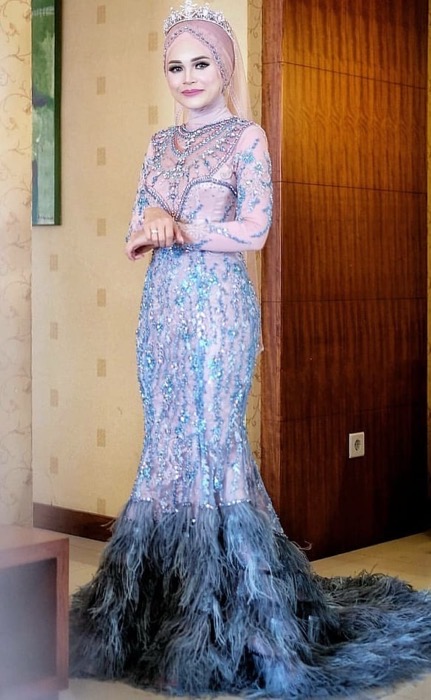 All credit for this photograph goes to 'Radden Anissa brides on Instagram'.
Its intricate lace designs with sequence stone work and diamonds led me to create the cake. The tiara topper is made of gum paste and the hijab is depicted in folds of fondant with a silver and blue border. The middle tier represents the bodice of the dress where the sequence is made of wafer paper and individually made fondant diamonds represent the gorgeous neckline. The lower tier is depicted with Bas relief flowers and leaves, edible lace scrolls along with silver drags to complete the look. Extruded fondant forms the goose feather frills of the dress. 
Favorite stories about your pieces. 
All my cakes are my precious creations but there are some that are very special. One was a cake that was designed for a client who was very evasive with his specifications and who would not reveal the intent of the cake. After beating myself against the wall literally, I came up with a design that fit the specs almost to the T. Well, when the client saw the cake, he requested some additions like chocolate trimmings around the cake. Not knowing how to satisfy the client's request, I quickly grabbed some chocolate drippings left over from the chocolates I used to make, and gently lined the cake with them. A few days later as I was watching some TV, I jumped up when I saw my cake in an advertisement of Aircel – pay per second. It was all over the media, on TV, in the magazines, even on billboards. That was a special moment for me.
At this point, I was now plugged into the performing artists forum. Movie stars, TV personalities, musicians, chefs, placed their requests for unique and stylish cakes. I keep learning all along and always try to better myself each time. With modern technology like Pinterest, Instagram, google, etc. I look up designs and take pictures on my phone to help me create cakes with almost picture perfect recreations.
Also, I have now started designing cakes for weddings and other related functions. These days there are many accompanying events that are associated with a wedding. I spend time with the bride and groom, understand their viewpoint, get their color schemes, and design cakes that blend with all of that. It is a tough but very satisfying process.
Who is your favorite Star Wars character? Which Star Wars movie is your favorite? Do you have a favorite Star Wars TV show or book? If you were living in the Star Wars universe – what would you want to be Jedi, Sith, Rebel, Imperial, Resistance, Smuggler, Bounty Hunter…?
I was asked to make a Star Wars theme cake not knowing the real client. I studied the characters intently and created a perfect scene with all the major characters like Darth Vader, Yoda, etc. when I was asked to deliver the cake, I realized it was none other than Madhuri Dixit who had ordered the cake for her sons' birthdays!!
Do you have a favorite Disney movie? Do you have a favorite Disney character? What is your favorite thing to watch on Disney+? Have you been to any of the Disney parks? Do you have a favorite ride? Do you have a favorite story about a trip or experience at one of the Disney parks?
I love doing Disney themed cakes and the Disney characters are my favorites. I love Cinderella, Sleeping Beauty, Snow White, Arial, Aurora, all of them.