Sheila Khanchandani from Sheila's Cakes. 
Couture Cakers International Sugar Art Collaboration is hosted by Heba M Elalfy of Sweet Dreams by Heba.  This is the fourth annual celebration of couture using all types of sugar medium as created by an international team of Sugar Artists. The theme this year is Islamic / Hijabi Bridal Dresses.
For the next few days I will be interviewing sugar artists who are participating in the collaboration.  
Here is my interview with Sheila Khanchandani.
Tell me about yourself. How long have you been decorating? How did you learn to decorate? Do you decorate professionally? Have you taught any cake decorating classes? Have you competed in any competitions?
I have been decorating cakes for more than 35years. I am a nutritionist dietician and had a semester of baking in college. I guess you can say i am in the wrong field. So after college i did a few more baking courses and cake decoration in Manila Philippines where i was born and where i grew up. I also teach one on one class on basic Sugarcraft. I also won the first prize in the dream cream contest organised by rich cream in 2002.
 
What is the name of your business/bakery, where you are located, what area you serve, and what you specialize in.
I run my business from home by the name of sheila?s  cakes. I specialise in children?s theme cake. 
Social Media Links
My Facebook handle is www.Facebook.com/sheilascakez.
And my Instagram handle is sheilavk.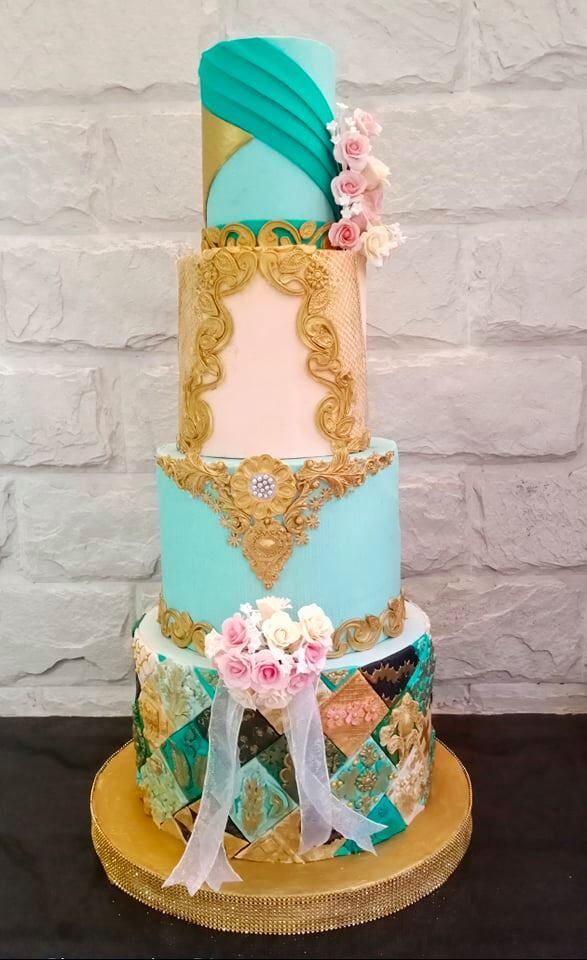 Tell me about your design.  
The design i Choose has lots of colour and i loved the skirt design. I had a patchwork and bas relief which i had been dying to do. The Islamic design was a good choice as i didn?t know that the designs on their wedding dresses had so much colours and palettes. I used a lace mould for the bodice and mould to make the lace designs.
Favorite stories about your pieces. 
I had a good practice by gifting cakes to friends and relatives. And my first two tier cake was for my baby sister when she turned 16. I was just a beginner then but i still remember the cake so clearly as if it was just yesterday. The first wedding cake i did was for my brother?s wedding here in mumbai. People were surprised to see such a cake as wedding cakes were not common during those time. The cake literally got over in 10 minutes. I wished i had made a bigger cake then. But i was just a beginner. 
 
If one of the famous cake decorators offered to make you your dream cake, what would you ask for?
If a cake decorator offered to make a cake for me it would be Carla puig. I just love her bust cakes. 
What is your favorite Pop Culture Famdom?  
I love Disney films and Hanna-barbers cartoons. I love Harry Potter series too. One of my favourite films is The Sound of music. That was the first movie i had seen when i just 6. My dream is to go to Disneyland one day. I love mickey and Minnie Mouse. I also love Donald and daisy . In fact i love al the cartoon characters of disney. I enjoy making Disney theme cakes too. Tom and Jerry was my favourite comic book characters . I used to save my allowance and splurge on comic books every month.
I will be making cakes till i can . There is no retirement from this. I hope i can do cake decorating till i am 70.