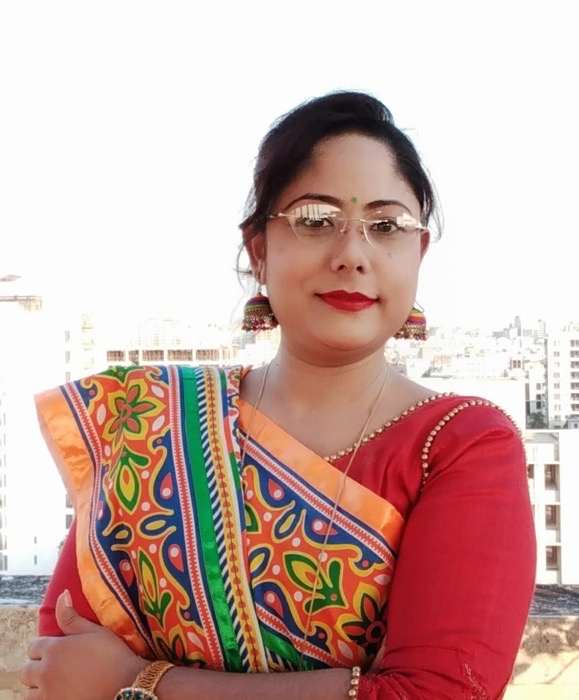 Tanjia Rashid from Cake Bake. 
Couture Cakers International Sugar Art Collaboration is hosted by Heba M Elalfy of Sweet Dreams by Heba.  This is the fourth annual celebration of couture using all types of sugar medium as created by an international team of Sugar Artists. The theme this year is Islamic / Hijabi Bridal Dresses.
For the next few days I will be interviewing sugar artists who are participating in the collaboration.  
Here is my interview with Tanjia Rashid
Tell me about yourself. How long have you been decorating? How did you learn to decorate? Do you decorate professionally? Have you taught any cake decorating classes? Have you competed in any competitions?
I am Tanjia Rashid. I am a sugar artist from Bangladesh. Married with two children. I did my masters degree in Economics background. Though I started my career as a banker but I couldn't continue my job because of my children and my family.
Baking and cooking was my hobby from my very childhood. So I thought if I start baking passion as my profession it would be a great fun. Then I started baking as my profession . Now I am running a customized online cake shop named Cake Bake for last eight years.
Firstly I was a self-taught baker. Then did several cake decoration courses in my country and worldwide . Though buttercream is my special comfort zone but I love royal icing decoration medium and sugar art as well. I decorate my cakes professionally but not taught any cake decorating classes.
I have competed some international online competitions. Among them Cake International on screen 2020 and Indian culture online competition are mentionable.
What is the name of your business/bakery, where you are located, what area you serve, and what you specialize in.
Cake Bake is located in Dhaka ,the capital of Bangladesh. Cake bake is generally a cakes and desserts shop. But I specially searve customized design cakes.
Social Media Links
My business page link is www.facebook.com/cakebakebd/ , www.instagram.com/cakebakebd/
Tell me about your design.  
First of all I would like to thank @ Heba M Elalfy to give me this opportunity . I am honored to get this wonderful opportunity to be a part of Couture Cakers . This year couture cakers collaboration's theme was ' Bridal dress with hijab'. It was a great fun to work with this theme. Firstly I designed my piece on a paper and then started create and decorated with cookie and royal icing. The dress was made of cookie and the golden frame was made with royal icing. The dress was piped with royal icing decoration.
Favorite stories about your pieces. 
My first decorated cake was a buttercream decorated cake for my son's 1st birthday. It was a under the sea theme cake. Entire cake was decorated with buttercream.
When I left my bank job then I was wanted to do something for myself from home. For this reason I started baking for my near and dear and then decided to make it my profession.
If one of the famous cake decorators offered to make you your dream cake, what would you ask for?
If any of the famous cake / cookie decorators offered me of my dream then I would like to have a wedding cake .
  
What is your favorite Pop Culture Famdom?  
I have a fandom of reading stories from my childhood. Though in my busy life I don't get so much time to read storybooks but whenever I get time I like to read stories in books or internet.
I loved to see The Tom and Jerry kids show in my childhood.