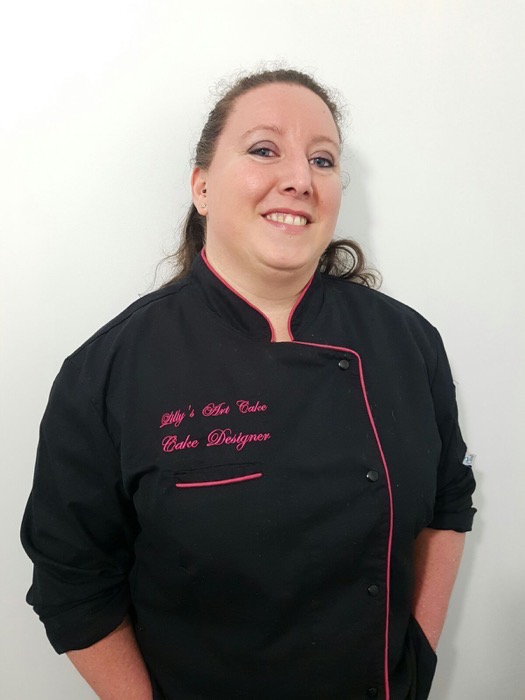 Celine Ceyzeriat from Lilly's Art Cake. 
Couture Cakers International Sugar Art Collaboration is hosted by Heba M Elalfy of Sweet Dreams by Heba.  This is the fourth annual celebration of couture using all types of sugar medium as created by an international team of Sugar Artists. The theme this year is Islamic / Hijabi Bridal Dresses.
For the next few days I will be interviewing sugar artists who are participating in the collaboration.  
Here is my interview with Celine Ceyzeriat.
Tell me about yourself. How long have you been decorating? How did you learn to decorate? Do you decorate professionally? Have you taught any cake decorating classes? Have you competed in any competitions?  What is the name of your business/bakery, where you are located, what area you serve, and what you specialize in.
Hello my name is Céline, I live in France in Lyon .
I've been making cakes for the past 8 years and created my small company Lilly's Art Cake 3 years ago.
I'm not very comfortable with competitions but I'm trying to improve lol. I entered 3 years ago with a decorated cookie but i got disqualified because i didn't have the right number of cookies . Seems like I don't count very well lool.
On the other hand I like big projects. I won a Cake Master Award for Best Show Piece : THE CUBE .
And lately with my awesome girl and best friend Graziella Augier I met at a cake show, an other friend Stéphane and the amazing Marc Suarez, we were finalists for the Cake Master Awards, best show piece with our beautiful CATRINA IN BLOOM.
We've also had the honor to work with Emma Jane for our project SWEET WEDDING IN BLOOM .
Social Media Links
My Facebook : https://www.facebook.com/LillysArtCake/ 
My instagram : lilly_s_art_cake
Tell me about your design.  
For couture cakers 2020 I wanted to showcase the hijab and to enhance the design with sweet colours and jewelry. What I like on the inspiration picture is the sweetness radiating from her and the draped of hijab which I wanted to bring out using powder work and royal icing textures.
 
What is your favorite Pop Culture Famdom?  
I have quite stayed a little girl, and even if i like Avatar, Harry Potter, Lord of the ring, i like as well vampires, like my two favorite : Vampire diaries and twilight^^ but werewolves are great too lol. And obviously i like Disney ! I like when there is a lot of singing, like in the little mermaid, the lion king, pacahontas and the great Beauty and the beast, my favorite.
But among them all, my absolute favorite is MARY POPPINS ^^ ! I love this little lighweight bag so very full at the same time ^^ . I would like to be Mary Poppins ^^.. Moving around easily, drinking tea with uncle Albert and flying around. And above all have a life supercalifragilisticexpialidocious ^^