Hend Taha from Hodzi Cakes. 
Couture Cakers International Sugar Art Collaboration is hosted by Heba M Elalfy of Sweet Dreams by Heba.  This is the fourth annual celebration of couture using all types of sugar medium as created by an international team of Sugar Artists. The theme this year is Islamic / Hijabi Bridal Dresses.
For the next few days I will be interviewing sugar artists who are participating in the collaboration.  
Here is my interview with Hend Taha.
Tell me about yourself. How long have you been decorating? How did you learn to decorate? Do you decorate professionally? Have you taught any cake decorating classes? Have you competed in any competitions?
I am Hend Taha , Egyptian Sugar artist, 31 years old, I am a structural engineer 2010 graduate, from Cairo university faculty of engineering. I began cake decorating as a hobby 6 years ago then I took it as a business from 2015, I loved mostly the modeling part, fondant modeling & sculpting cakes in realistic looks and busts. I didn't take any cake decorating courses I was self-learner however I took some developing courses like basic sugar flowers & basic figure modeling then I advanced my level in self-learning process till I reached a professional level. I give live courses in Cairo-Egypt like basic cake decorating, cake sculpting bust, modeling figurines & sugar flowers. In August 2017 I won the third place for a sugar flowers bouquet in Al Qaser competition in Egypt. In the same year December 2017 I won the fourth place in "La Cuisine" competition in Cairo-Egypt with a three tier royal cake for Great Britain. In June 2019 I won the first place with cup of excellence in a cake competition in Damietta-Egypt participated with a gravity defying Mother Nature sculpture.
What is the name of your business/bakery, where you are located, what area you serve, and what you specialize in.
You can follow my work in the following links ,I specialize in 3d cakes with figurines, sculpted cakes.
Social Media Links
https://www.facebook.com/HodziCakes/
Instagram: @hodzi_cakes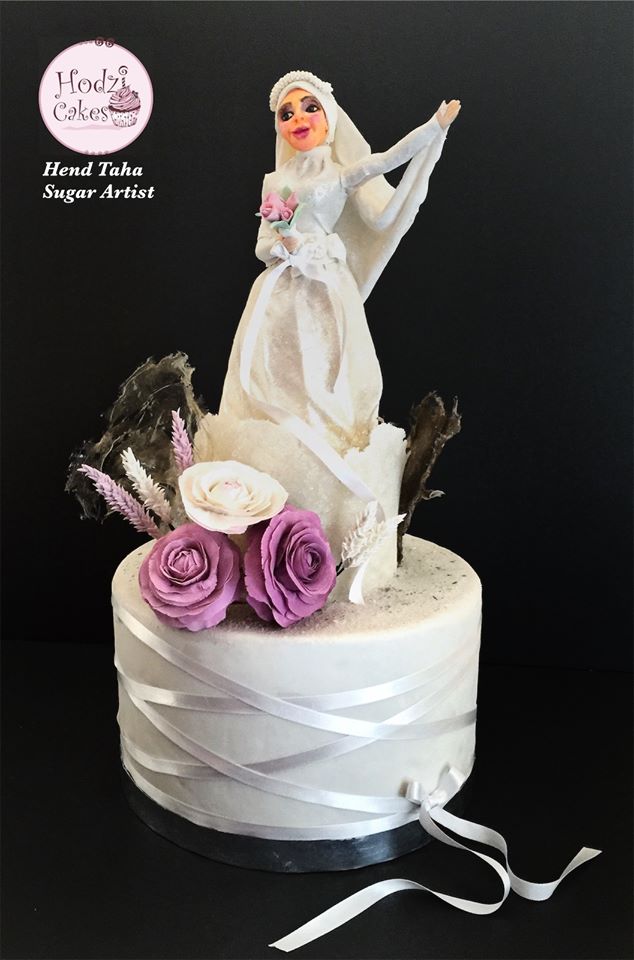 Tell me about your design.  
My piece is inspired by a Turkish wedding dresses designer (Asli Kongel), My piece is about Islamic bride on stage holding her veil & roses , three tiered cake, first tier covered with fondant , the second tier is covered with white glittery pearl sugar sheet technique, edible decorations & satinice gumpaste ranunculus roses, I chose very delicate colors of violet degrees and pink in the bride roses , third tier is the bride dress cake and fondant body, covered with fondant and the dress & veil made from edible fabric dusted by pearl glittery color to best resemble the white bridal Islamic dress, I hope you love it <3
All credit for this photograph goes to 'Asli Kongel'.
Favorite stories about your pieces. 
The first cake I ever decorated was my 27th birthday cake it was very simple with roses cut by plunger cutters &my name on it, I was really very happy with my very first cake creation 😀
I decided with my mom to begin to take it as a business in 2015 , as my mom is always my supporter & always inspire me ,I named the page very close to her name ( Hoda)my page ( Hodzi Cakes).
I have a story of my first wedding cake , it was a five tier wedding cake with hundreds of small roses, I still remember how beautiful it turned out , I also remember that all my family helped me in veining the roses it was a big week working on it & delivering to the hotel & the happiest moment when I saw the wedding photo of the bride & groom with the cake they were extremely happy ☺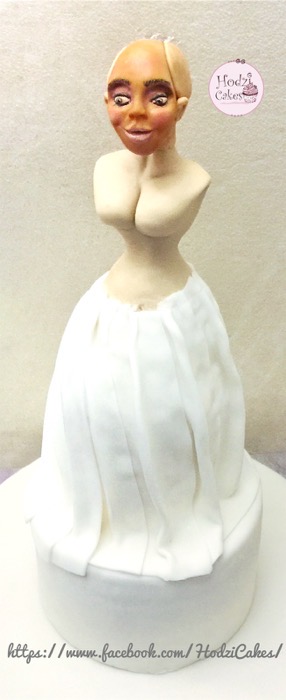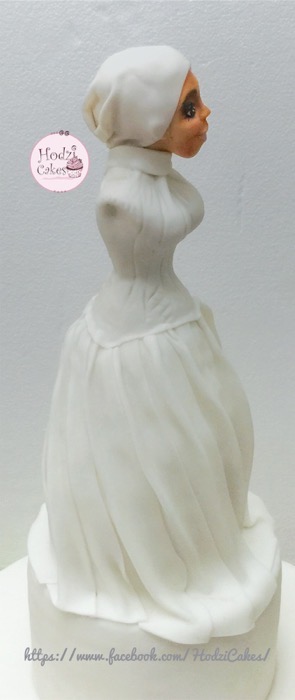 Do you have a favorite Disney movie? Do you have a favorite Disney character? What is your favorite thing to watch on Disney+? Have you been to any of the Disney parks? Do you have a favorite ride? Do you have a favorite story about a trip or experience at one of the Disney parks?
Cindrella
Daisy Duck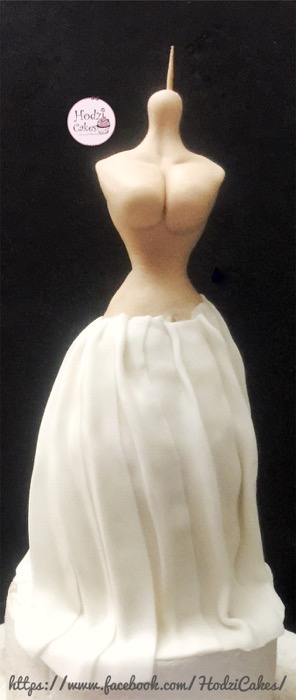 Do you have a favorite cartoon series or character? What was your favorite cartoon to watch when you were little? Would you prefer live in Bedrock with the Flintstones or in the future with the Jetsons?
Tom &jerry 😀

When I was little & till now as a grown up 😀