Pooja Sareen from Sugar Fancies By Pooja. 
Couture Cakers International Sugar Art Collaboration is hosted by Heba M Elalfy of Sweet Dreams by Heba.  This is the fourth annual celebration of couture using all types of sugar medium as created by an international team of Sugar Artists. The theme this year is Islamic / Hijabi Bridal Dresses.
For the next few days I will be interviewing sugar artists who are participating in the collaboration.  
Here is my interview with Pooja Sareen.
Tell me about yourself. How long have you been decorating? How did you learn to decorate? Do you decorate professionally? Have you taught any cake decorating classes? Have you competed in any competitions?
I'm a Cake designer and a mum of two. I set up my business SUGAR FANCIES in 2015 from my home in New Delhi, India. It has almost been four years since I started my venture. 
My cakes are renowned for their elegance and intricate designs with flair craftsmanship.  My versatile works include mainly Couture Cakes, Sugar Flowers, Chandelier cakes, with the use of various skilled techniques. I also love to share my knowledge and skills by taking classes and have taught hundreds of students across India.
I have won a few online cake decorating competitions. I'm a Brand Ambassador to products like Drageekiss and Magic Colours Star. Also, have had published few tutorials in Cake Decorating Magazines and American Cake Decorating blogs. My work has also got featured in some renounced Collaborations like Couture Cakers, Incredible Indian Collaboration, Spectacular Pakistan, Magnificent Bangladesh  and I'm still working on a few.
I was amongst the finalists in the Indian Cake Awards Wedding Cakes Category 2019. Recently I have been shortlisted as Top 25 Cake artists across India and Delhi too by Homebakers.co.in.
I have been awarded India's Top 10 Cake Artist 2019 by Cake Masters Magazine, UK
 
What is the name of your business/bakery, where you are located, what area you serve, and what you specialize in.
Sugar Fancies By Pooja in New Delhi, India
Social Media Links
My business page is
Instagram 
https://instagram.com/sugarfanciesbypooja?igshid=m5p8tkz1dk6o
Facebook
https://m.facebook.com/SugarFanciesbyPooja/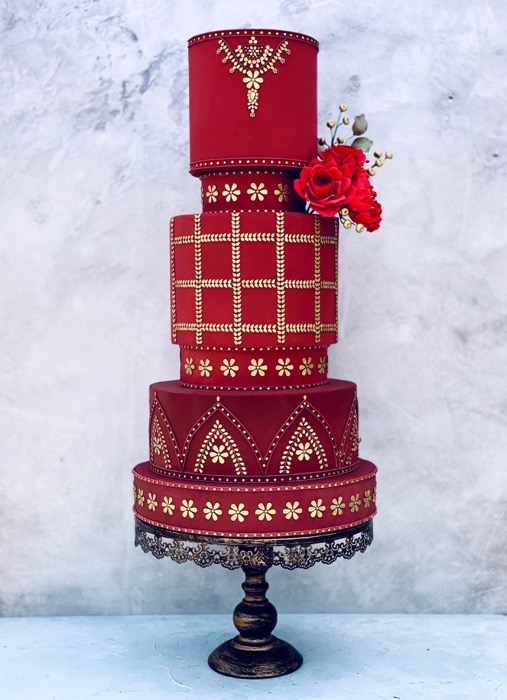 Tell me about your design.  
My inspiration for Couture Cakers Collaboration 2020 is an Instanbul Wedding dress in Red and Maroon. Bridal dresses are just as important and special as the big wedding day itself. Hijab is mostly common in muslim countries. It is used mainly to cover one's head and hair.
It has delicate gotta Patti embroidery in Gold. I used small cutout of fondant and paint them all over with gold luster dust. It took me around 3-4 days to replicate the delicate embroidery.
Hope you all like it.