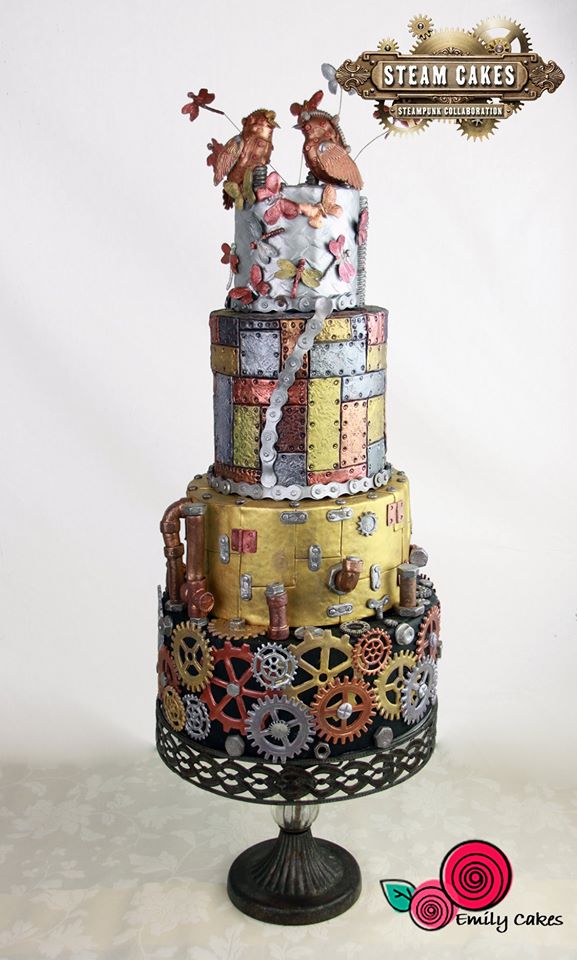 This wonderful cake was made by Emily Calvo from Emily Cakes
This Marvelous cake was created for the Steam Cakes – Steampunk Collaboration. To celebrate the Steampunk International Day, Cake Artists from around the world gathered to create their own edible Steampunk masterpieces.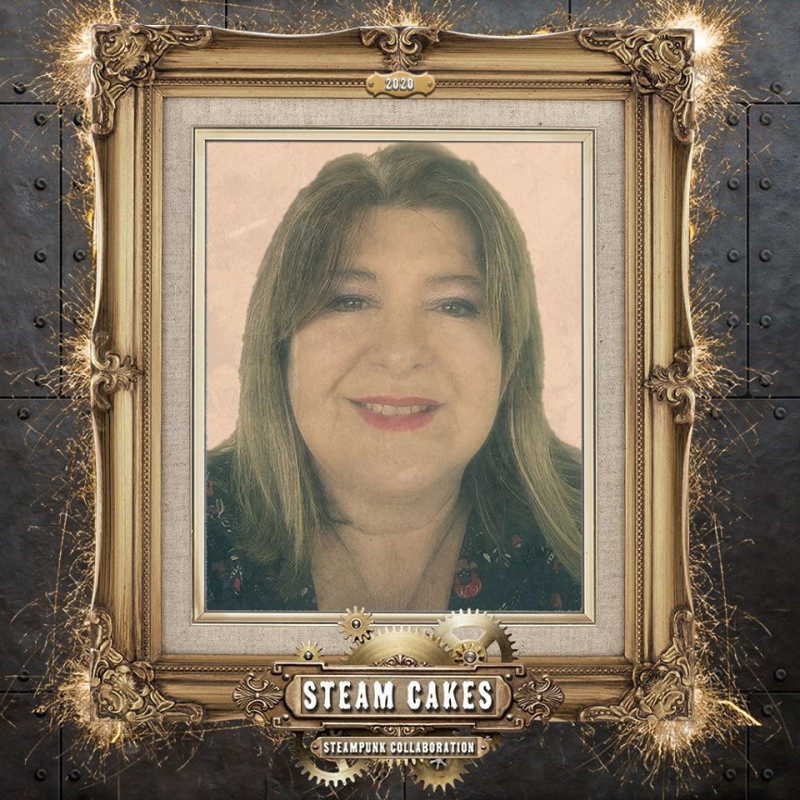 I also want to spotlight Emily Calvo and share my interview.
Tell me about yourself. How long have you been decorating cakes? How did you learn to decorate? Do you decorate professionally? Have you taught any cake decorating classes? Have you competed in any cake competitions?
I am originally from London, but I live in Santander, a wonderful city on the north coast of Spain in the region of Cantabria.
I've always loved art in all its facets, but it was really 10 years ago when looking for a traditional wedding cake for my daughter here in Spain that introduced me to this fascinating world. Among my hobbies is painting and using techniques from the world of art I slowly started apply them to cakes. I also attended various courses to learn more specially flowers since they are another passion of mine.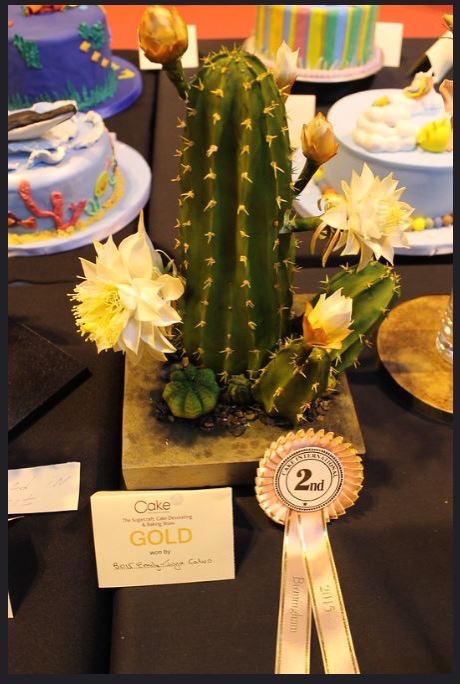 I have competed in various competitions and won 3rd prize for cupcakes in Madrid, then a gold and 1st prize in London Cake international for a succulent centre then the following year I won a gold and in Birmingham, Cake International 2nd Prize with a Cactus piece. I have had the pleasure of taking part in many collaborations which have been finalists in Cake Masters Awards, and was over the moon when Steam Cakes won "Best Collaboration Award" in 2018.
I have had a few tutorials published in Ices Magazine and Cake Masters Magazine and have taught a few lessons. However, now I am semi-retired and I just enjoy myself having fun in this sweet world.
Social media links:

Tell me about your cake. What was the inspiration for your cake? How did you create it?
My cake this year is one that I had wanted to make for some time, one that would reflect the mechanical world advancing into nature and nature adapting in order to fight back. I also love the combinations of silver, old silver, bronze, copper, gold and old gold pigments by ROLKEM that for me work so well. I used Satin Ice fondant for the main covering of the cake and Satin Ice gumpaste for the insects. And Saracino modelling paste for the pipes and birds.
Do you remember the first cake you decorated?
The first ever wedding cake I made is now a sight for sore eyes, but the couple loved it (thank goodness). It was actually a cupcake tower with a cake on the top, all done with white flowers and glitter.

Do you have a favorite story about a cake you made? Do you have a favorite story about a cake disaster?
A cake disaster happened in summer when my first 3-tier birthday cake slowly began to melt. I was beside myself when the roses started to droop – it was a nightmare.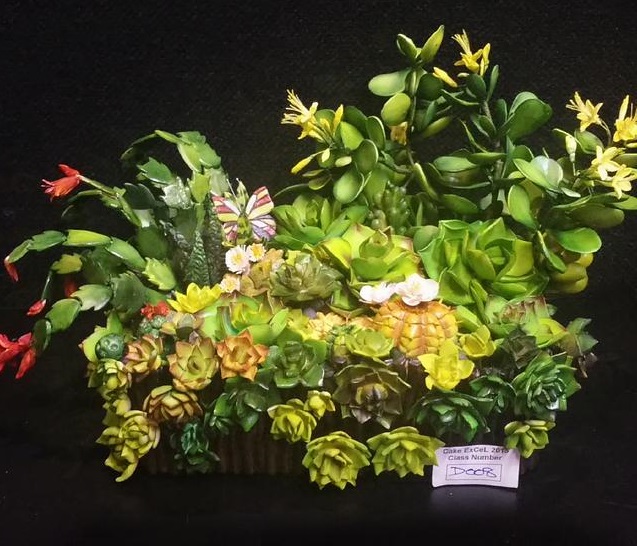 What is your favorite fandom?
I used watch a series about a dystopian world called The Prisoner, I loved the weirdness of the place the hero was forced to live in. I have the whole series which I enjoy watching.
Who is your favorite Harry Potter character? If you went to Hogwarts, which house would you want to be sorted into? Which house would you actual be sorted into? If you were a teacher at Hogwarts, what class would you want to teach? What would your Patronus be?
Hermione is definitely my favourite character, she is an empowered young lady who solves problems with little song and dance.

Who is your favorite Star Wars character? Which Star Wars movie is your favorite? Do you have a favorite Star Wars TV show or book? If you were living in the Star Wars universe – what would you want to be Jedi, Sith, Rebel, Imperial, Resistance, Smuggler, Bounty Hunter…?
I must admit that I have never seen Star Wars, yes, I must seem pretty weird. I much prefer to watch Black Mirror, Roald Dahl's Tales of the Unexpected or the Outer Limits.
Who is your favorite Star Trek character? Which Star Trek series is your favorite? If you were part of Star Fleet, what position would you want and which captain would you want to serve with? If your desired position is captain, what ship would you want to be captain of?
As a teenager I never missed an episode of Star Trek with William Shatner and Leonard Nimoy, whom I once met in Ebury Street London. Mr. Spock is my favourite character, always so precise and logical! However, I would choose to be the captain, and the Enterprise is the ship I would want to explore deep space in.
Do you have a favorite Disney movie? Do you have a favorite Disney character? What is your favorite thing to watch on Disney+? Have you been to any of the Disney parks? Do you have a favorite ride? Do you have a favorite story about a trip or experience at one of the Disney parks?
It's not easy to choose just one Disney movie because they are all so unique. I admire the work, patience and creativity that go into each masterpiece, an inspiration to many.
Some years ago, my youngest and I went on a ride called Rock'n'Roller Aerosmith, in Disney Paris. Fitted nicely into our seats and holding on to dear life, we were launched into tunnel. We were going so fast that I was pinned back and could hardly move my hands. Little did I know before getting on, that my glasses would inch up my forehead and dangerously travel up my head. They were going to fly off when the ride came to a sudden stop, it was over. Lesson learnt, do not go on rides with glasses!
Do you have a favorite superhero? What is your favorite superhero movie? If you read comics, what is your favorite comic or run on a comic? If you could be any superhero, who would you want to be? If you could have one super power, what would it be?
My all-time super hero is the 60s Batman and his friend Robin who used to say "Holy broken bones". I never missed the episodes with Joker, the Riddler, Cat Woman and of course Penguin. I was so saddened when my mum threw out my collection of cards when we moved home when I was 12.