This wonderful Steampunk Ursula cake was made by Rafaela Carrasco from La Tarteria de Rafi
This Marvelous cake was created for the Steam Cakes – Steampunk Collaboration. To celebrate the Steampunk International Day, Cake Artists from around the world gathered to create their own edible Steampunk masterpieces.
I also want to spotlight Rafaela Carrasco and share my interview.
Tell me about yourself. How long have you been decorating cakes? How did you learn to decorate? Do you decorate professionally? Have you taught any cake decorating classes? Have you competed in any cake competitions?
-Hello! My name is Rafaela Carrasco and I live in Alcúdia (Baleares), Spain.
I have been making this type of confectionery for 7 years.
Although I am mainly self-taught;
One day, by chance, I found the PME courses, and it was with them that I immersed myself in this whole world.
I started to make the odd cake or figure.
Apart from the PME diploma, I have taken several courses with artists that I admire very much, such as Isabel Tamargo (Impossible Cakes) and Mayte Rodriguez (Isomalt by Mayte Rodriguez) to improve the technique.
I opened my own creative pastry shop in 2016 and since then I have been professionally dedicated to decorating and making cakes.
In it I gave workshops for children and adults of different levels and different themes. And I discovered that I loved teaching!
In 2019 I decided to close it since my true passion is to work modeling chocolate and make edible sculptures. I would love to be able to teach my own courses, and that is why I work every day.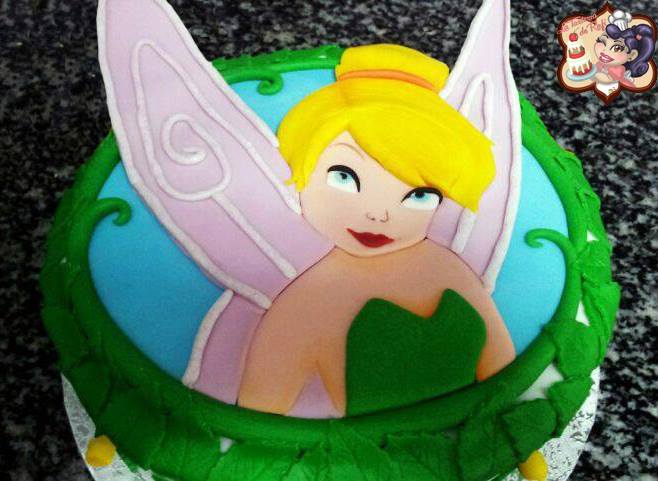 What is the name of your business/bakery, where you are located, what area you serve, and what you specialize in.

-Currently, I live in Alcúdia, and I dedicate myself to making artistic pieces and the odd commission, although above all I make sculptures with chocolate.
Not having a physical store, customers contact me through social networks.
I use facebook and instagram as La Tartería de Rafi

Social media links:
https://www.instagram.com/tarteriaderafi/?hl=es
https://www.facebook.com/latarteriaderafi/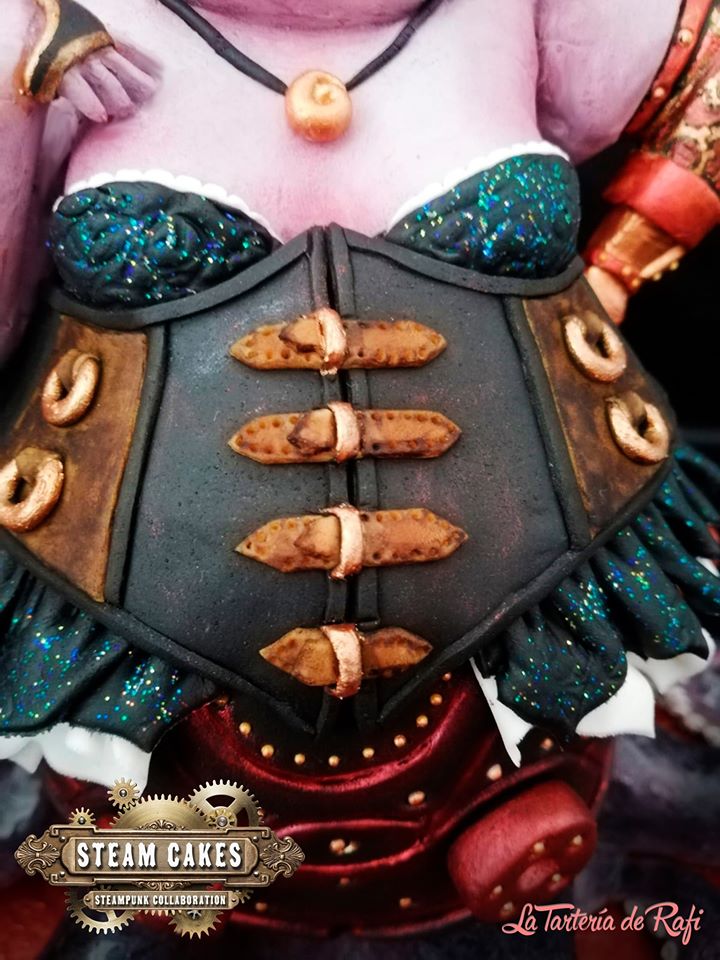 Tell me about your cake. What was the inspiration for your cake? How did you create it?
-I had been wanting to participate in the Steampunk collaboration for a long time, and at the same time had wanted to create the character of Ursula, the witch of the sea.
There was always a problem and I didn't have time to commit to doing the collaboration where I wanted to do it … and as if by magic Carla invited me to her wonderful collab !!
I could not believe it !!! I was euphoric, because for me it was an honor! And of course I could finally do Úrsula;the character I always wanted to do. I got down to work and started looking for images of Ursula; any ideas that could help me.
Now I had to do the character design in steampunk, and as my husband draws comics and designs; it is he who was in charge of designing the piece. I love it!!! He is the one who always helps me with each design and for me it is the best!
For the piece, I used sculpture paste from Saracino. For me it is one of my favorites and it always gives me good results.
All the decoration is fondant and I usually use powder colors and if necessary I mix it with alcohol to give intensity and cover better.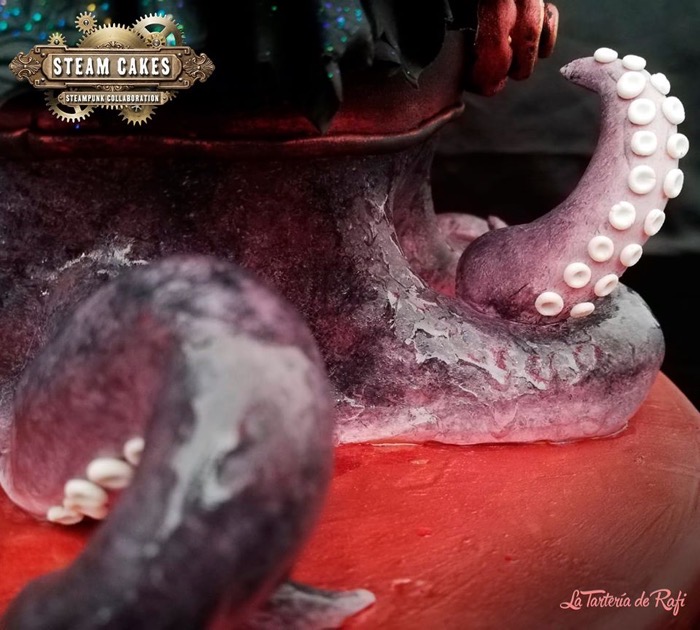 Stories about your cakes. Do you remember the first cake you decorated? When and why did you decide that you wanted to create cakes as a business / hobby?
-Wow! One of my first fondant cakes was for a coworker and she ordered the cake for her daughter's birthday … I thought: OMG, what a responsibility !! I was totally terrified and I got to it. It was a relatively simple decoration, but it seemed like a whole world to me … I remember that I was so nervous that when I handed it to him my hands were sweating and everything hahahaha !!!
If one of the famous cake decorators offered to make you your dream cake, what would you ask for?
If someone of my favorite artists offered to make me a cake … I think I would go crazy, because I am very indecisive. I can take hours to decide what shoes to wear or what to order in a restaurant … I know, it's a big flaw … hahahaha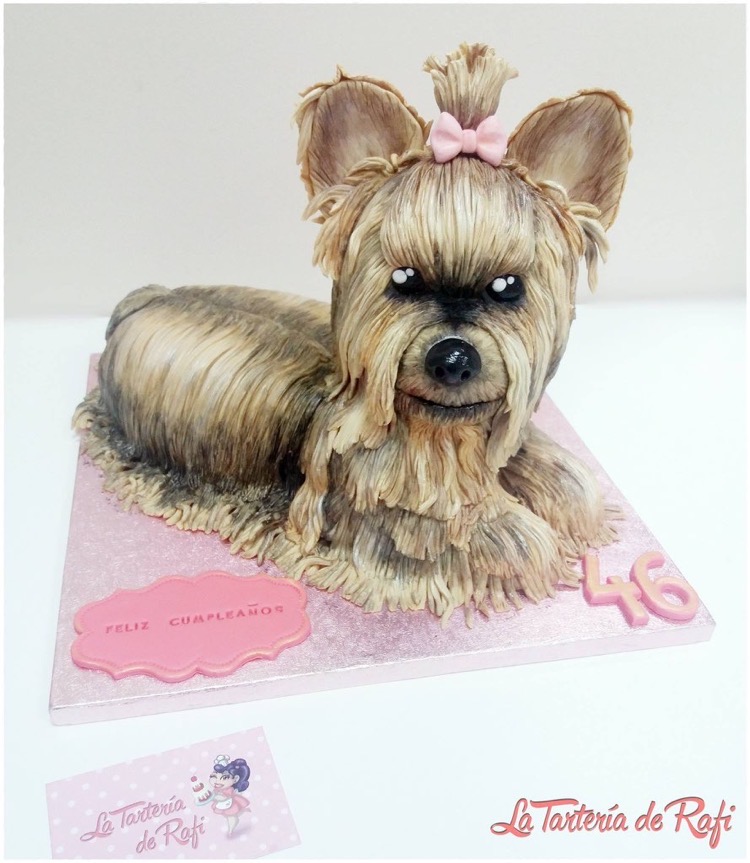 What is one of your fondest memories of a cake you made?
One of my best memories in the store was a puppy cake that we made for a customer.
His family wanted to surprise him and they asked me to make his pet.
The customer was impressed with the cake and congratulated us again; but he told us that he was not going to eat it.
We did not know if that was a good thing or not; because we thought that deep down he didn't like it …
But to our surprise the birthday person himself ordered another cake, without decoration, simply the sponge cake and the filling with the same flavor as the other cake, because he wanted to eat it hahahaha.
The original puppy cake must still be on display … hahaha!
What is your favorite fandom?
-I am in love with Marvel and Disney in general.
I love to make geek cakes.
My eyes light up when I have to make a character like Darth Vader !!!
It is one of the themes that I like the most and my husband as a good geek supports me hahahaha.
He has had a lot to do with this, since it was really because of him that I started reading comics and becoming interested in geek movies hahaha.
My favorite movie is Captain Marvel, and another one that I love is the Ant Man … They are so cool !!
If I were a superheroine … I have already said that I am very bad deciding myself right? ufff …. I don't know! Maybe … I love Gamora from Guardians of the Galaxy, for example.
Another great movie by the way !!! LOL
Obviously one of my favorite Disney characters is Ursula, but I also love Mulan.
I really would not know how to stay with a single character, I like practically everything hahahaha !!!
I have not traveled to any Disney park yet, but everything will come !!!
We want to have children, and we have thought about delaying the trip until the little ones we have can also enjoy it with us !! The wait will be worth it for sure !!