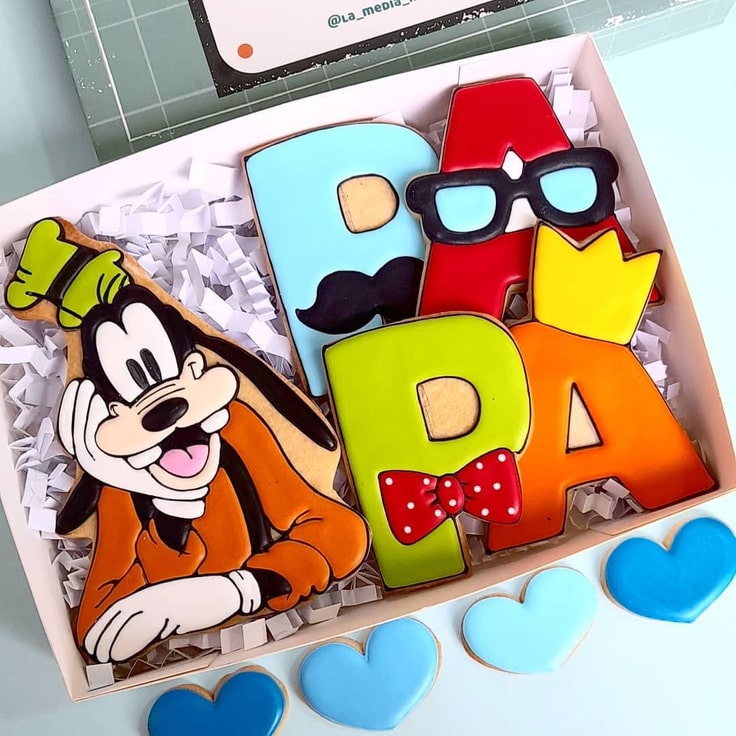 Happy Father's Day!
These cute Goofy Father's Day Cookies were made by la media naranjaiqq.
This cute set consists of nine cookies. One is a wonderful Goofy cookie, four spell out Papa and there are four heart cookies. Goofy has a big smile and is resting his head in his hand. He has on his usual orange shirt, green hat and white gloves. This is a great Goofy cookie.
The four cookies that spell out Papa are really cute because they're dressed up – one has a moustache and the others are wearing glasses, a crown, and polka dotted bow tie.
Back when the Disney Afternoon was being shown on TV, my husband and I used to tape it and watch it in the evenings after work. While I liked most of the shows, my favorite was Goof Troop. While I knew there had been a few cartoons about Goofy being a dad, it wasn't until I saw Goofy interacting with his teenage son Max that I thought the concept really worked.
Goofy and Max would also get to star together on the silver screen with A Goofy Movie. For some reason, I didn't see that in the movie theater. I don't think I saw it until it came out on video. I love The Goofy Movie and it is one of my favorite Disney animated films.
Because of these cartoons, Goofy has become one of my favorite Disney dad's along with Bob Parr (Mr. Incredible) and Fa Zhou (Mulan's Dad).
I hope each of you has a wonderful Father's Day!