Welcome to the 2nd day of my celebration of The Disney Afternoon. Yesterday, I spotlighted the wonderful Megavolt Cookies made by Пряники Калининград. Today, I'm featuring their wonderful Chip 'n Dale Rescue Rangers Cookies.
Chip 'n Dale: Rescue Rangers was an animated action adventure series featuring Chip, Dale and three new friends. There were 65 episodes of this wonderful cartoon.
Chip was the head of the Rescue Rangers. He was always played a little too seriously to counter Dale's more fun loving spirit. I always liked that his outfit was inspired by Indiana Jones.
Dale is Chip's best friend and the life of the party. I don't know if there has ever been a cartoon which featured only Chip or Dale because they go together like peanut butter and jelly. Rescue Rangers is so much fun because it fleshes out the two characters, but even for all their differences they're still best friends. Dale outfit is inspired by Magnum, P.I.
Gadget is without a doubt my favorite character in the cartoon. She is the team's absent minded genius, inventor, mechanic and pilot. Both Chip and Dale have crushes on her.
Monterey Jack is the team's muscle. He is a world traveler and speaks with a heavy Australian accent. His one weakness is cheese which puts him into an almost trance like state. Monterey Jack is such a fun character and the team could not ask for a better friend.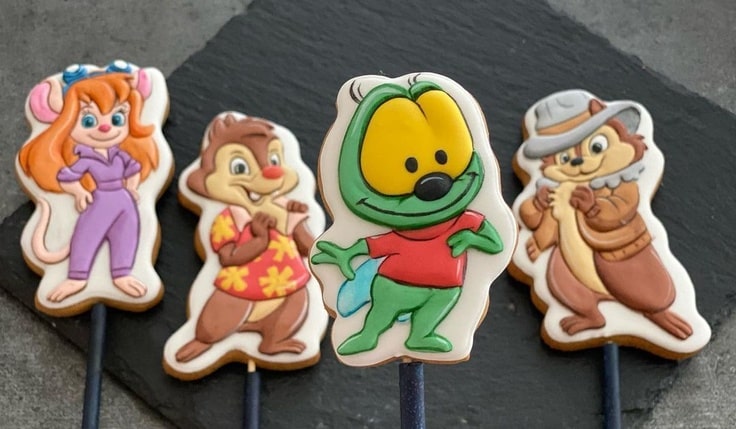 Zipper is Monterey Jack's best friend. He is small and spunky. His friendship with Monterey Jack is one of the highlights of the show.
Looking for more Rescue Ranger treats? Check out these posts:
Wonderful Chip 'N Dale: Rescue Rangers Cake Featuring Gadget
Wonderful Chip 'N' Dale: Rescue Rangers Cookies