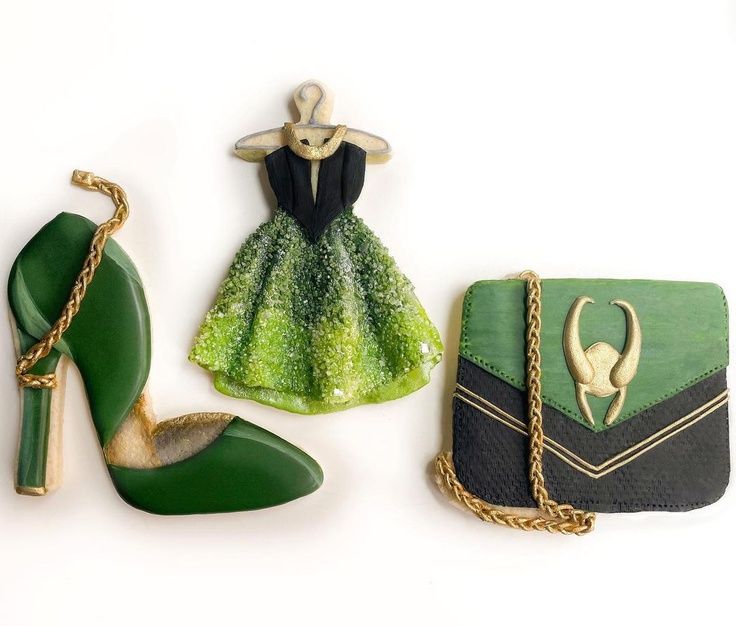 Danielle Amaral made these Sylvie Laufeydottir aka Lady Loki cookies for The Disney Fashion Cookie Collaboration. They include a gorgeous dress, pocket book, and high healed shoes. All three are in Loki's colors – green, black, and gold. The pocket book has Loki's golden helmet on it.
Here is Danielle's description these stunning cookies:
Today's post is for @burntcookiesbymurrah's #disneyfashioncookiecollab and I am so thrilled to be a part of it! I had so much fun designing these cookies based on Marvel's Loki series and my final Loki inspired set will be coming soon… (Yes, the obsession is real)

– The High Heel: Modified from @inspiredtotaste cutter with royal icing and a fondant braided chain with painted accents.

– The Dress: I used the technique's I learned from Liz's class and the cutter is from @lizviz_shop / @ladymilkstache . I have been dying to use this cutter again as it was one of my first favorites when I started doing cookies. The top is painted fondant and the dimension in the dress is folded fondant.

– The Handbag: The main portion is textured fondant (I used a place mat to create the bottom texture) and the Loki helmet is made from royal icing, with of course a painted and braided fondant chain. Finally putting that extruder to use!
For more Loki treats, check out:
Awesome Loki And Elsa Wedding Cake Topper