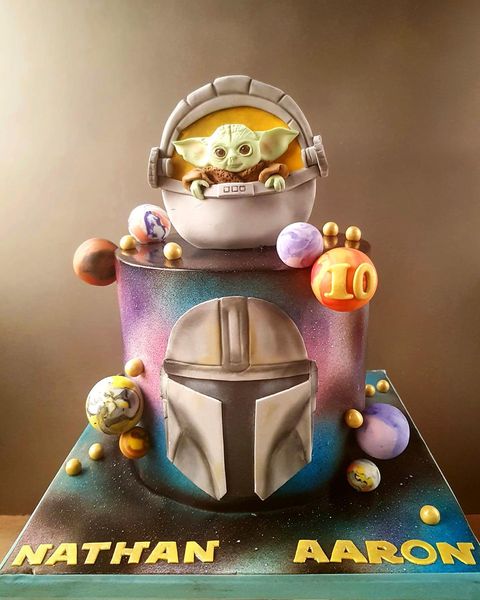 This Mandalorian & Grogu Cake features baby Yoda (Grogu) in his Pram pod.
This wonderful cake was made by Cake en Scene.
This cake was made for the 10th birthday of 2 brothers who are fans of the television show. Grogu's pram pod looks like it was made from either cake or Rice Krispies Treats covered in fondant. In addition, a fondant figure of Grogu is riding inside. In addition, the cake and cake board are painted to look like outer space. Small planets are attached to the cake and the cake board. Also, they may have fondant covered styrofoam centers to keep them light weight. Both birthday names are written in yellow letters on the cake board.
The Mandalorian helmet is on the side of the cake. It looks like it was made using fondant with airbrushed hi-lights.
For more Mandalorian and Grogu (Baby Yoda) take a look at:
Mandalorian 21st Birthday cookies