These Spirited Away Cakes and Cookies feature characters from Ghibli studio's Spirited Away. These wonderful cookies were made by Lê Phan Viên Hy from CAKES BY HI since 2013.
Ghibi Studios 30th Anniversary Sugar Art Collaboration features edible sugar art works from many Artists from around the world to celebrate the 30th anniversary of Studio Ghibli. Studio Ghibli Inc. is a Japanese animation film studio headquartered in Koganei, Tokyo. Its mascot and most recognizable symbol is a character named Totoro from My Neighbor Totoro. Among the studio's highest-grossing films are Spirited Away, Howl's Moving Castle, and Ponyo.
This is the 2nd of 4 posts about this collaboration. This post features cakes with characters from Spirited Away. These posts feature only a sampling of this terrific collaboration. Please visit Ghibi Studios 30th Anniversary Sugar Art Collaborationto see all of these terrific creations.
Artist's description of this piece:
The artwork is made of royal icing cookies. The techniques used for this cookies display is royal icing 3d piping and painting. It took me 5 days to finish this from brainstorming the idea until finishing the display structure. Spirited Away is my most favourite Ghibli Movie. Making this artwork, I hope that Chihiro and Haku will have a happy ending and Chihiro will come back to this wonderful land, and the next movie episode will be made soon.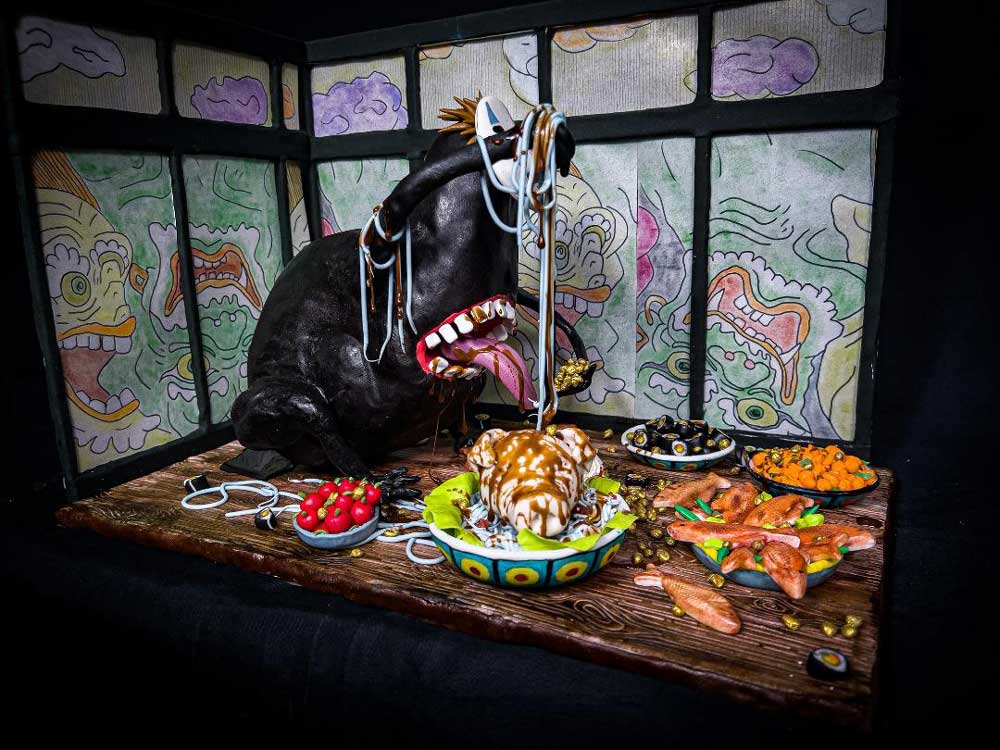 This wonderful sugar art was made by Guierine Donis from Spring Day.
Artist's description of this piece:
My piece was made with fondant and wafer paper. I hope I was able to capture the essence of Kaonashi (No Face) . SPIRIT AWAY it's one of my favorite movies from studio Ghibli.
This movie is considered a Masterpiece for many reasons In many ways, Spirited Away symbolises Miyazaki's hope for a secret world that still exists somewhere without being tarnished by modernity. Spirited Away's legacy is also important because of the recognition it brought to anime after becoming the first anime feature to win the Oscar for Best Animated Film.
Spirited Away tells the story of Chihiro, a 10-year-old girl who navigates the labyrinths of life in a mystical microcosm inhabited by ancient spirits. Over the course of her journey in this alternate world, Chihiro learns valuable lessons about the fundamental nature of the universe as well as the importance of friendship. If you haven't watch this movie please do, you won't be disappointed.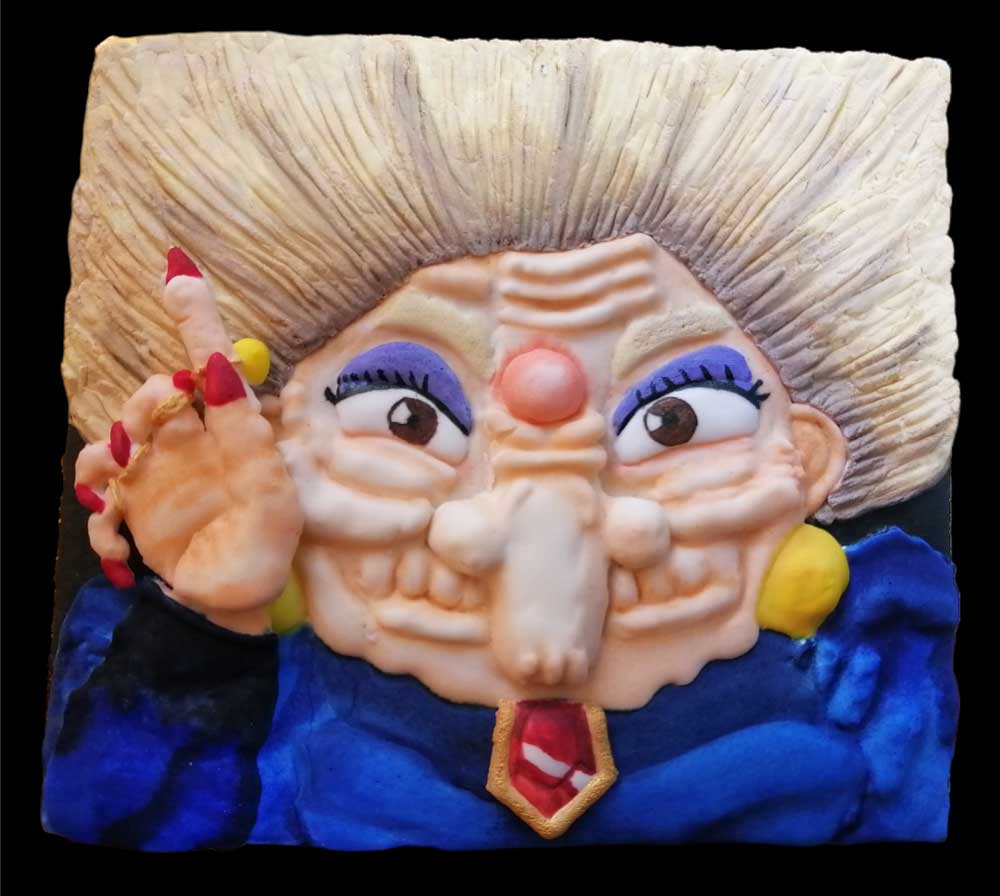 This wonderful sugar art was made by Diney Hidalgo.
Artist's description of this piece:
My piece is a vanilla cookie decorated 100% with piping royal icing annd it's hand-painted. I chose Zeniba, Yubaba's twin sister, for being powerful, kind and adopting Chihiro as her granddaughter And I love when Chihiro calls Yubaba Granny because that's how she tells Zeniba.
This wonderful sugar art was made by Kyoko Ueda from Sugar Voyager.
Artist's description of this piece:
Inspired by the feasting scene of Kaonashi from Spirited Away.
I simply love this scene because the combination of a luxurious hot bath and feasting on foods is a pure and simple pleasure for most Japanese!!
Although the story emphasized people's conscious or desire for wealth by making the ghost Kaonashi happy,, thus he would be throwing out magically conjured gold.
Kaonashi means "no face" in Japanese, actually what you see in only a mask, he is hiding his real face…. Very interesting character, it seems to reflect certain type of people in this world.

Freehand relief sculpting & handpainted with edible colors
Check back tomorrow for more cakes and sugar art in Ghibi Studios 30th Anniversary Sugar Art Collaboration.
In additions take a look at yesterday's My Neighbor Totora Cakes post for more cake and sugar art from this collaboration.