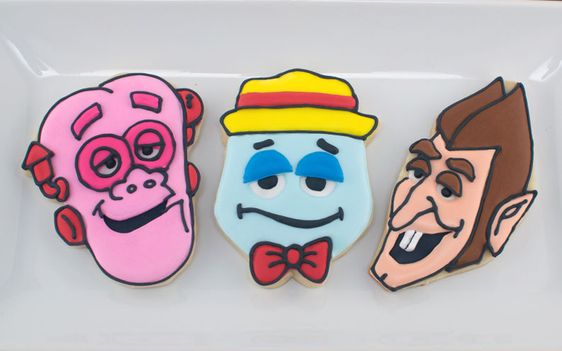 I really enjoyed yesterday's post about Monster Cereal Cookies, so I searched the web and found another spooktacular set. These cute Count Chocula and Friends Cookies were made by Semi Sweet Designs. They feature head shots of three of the Monster Cereals mascots – Franken Berry, Boo Berry and Count Chocula.
Here is the full cookie platter. For Franken Berry, there are pink lightning bolt cookies. Boo Berry gets light blue ghost cookies. Count Chocula has chocolate bat cookies. Plus, Mike made red, blue and brown cereal ghost cookies. These are so adorable!
I have featured some great kid friendly versions of Dracula, Frankenstein's Monster and ghosts in the past.
This adorable cake features Mickey Mouse as Count Dracula
This mash-up cake combines a Minion with Frankenstein's Monster
These spooktacular Haunted Mansion Cookies feature the Hitchhiking Ghosts and the Hatbox Ghost.