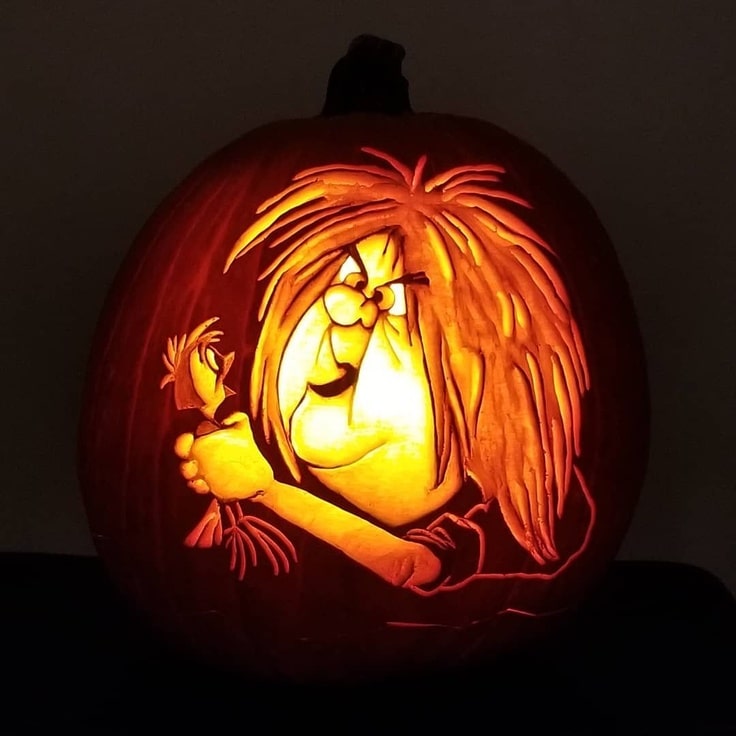 This marvelous Mad Madam Mim Pumpkin was carved by Pop Culture Pumpkins. It features Mim holding Wart (i.e. King Arthur) who is a bird.
Mim is such a fun Disney Villain, so when I saw this carving of her I wanted to feature it. Disney's The Sword in the Stone deals with the childhood of King Arthur. Arthur, nicknamed Wart through out the movie, is a young boy. The wizard Merlin befriends him. Merlin knows who Wart will become, so Merlin begins training Wart. To teach him wisdom and perspective, Merlin transforms him into different animals. While transformed into a sparrow, Wart is chased by a hawk. Wart finds shelter in a house. Unfortunately, the house contains something much more dangerous than the hawk – the Magnificent Marvelous Magical Mad Madam Mim.
If you've never seen Disney's Sword in the Stone, I highly recommend it. As much as I like Wart, Merlin, and Archimedes (Merlin's owl), Mim steals the show. Mim has a great song that she sings about herself. The highlight of the movie is a wizards duel between Mim and Merlin. "Did I say no purple dragons? Did I?"
Looking for more Disney Villains pumpkins?
Ursula, Flotsam and Jetsam would like to know if pumpkin carvings stay lit under the sea?
Don't skip these gorgeous pumpkins featuring the Evil Witch and Maleficent. They project an image on the wall behind them. So you have Maleficent projecting the Dragon and the Evil Queen turning in to the Evil Witch with the Magic Mirror literally on the wall.
These villainous carvings include Ursula, The Headless Horseman, Chernabog and Cruella de Vil.