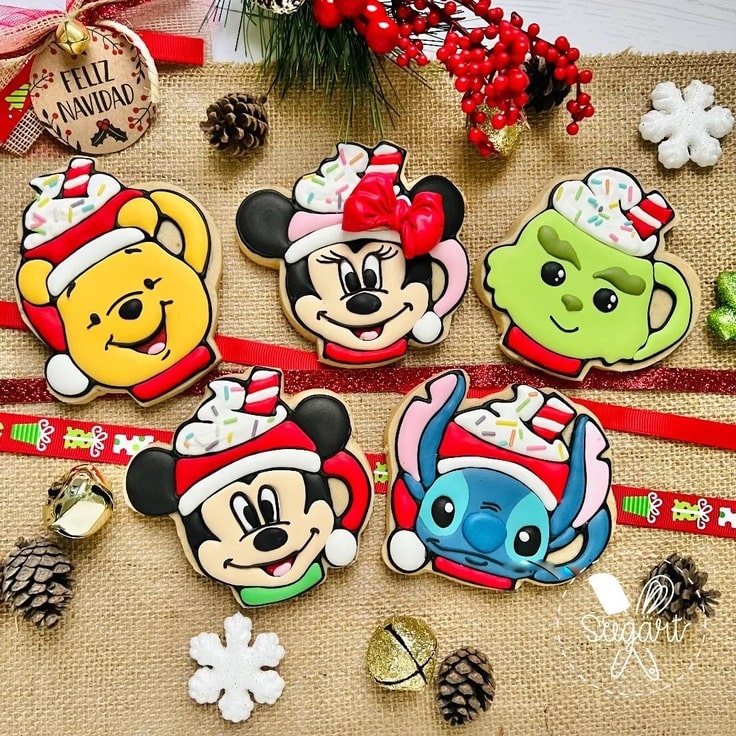 These adorable Disney Christmas Mugs Cookies were made by Sugart Repostería Creativa. They feature Christmas mugs of Winnie the Pooh, Mickey & Minnie Mouse, Stitch & The Grinch. These cookies are so cute! Each mug is the face of a beloved character looking happy. The hot cocoa in the mug is topped with whipped cream and sprinkles. There is candy cane straw sticking out of each mug. Winnie the Pooh and Mickey and Minnie Mouse are wearing Santa hats. The tops of the hats droop down and make the handle for their mugs. Minnie's mug has a bow on top. These look like the perfect treat to eat with your favorite hot Christmas beverage.
Looking for more Disney Christmas Cookies ideas?
This Tigger Christmas Cookie features Tigger wearing a Santa hat and carrying two giant candy canes.
These Chip and Dale Christmas Cookies include everyone's favorite chipmunks dressed for Christmas and cute Mickey Mouse snowmen.
Mickey and Minnie are dressed for Christmas on these delightful cookies.
Help Stitch in trapped in a box!…of Christmas cookies. 🙂