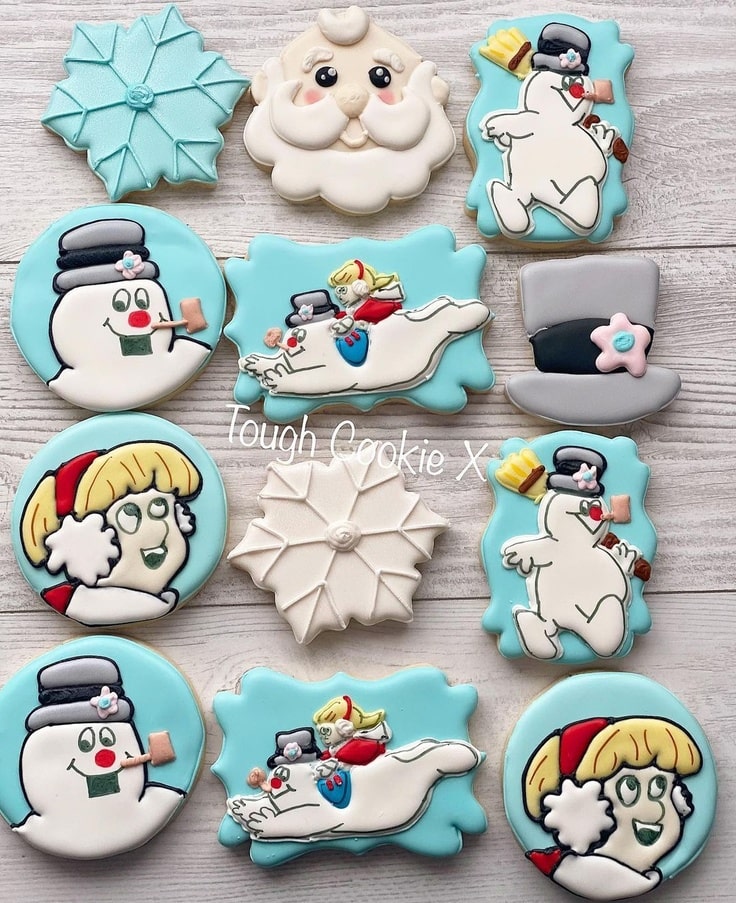 These cute Frosty & Karen Cookies were made by Tough Cookie X. There are twelve cookies in this set.
One cookie is a close-up of Santa Claus. He has white a beard and whiskers, red cheeks and black eyes. There are two close-ups of Frosty the Snowman. He has pipe and a grey top hat. Two cookies show Frosty marching while carrying a broom. There is one cookie of Frosty's hat. The magician's hat actually belonged to Professor Hinkle, but it brought Frosty to life. Without the hat, Frosty is just an ordinary snowman. There are two cookies of Karen, the little girl who befriends Frosty. She has yellow hair and ear muffs that look like snow. There are two snowflake cookies. One is white and the other is blue.
I save my favorite cookie design for last. There are two cookies of Frosty the Snowman sliding on his belly with Karen riding on his back. These are so cute!
Looking for more Frosty The Snowman Treats?
This wonderful Christmas Cake includes The Grinch, Frosty, Charlie Brown & Rudolph.
These cute Cookie Pops feature Frosty.
These Christmas Cartoon Cupcakes feature Jack Skellington, Snoopy, a Charlie Brown Christmas tree, Frosty the Snowman, the Grinch, Cindy Lou Who, Heat Miser and Burgermeister Meisterburger.