I made these Star Wars Clone Trooper Cake Pops for my son who is a huge Star Wars fan.
What's a Cake Pop? You know how a Charms Blow Pop is a lollipop on the outside and bubble gum on the inside and a Tootsie Pops is a lollipop on the outside and a Tootsie Roll on the inside. Cake Pops are similar, they're candy coating on the outside and cake and frosting on the inside. Yummy!
To make Star Wars Clone Trooper Cake Pops:
Tools Needed
9 by 13 inch cake pan
1 large mixing bowl
fork
spoon
styrofoam
microwave safe dish for melting candy melts
wax paper
sheet pan
paring knife
List of Ingredients to Purchase
Grocery store items
1 cake mix
1 16 oz can cake frosting
Speciality store items
candy melts
powdered black food coloring if the fondant is not black
sucker sticks
1 tub premade black fondant or 1 batch of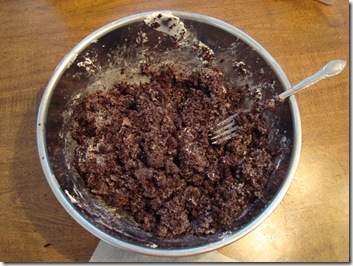 To mix up the mixture for the cake pops, add 3/4 of the 16 oz container cake frosting to the cake crumbs and mix thoroughly using a fork.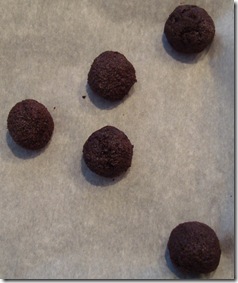 Lay out the wax paper onto a sheet pan. Roll the cake pops mixture into ball shapes that are about the size and shape of a clone trooper's head. Place in freezer to harden before inserting the sucker stick or the stick will not stay in the cake pop.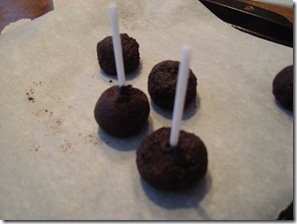 Once the cake pops have hardened for about 1 hour in the freezer, place the sucker stick into the cake pop and return to the freezer for 30 minutes.
0; Add the bar on the top of the head using additional mixture and return the cake pop to the freezer for 30 minutes.
Melt the candy melts.
Melt the candy melts in the microwave for 20 seconds, stir, then melt, and stir again until the candy melts are almost melted. Stir to finish melting. Do not overheat in the microwave.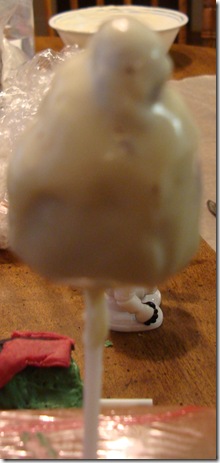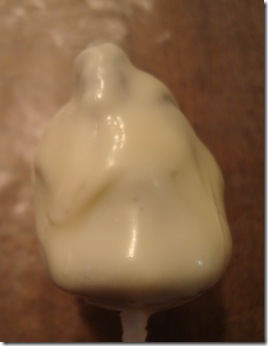 The dip cake pop into the candy melts. Gently spoon the candy melts over the cake pop. Let excess candy drip from the cake pop back into the bowl.
Place the cake pop into the styrofoam and let dry.
Make front of helmet for Clone Trooper.
Tools needed.
Rolling pin
paring knife
parchment paper
Ingredients.
1 batch of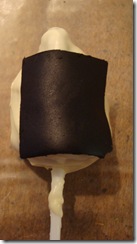 Lay the fondant piece back onto the parchment paper. Using a paring knife, carefully cut the the black fondant to form the front of the helmet.
Place the front of the helmet onto the cake pop. It should stick because the fondant will still be wet, but if it does not stick, put a small amount of water on the back side of the fondant.
Here's the Clone Trooper with some of my other Star Wars Cake Pops: