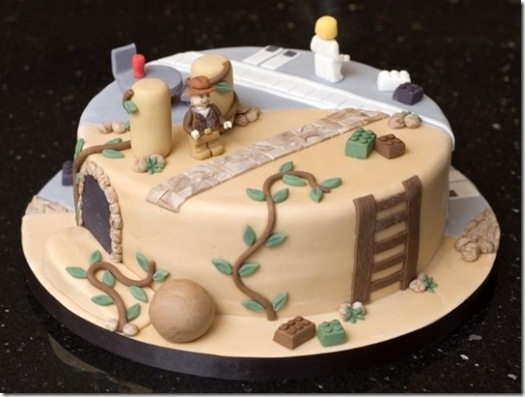 This cool LEGO Star Wars & Indiana Jones Cake was made by Mrs. Mac's Creative Cakes. My son's two favorite LEGO series are Star Wars and Indiana Jones (which unfortunately is no longer produced), so I really like this cake. The contrast between the brown, tan and green Indiana Jones side and the black, white and grey Star Wars side is wonderful.
One of our children has food allergies. So, I was very pleased to read the following on Mrs. Mac's website "Finally. my other specialty is wheat-free and/or dairy-free cakes. My daughter is wheat, dairy and soya-intolerant, and I have had to learn to bake without the traditional cake ingredients. You would never guess that these cakes contained anything other than the usual flour and butter – they taste great and you don't have to have an intolerance or allergy to enjoy them!"
This two-sided LEGO Star Wars and LEGO Indiana Jones Cake is a great creative idea for a two-sided cake.