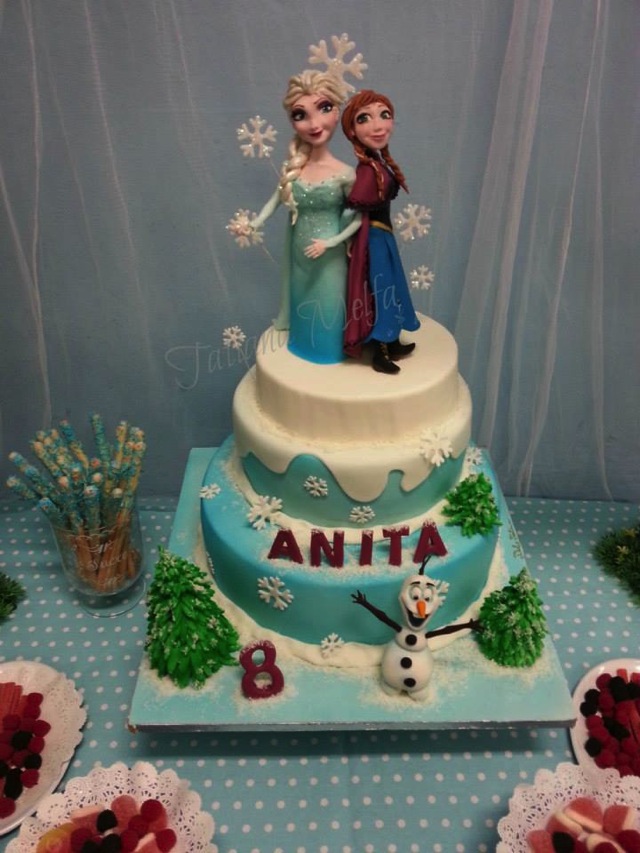 This Awesome Disney Frozen Cake was made by Tatiana Melfa. This Amazing Cake has Elsa the Snow Queen and Princess Anna on top of the cake surrounded by snowflakes, and Olaf at the bottom of the cake beside the birthday name and age. These Disney figures look wonderful.
Elsa and Anna are standing side by side smiling. Elsa is wearing her blue ice dress and Anna is wearing her blue and black winter dress with a magenta cape. Anna is wearing black boots. Elsa has a snowflake in her hand. Anna is smiling while looking at Elsa out of the corner of her eye. They are surrounded by white snowflakes.
Olaf has a large grin on his face. His arms are outstretched. The birthday name is in magenta just above him and the number 8 is beside him to show the birthday age. There are green trees near him.
In addition, check out these terrificFrozen cakes and cookies with Anna, Elsa, and Olaf.