Ursula is the Terror of the Seas on this Disney cake as she capsizes this old style sailing ship. The ship looks much like the one that Eric was on in "The Little Mermaid." Maytarta crafted this amazing edible Little Mermaid Cake. The wood grain of the old style sailing ship is wonderful. Notice the intricate carvings on the stern of the ship and the carved head of Eric on the bow of the ship. The rope for the anchor goes from the boat and disappears into the water just on top of Ursula's head. The main mast is broken and the main sail is missing along with several planks from the side and stern of the ship. The sea churns upward with Ursula's fury as the ship is lifted high up in the air above the ocean. Just below the ship, Ursula head and tentacles are seen protruding out of the water high into the air. The ocean waves are blue waves with white caps. Ursula has a huge smile of her face as she delights in making chaos. Ursula's tentacles are black on top and purple on the bottom with white suction cups attached to the bottom. She is wearing pink shell earrings. Be sure to catch the video at the bottom of the post that features 'Ursula' in a totally different Disney setting.
Ursula surrounded by the ocean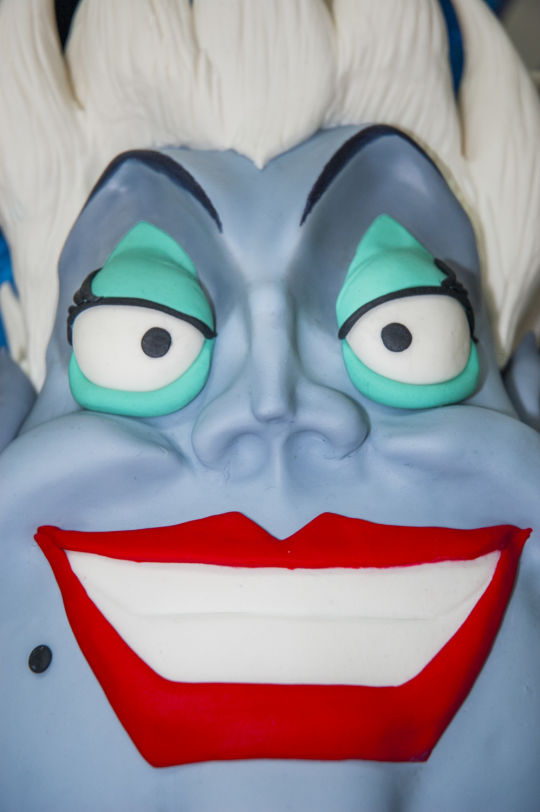 Close-up of Ursula's face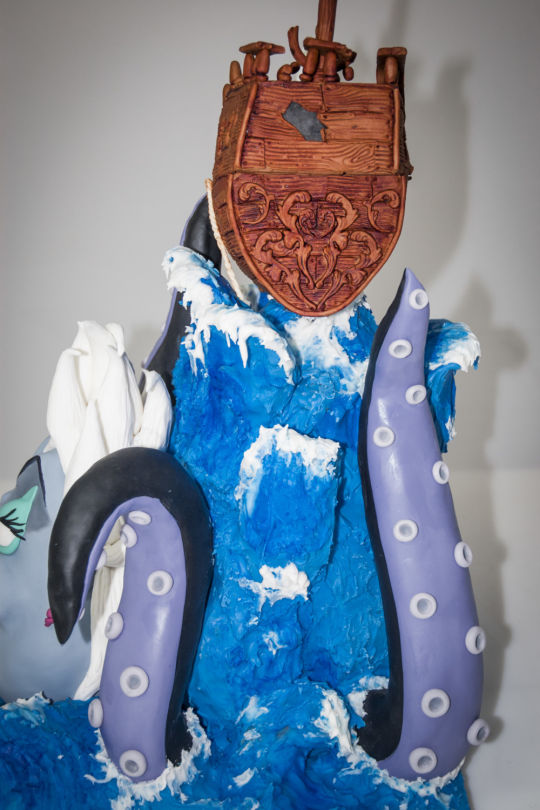 Side view of Little Mermaid Cake and view of ship's stern with carvings and missing plank
Back view of the cake and side view of the ship with planks torn off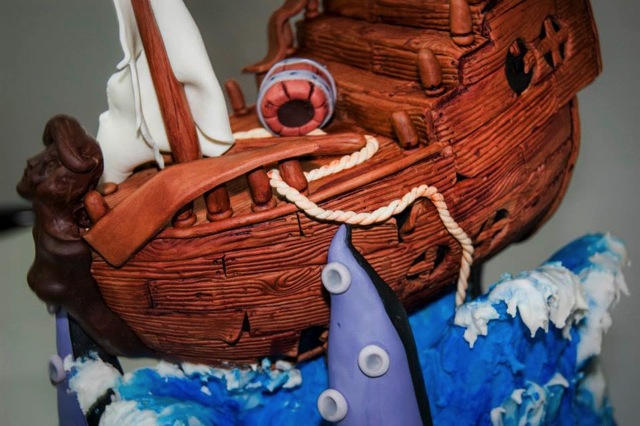 Close-up of the deck of the ship. Notice the carving of Eric's head and the holes near the bottom in the side of the ship.
Video of Pat Carroll 'Ursula' reading Ghost Host lines from the Haunted Mansion Disney Ride
Also, check out these wonderful Disney Villains Cakes and Cookies.
Also, check out these wonderfulLittle Mermaid Cakes and Cookies.