Mitchies Munchies made this marvelous two-sided wedding cake. The Groom's side of the cake is a superhero team-up of the Incredible Hulk, Captain America, Spider-Man, Batman, and Thor. The Bride's side of this splendid wedding cake is a white wedding cake with purple orchids. I like the way Wolverine's claws are breaking through the Bride's side of the cake. The traditional white wedding cake side has his claws impaling the purple orchid flowers and leaving purple petals on ends of the claws. It's a great idea to combine a traditional white wedding cake with a superhero cake and to show jagged edges where the two sides meet. This helps show the contrast between the more chaotic side with Thor, Captain America, Spider-Man, and Batman and the orderly more traditional white wedding cake side.
The Hulk's green fist is on top of the cake with a Bride's veil and a Groom's black top hat on top of it. This fist has wonderful detail. One can see the Hulk's fingernails and the joints in his fingers. The fist was made of polymer clay so that the bride and groom could have it as a long lasting memento of their awesome wedding cake and wedding day. The fist is centered between the two sides of the cake.
The top layer of the cake is bright blue with Captain America's round red, white, and blue shield appearing several times around the side. The second layer is red and has black spider webs to represent Spider-Man. The next layer is black as night with Gotham's cityscape and the Bat Symbol (yellow with a black bat in the middle) in the middle of the black night sky above the buildings of Gotham. The bottom layer is black with Thor's helmet in the middle.
The superhero side of the wedding cake
Hulk's fist with the Bride's veil and Groom's black top hat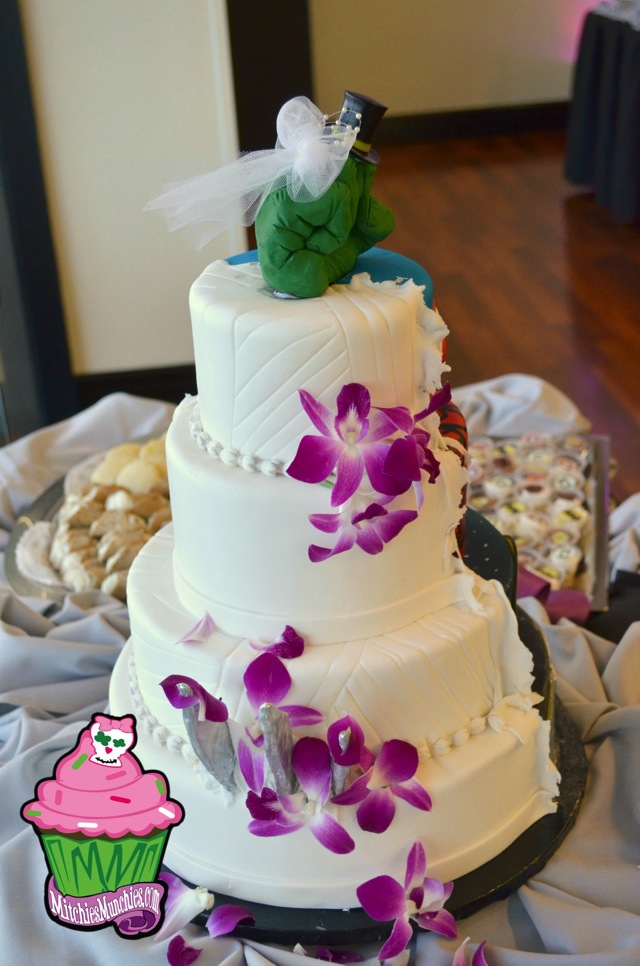 View of Bride's side of the cake with Wolverine's claws sticking out
Close-up of Wolverine's claws
In addition, check out these Pop Culture Wedding Cakes.