These cool Star Wars Cupcakes were made by Cinnamon Square. I really like how some of the cupcakes were made with fondant accents while others were hand painted. Some of the cupcakes combine both by being hand painted and having fondant accents. The mixture of styles makes each of these cupcakes stand out more.
The characters on these cupcakes are featured are R2-D2, Darth Maul, Darth Vader, C-3PO, Chewbacca, Boba Fett, a stormtrooper, the Death Star, a red lightsaber (probably Darth Vader's), Yoda, an Ewok, and a green lightsaber (probably Luke's).
Here is a close-up of the hand painted Stormtrooper cupcake.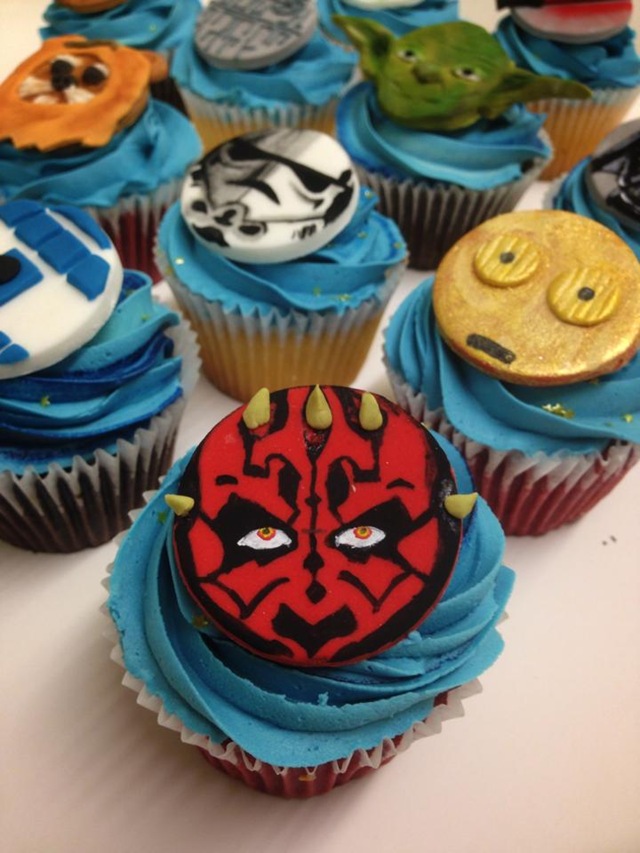 Here is a close-up of the Darth Maul Cupcake. This is probably my favorite cupcake of the group. I really like how Darth Maul is hand painted, but his horns are fondant accents. Mixing the two styles gives Darth Maul a really dynamic look.