This Fabulous Robin Hood Cake was made by La Fata delle Torte. This Robin Hood is the fox from Disney's animated Robin Hood. He is dressed in his green shirt and his green hat with a red feather. His quiver of arrows is hung over his shoulder. His bow is in his hand loaded with an arrow with red feathers. It looks like he is getting ready to shoot another arrow at the target and split the arrow already in the target. Robin Hood is standing on top of this Disney cake in a green meadow with a gray rock. There is a ripped bag of golden coins on the ground near him.
There is a brown tree in front of Robin Hood. A blue, red, and yellow target is attached to the tree. The tree spans both layers of the cake. The root of the tree starts at the cake board. The tree trunk is mainly on top of the bottom layer of the cake.
There is a number '4' on the side of the to layer to represent the Birthday age. The bottom layer of the cake has the birthday name.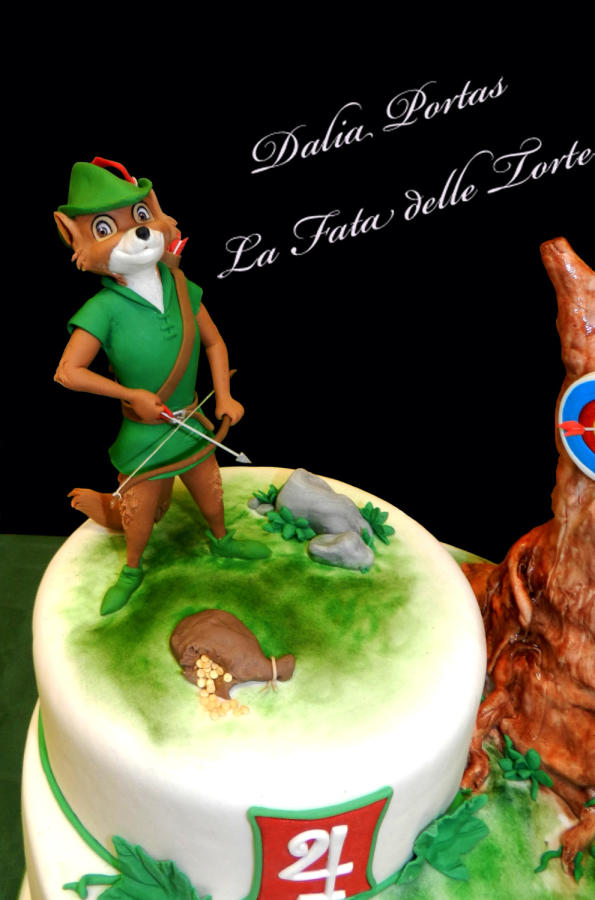 Close-up of Robin Hood