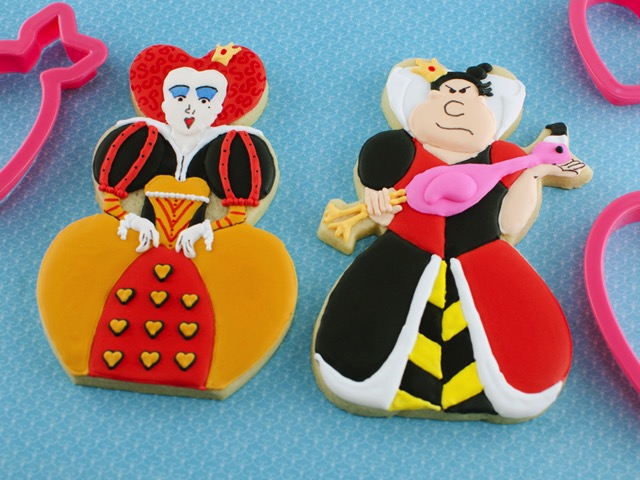 These Splendid Queen of Hearts Cookies were made by Semi Sweet Designs. These Cookies feature the two versions of the Queen of Hearts: the Red Queen from Tim Burton's Alice In Wonderland and the Queen of Hearts from Disney's Alice In Wonderland.
This Red Queen Cookie based on Tim burton's Alice in Wonderland. His Red Queen is based on the Queen of Hearts from the original story. The Red Queen has on a yellow dress with a red middle that has yellow hearts. The top middle of the dress is yellow with red trim and buttons and white pearls. The top of the sleeves and the top back of the dress is black with red trim. The bottom of the sleeves are yellow with red trim to watch the rest of the dress. She is wearing white gloves. There is white trim at the very top of the dress. Her hair is red. She has a small gold crown on one side of her hair. Her eye shadow is blue and her lipstick is red.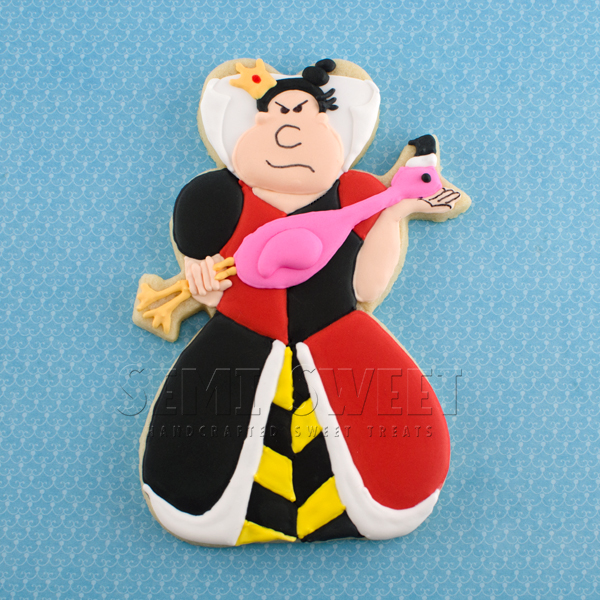 This Queen of Hearts Cookie is based on the Disney animated Alice in Wonderland. The bottom of her skirt is black on one side and red on the other side. The middle of the dress has a black and yellow checkered pattern section. The top of the dress is red and black, but the black is over the red of the bottom skirt and the red is over the black on the bottom skirt. The sleeves of the dress are black. The very top of the dress that sticks up behind her head is white. Her hair is black and she is wearing a fold crown on one side of her head. The Queen of Hearts is holding a pink flamingo in her hands. She used it to play croquet with Alice.
Also, check out these wonderful Disney Villains Cakes and Cookies.