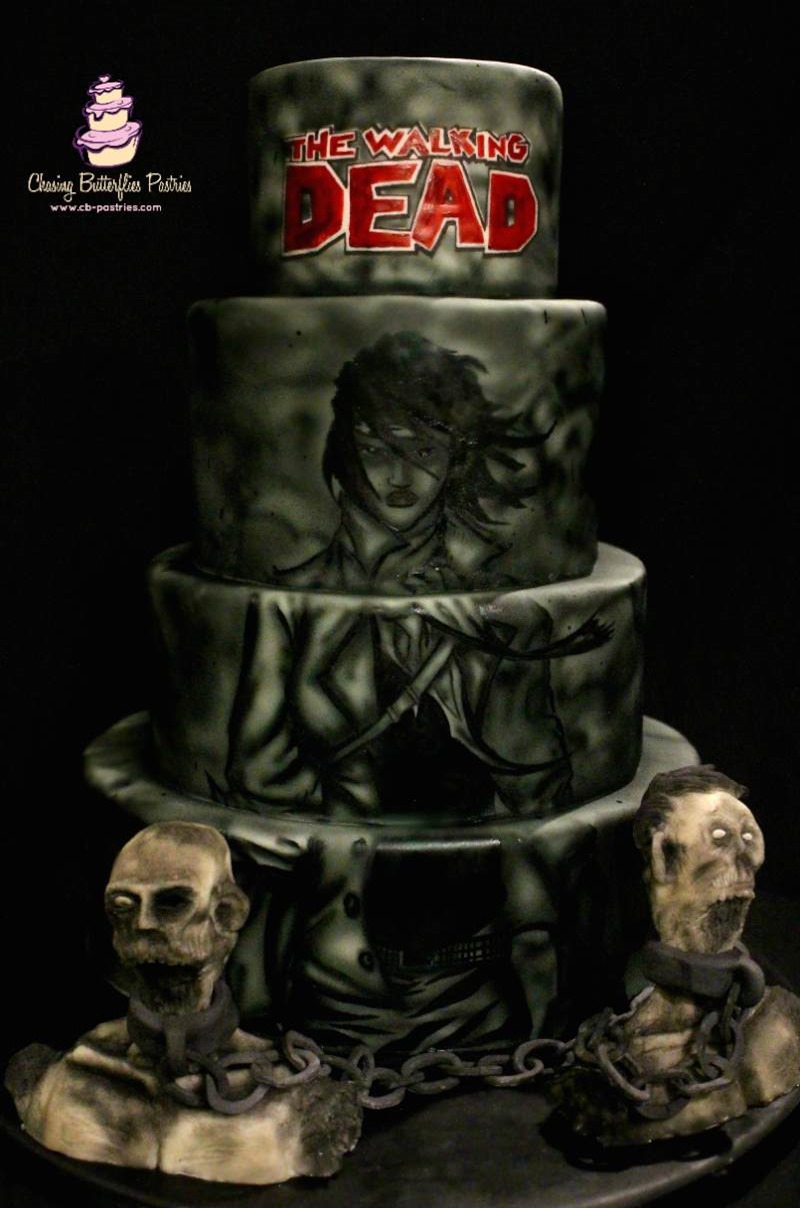 The Baking Dead is a collaboration of over 50 cake and sugar artists celebrating the hit AMC series The Walking Dead. You can find The Baking Dead on the web, Facebook, and Twitter.
The sugar artists that make up The Baking Dead come from all over the globe. Each artist chose a character or scene from the show to recreate in sugar or cake form. They were asked to incorporate the emotion and relationships that are conveyed in the show and use butter, sugar, candy and cake to make you "feel" through their piece, in much the same way that the show conveys such strong emotions.
Baking Dead is also dedicated to helping to spread the word about Domestic Violence Prevention and Awareness. Since the beginning of the show, the issue of domestic violence has reared it's ugly head and continues to be an issue faced throughout the series. The Baking Dead is dedicate to all the survivors of domestic violence and to wants to link with as many domestic violence prevention and awareness organizations as possible, including the National Center on Domestic & Sexual Violence. Many in the group have been touched by or are survivors of domestic violence in one form or another and felt that this would be a great opportunity to get the word out.
Since Michonne is a central character is both the TV show and comic, Chasing Butterflies Pastries and Sweetface Cakes decided to team-up. Chasing Butterflies Pastries make the above cake featuring the comic version of Michonne. Sweetface Cakes created a cake featuring Danai Gurira, the actress who plays Michonne on TV.
When Michonne first appears in issue 19 of The Walking Dead, she has two zombies in chains walking behind her. When asked about them, Michonne explains "These two stopped trying to attack me a long time ago. My boyfriend and his best friend. Having them usually kept the others from attacking me—somehow."
Renay Zamora from Sweetface Cakes made this cake of the TV version of Michonne. Renay Zamora deserves a round of applause because she is the baker who headed up The Baking Dead! Renay also runs the website Take on Cake. Renay describes Take on Cake: "I decided to start Take On Cake to help fellow cake enthusiasts "take on" and master cake decorating techniques, as well as offer my "take on" current cake topics." In addition to hosting The Baking Dead website, Take On Cake has a sells Renay's cool video tutorial called Swinging From The Moon. This tutorial teaches you how to create a gravity-defying cake for a memorable event using a strong and versatile structure.
Remember: These are just two of 50 plus items created for The Baking Dead. To see the rest, visit The Baking Dead. You can find them on the web, Facebook, and Twitter.