Ready to have your mind blown?  The terrific piece of artwork you see on the stand is a cookie.  This stunning Walking Dead Cookie was made by Michelle from FROSTING – Cakes & Cookies. 
Michelle made this as part of The Baking Dead. The Baking Dead is a collaboration consisting of 50+ cake & sugar artists celebrating the hit AMC series The Walking Dead and helping to spread the word about Domestic Violence Prevention and Awareness.  You can find The Baking Dead on the web, Facebook, and Twitter.
These sugar artists come from all over the globe. Each artist chose a character or scene from the show to recreate in sugar or cake form. They were asked to incorporate the emotion and relationships that are conveyed in the show and use butter, sugar, candy and cake to make you "feel" through their piece, in much the same way that the show conveys such strong emotions.
Since the beginning of the show, the issue of domestic violence has reared it's ugly head and continues to be an issue faced throughout the series. We decided to dedicate this collaboration to all the survivors of domestic violence and to link with as many domestic violence prevention and awareness organizations as possible, including the National Center on Domestic & Sexual Violence. Many in the group have been touched by or are survivors of domestic violence in one form or another and felt that this would be a great opportunity to get the word out.
Michelle's hand painted cookie features The Greene Family Farm.  The farm is the main setting for Season 2 of The Walking Dead.  In real life the farm is in Senoia, Georgia which is about an hour from where I live.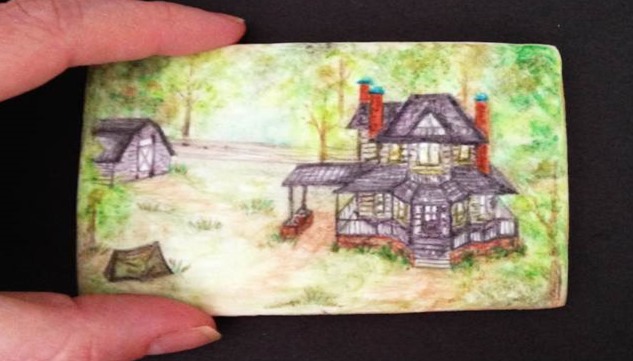 The most amazing thing about Michelle's cookie? The size!  It is much smaller than it looks in the first picture.  I have no idea how Michelle made such an amazing detailed painting on such a tiny cookie.  
Remember: This amazing Walking Dead edible sculpture is just one of 50+ items created for The Baking Dead.  To see the rest, visit The Baking Dead.  You can find them on the web,Facebook, and Twitter.