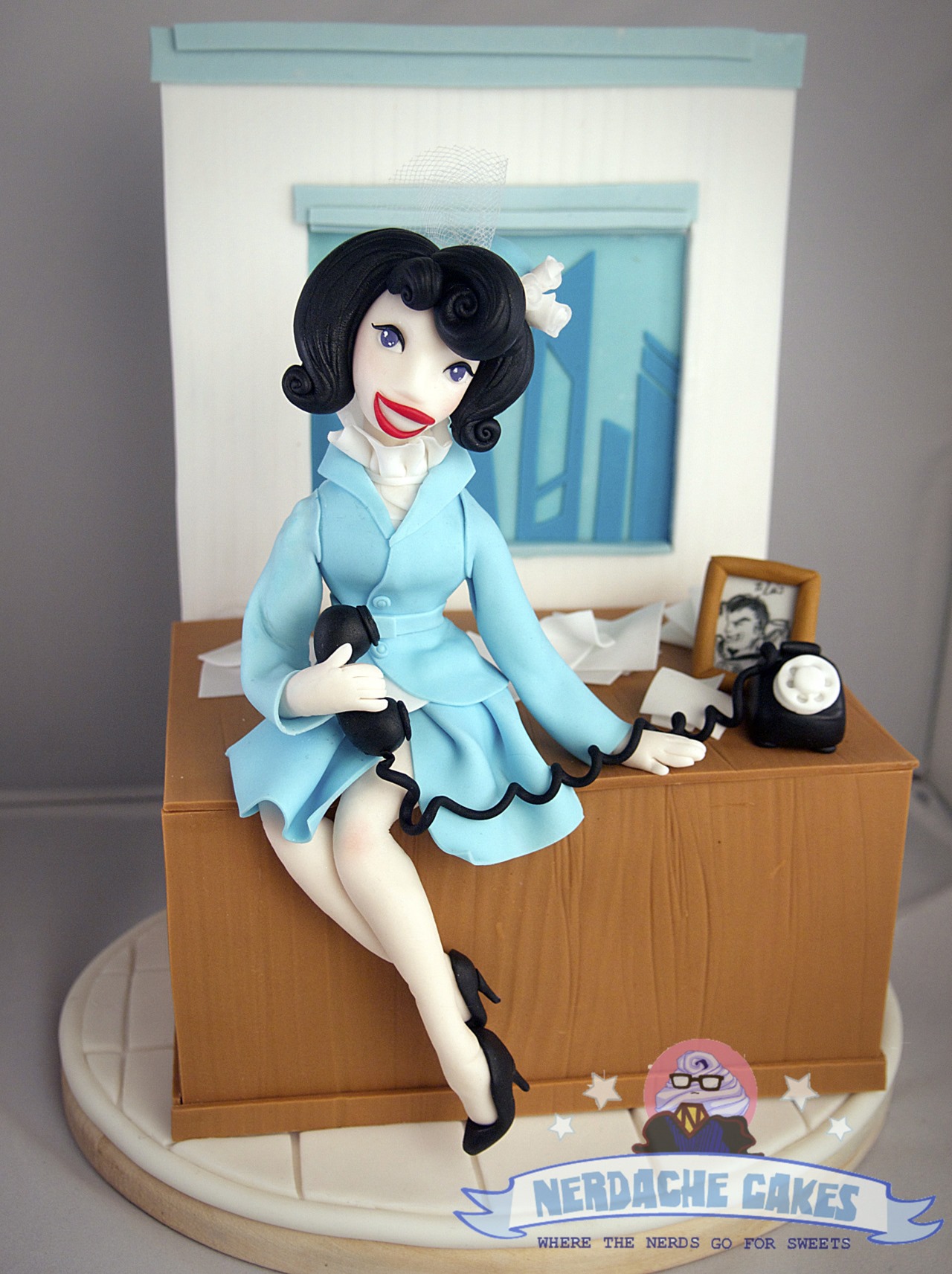 This wonderful Lois Lane Cake was made by Ant Roman from Nerdache Cakes. Nerdache Cakes is on the web, Facebook, Twitter, Tumblr,YouTube, and Instagram.
Ant is currently running a Kickstarter campaign to open a bakery and store where she can work her magic and people can stop by and purchase her amazing treats. Ant is offering geekstastic bonuses for Nerdache Cakes Bakery Backers.
Ant made this sensational cake for the 1st anniversary of the terrific website The Mary Sue.
Ant chose to spotlight one of her favorite fictional female role models – Lois Lane! Ant says that she has always loved Lois Lane. Lois is a women who cared about her work first and foremost. Being an outstanding reporter was numero uno. Getting Superman on her coattails was just a nice added bonus.
Lois' desk is all cake. It is a classic yellow cake with whipped buttercream and sprinkles baked in. Lois was made from fondant.
Ant chose the classic 50's Lois, because she adores vintage skirt-suits and pillbox hats.
The 1950s version of Lois Lane is my favorite. As I've said many times on this blog, I'm a big fan of the old television show The Adventures of Superman. While I liked Phyllis Coates in the 1st season of the show, Noel Neill is my favorite actress to play Lois Lane. Phyllis is great, but the first season of The Adventures of Superman is uneven. I think a lot of that came from the fact that the main inspiration for the TV show was the radio program of the same name. The radio program usually featured Superman battling organized crime. There were very few storylines that featured a super powered opponents. Storylines on the radio often ran 20 episodes or more. Many of them had violence, but it wasn't seen and the descriptions weren't graphic. While all of this worked great on radio, it didn't translate as well to TV. The episodes came over a little too hard edged and violent for a children's show. By the time the 2nd season began, the show had started to find its own identity. Noel version of Lois wasn't as serious as Phyllis', but she had better chemistry with the other actors. For example, Noel and Jack Larson (the actor who played Jimmy Olsen) were absolutely terrific together.
While researching this piece I found out two things I didn't know about Noel Neill.
First, she was the first person to play Lois Lane on camera. She played Lois in the very 1st Superman serial – appropriately named Superman. She also played Lois in the 2nd Superman serial – Atom Man vs. Superman.
Second, Betty Grable was the #1 pinup girl during World War II. Many people think that the second most popular pinup girl was Noel Neill.
I love how you can see Superman leaping tall buildings in a single bound outside the window. It is the little touches like these that make Nerdache Cakes so amazing.
I love that Lois has a signed photograph of Superman on her desk.