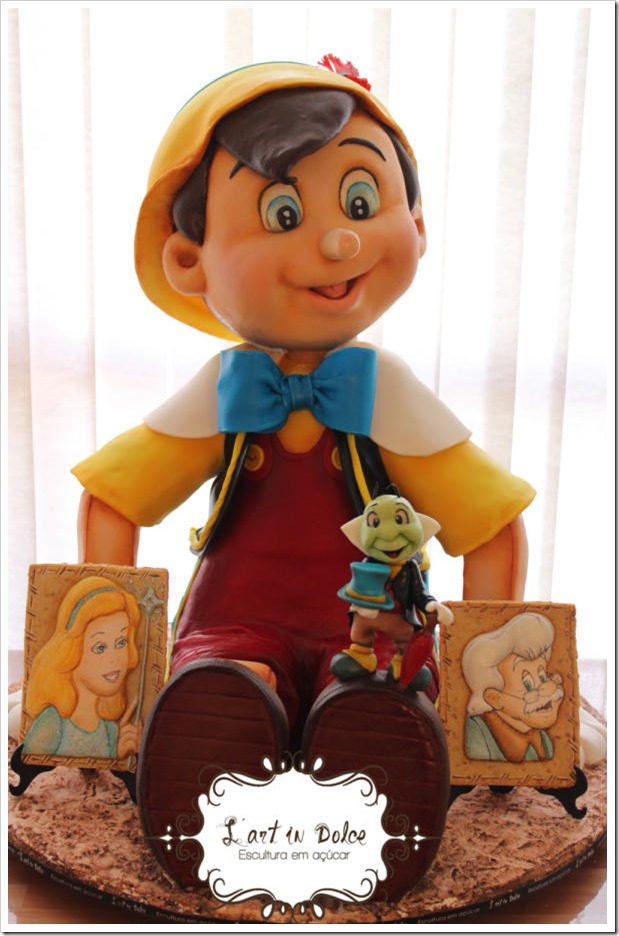 Wow!!!! This gorgeous Pinocchio Cake was made by Lart in Dolce – Escultura em Açúcar. The cake features Pinocchio sitting down. Jiminy Cricket is standing on one of Pinocchio's shoes. One each side of Pinocchio is a cookie. One features The Blue Fairy. The other features Geppetto.
Pinocchio is amazing. He has a big smile on his face, bright blue eyes, and a fairy short nose (someone hasn't been telling too many fibs yet). He is wearing his traditional outfit – a yellow hat with a blue band and red feather, a blue bow tie, red short pants (the pants actually look a little like overalls because they have straps which go over his shoulders and button in front), a yellow shirt, and a large white collar.
Jiminy Cricket is standing on one of Pinocchio's shoes. He has his blue top hat in one hand and he is resting on his red umbrella which he is holding in his other hand. Jiminy is wearing his usual outfit of a black jacket, brown pants, and black shoes with yellow spats. You can't see his shirt and vest because he is holding his blue top hat in front of his chest and resting it on one knee.
In addition to magical cakes, Lart in Dolce also makes stunning cookies. There are cookies one each side of Pinocchio. The cookies are held up by little black stands. One one side of Pinocchio is a Blue Fairy cookie. The Blue Fairy has blond hair with a blue band in her hair. She is wearing a blue dress and has her magic wand raised as if she is about to cast a spell.
A Geppetto cookie is one the other side of Pinocchio. Geppetto has white hair and a white moustache. He has glasses which are far down on his nose. He has one a brown shirt and blue vest. Geppetto has a big smile on his face.
I think having the framed cookies on the side of this stunning cake is a real cool idea and looks fantastic.
Also check out these splendid Pinocchio Cakes and Cookies.