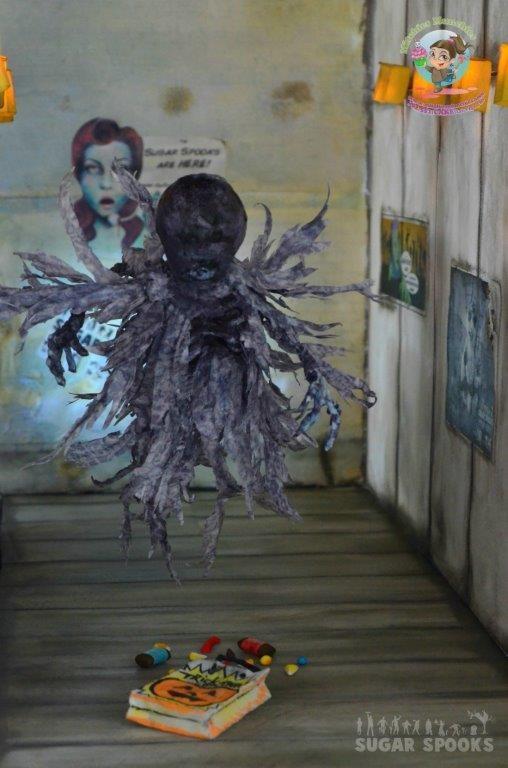 This Fabulous Dementor Cake was made by Mitchies Munchies This cake was a Harry Potter themed addition to the 2015 Sugar Spooks Halloween Cake Collaboration. 
Imagine being out by yourself, Trick or Treating on Halloween night. Beware! of things that lurk in the night. You turn the corner and suddenly the air grows cold and dark. You remember in dark, moist places, it is likely that you may encounter a Dementor. Sure enough, you continue around the corner and you see this Dementor lurking in this dark dank alley that is full of posters.  You are terrified and drop your bag of candy. The candy scatters on the ground in front of the bag. Then you realize that you can eat your way out because this Dementor is composed entirely of rice paper.
This Dementor is straight out of Harry Potter's World of Wizards. Dementors were ghost like creatures who rob humans of all happy memories and intelligence, thus forcing victims to relive only the worst memories. Through a Dementor's Kiss, the demeanor consumes the victim's soul or psyche and leaves the victim without memories or feelings.  
Dementors from Harry Potters world are approximately 10 feet high. They are covered in dark, hooded cloaks and are eyeless. Their main feature is the perpetually indrawn breath they use to consume emotions and feelings. They were guards of the wizard prison.
This edible Dementor was handcrafted using wafer paper. The floor and walls were made using icing sheets that were painted to make them look aged. Wafer paper was also used to make the posters, light covers, candy wrappers, and treat bag.
As you look closer, you realize that the alley way is lined with posters and banners that look familiar because they remind you of last years Sugar Spooks Halloween Cake Collaboration.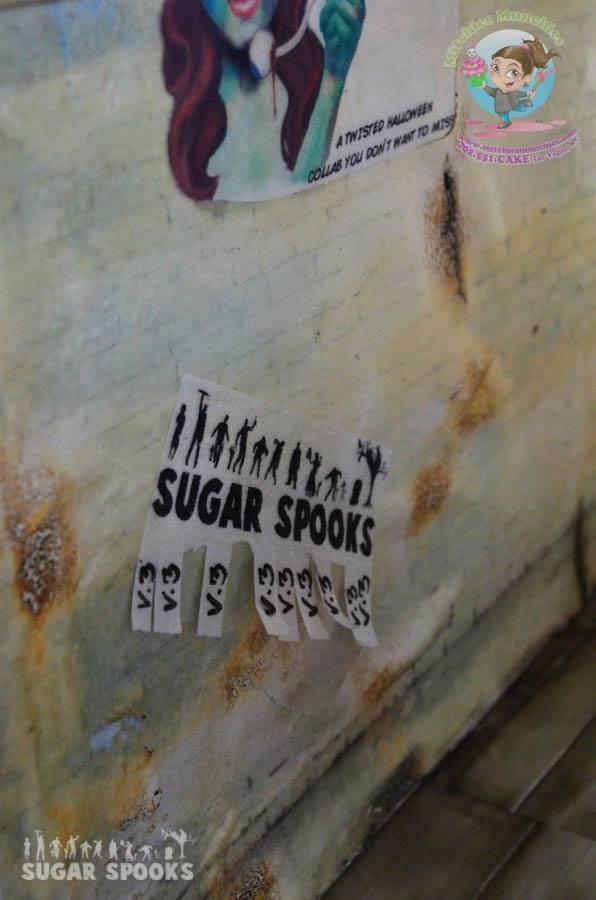 Here's a view of the aged and distressed wall and a view of one of the Sugar spooks posters.
Here's a poster of one of Chef Mitchie's previous Sugar Spooks creations.
Here's a close-up of the Dementor. The orange lights lining the hall can be seen too.