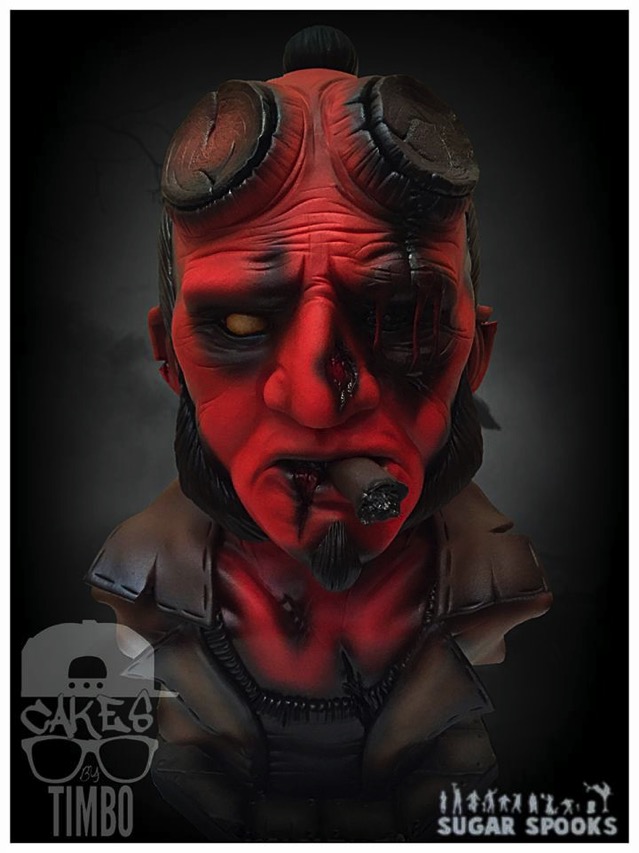 This Fabulous Zombie Hellboy Cake was made by Cakes By Timbo. This cake is part of the Sugar Spooks Halloween Cake Collaboration.
Hellboy was a child who was found in woods by Allied Forces in 1944. Nazi occultists summoned him to Earth from Hell as an infant demon on December 23, 1944. Mike Mignola, his writer dubbed this date as his birthday.
One of the Allies who found him was Professor Trevor Bruttenholm. Professor Bruttenholm later formed the Bureau for Paranormal Research and Defense. (BPRD).
As an adult, Hellboy has a very demon-like appearance because he has red skin, a tail, horns, hooves for feet, and a stone right hand. His horns are the two circles at the top of his head since he filed off his horns. He is holding a cigar in his mouth. His real demon name is Anung Un Rama which means 'and upon his brow is set a crown of flame'. He hates the Nazis because they summoned him to earth.
Because Professor Bruttenholm raised him as a normal boy he has a great sense of humor and is not malevolent like you would expect a demon to behave. Instead he is a good guy who works for BPRD against Nazis and Baba Yaga.
Hellboy has come to be known as the World's Greatest Paranormal Investigator.
Timbo is a big fan of Hellboy. As a participant in the Steampunk Sugar Geeks Collaboration, he made this really cool Steampunk Abe Sapien Cake.
Since this edible version of Hellboy is a Zombie, one of his eyes is missing. There is an open wound on the side of his nose. His chin has a gash in it and his chest has a couple gashes as well. He is wearing a leather jacket.
The cake board is brown leather to match the jacket.