What Do Slimer, A Gremlin, Garfield, and Rainbow Brite have in Common?
They all appear on this Superb Halloween Cake made by CakePro Shop. This Ghostbusters cake is part of Sugarspooks Halloween cake collaboration.
Rainbow Brite is upside-down in a caldron of green liquid slime. She has on red shoes, purple, blue, green, and white striped leggings, a blue skirt with a white hem, and has a white glove and a sleeve that is yellow, red, and purple stripes. There are Star Sprinkles floating on top of the slime. Garfield the cat is holding onto the side of the black cauldron. Slimer has a silver spoon in his hand. The Gremlin is dangling Twink from one of his hands like he will add it to the monster brew as soon as there is room. Twink is Rainbow Brite's favorite Sprite.
A special thanks to our reader Stephanie who told me about Rainbow Brite and Twink.
These monsters are cooking up a ghoulish concoction for this Halloween night.
The Monsters are standing in the sand around the cauldron anxiously anticipating their slimy treat.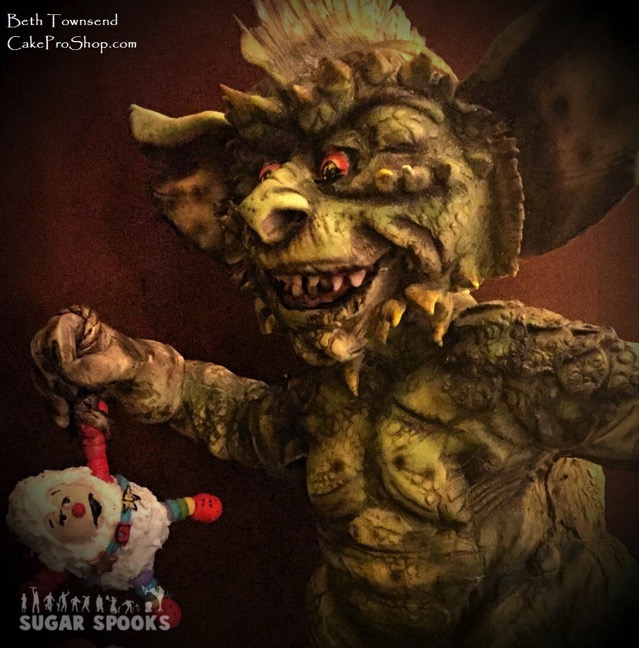 Here's a close-up of the Gremlin holding Twink by one of its arms. The Gremlins red eyes and white teeth are showing.
Here's Slimer with his tongue sticking out and his white teeth showing. He is looking hungrily at the witches brew in the cauldron.