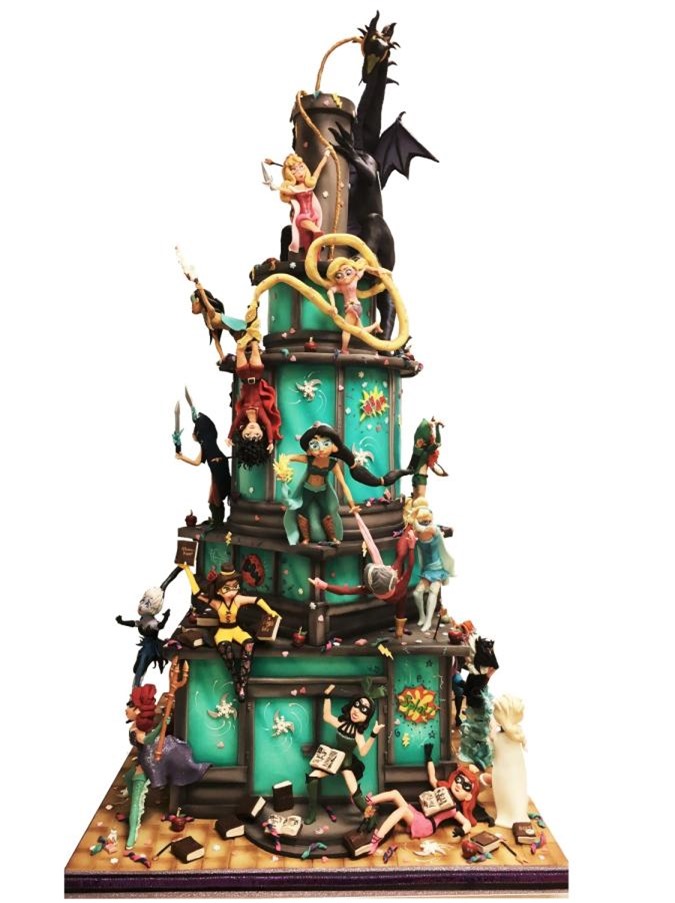 What if the Disney Princesses were Superheroes? What would their powers be? What would their costumes look like? There is no need to wonder who they'd battle because Disney already has a slew of villains ready to be defeated.
Cake International, the most prestigious cake show in the world, was last weekend. Richard's Cakes made two mindboggling Disney Cakes for the show. Both won Gold Awards! Today, I'm featuring their stunning Disney Princess Power Cake and tomorrow, I'll feature their other amazing Disney cake.
Here are some close-ups of this amazing cake: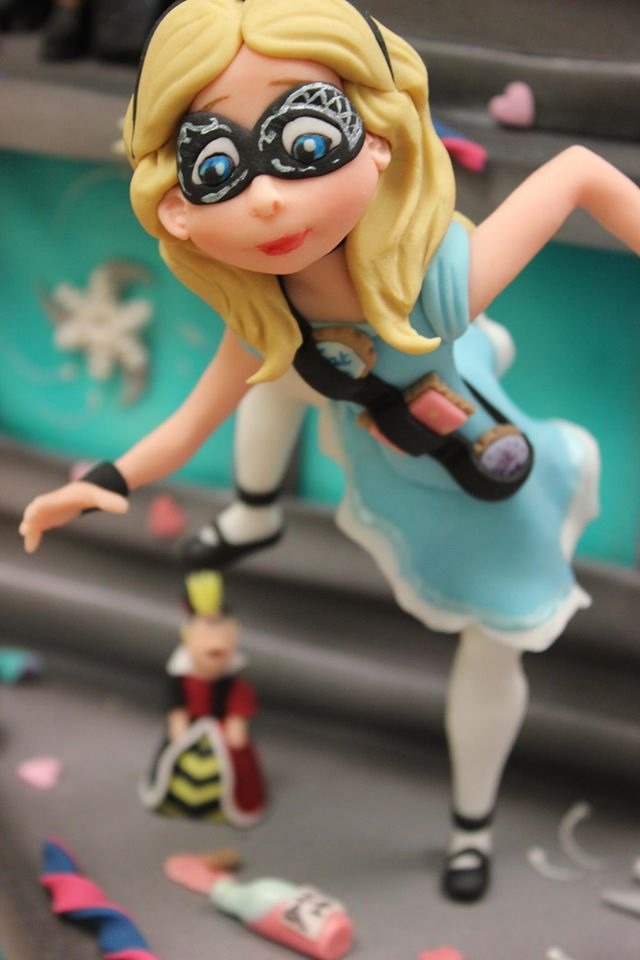 Watch out Queen of Hearts, Alice is about to dethrone you. This Alice in no Shrinking Violet. In Alice in Wonderland, Alice drinks a potion labeled Drink Me and shrinks. She also eats cookies labeled Eat Me and grows in size. So it fits perfectly that Alice would use this combination to give herself shape changing abilities.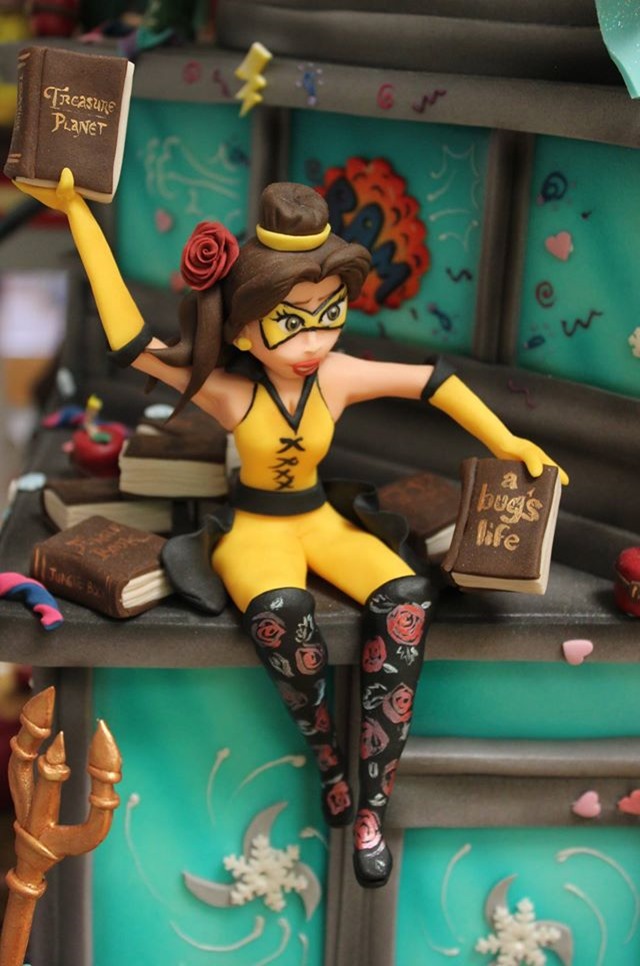 In the X-Men, Gambit has the mutant ability to charging items with kinetic energy. Gambit throws kinetically charged playing cards with shocking results. Imagine if instead, he threw something with some heft like books. That's the idea behind Belle's superpower. If you look at the picture of the cake at the top, you'll see that Belle has taken out supervillain versions of Drizella and Anastasia. Book 'em Danno! The books Belle is pitching are all named after Disney or Pixar movies. Belle's costume is the perfect design for her character because it is yellow and her boots have roses on them. She even has an non-enchanted rose in her hair. The BAM sound effect balloon behind Belle is a cute touch.
Ariel, the Little Mermaid, has the ability to shoot bursts of water from her hands. Notice that beside Ariel is the ZAP! sound effect balloon. With Ariel around, I think the Disney Villains are all washed up.
Here is the cake before being besieged by superheroes and supervillains.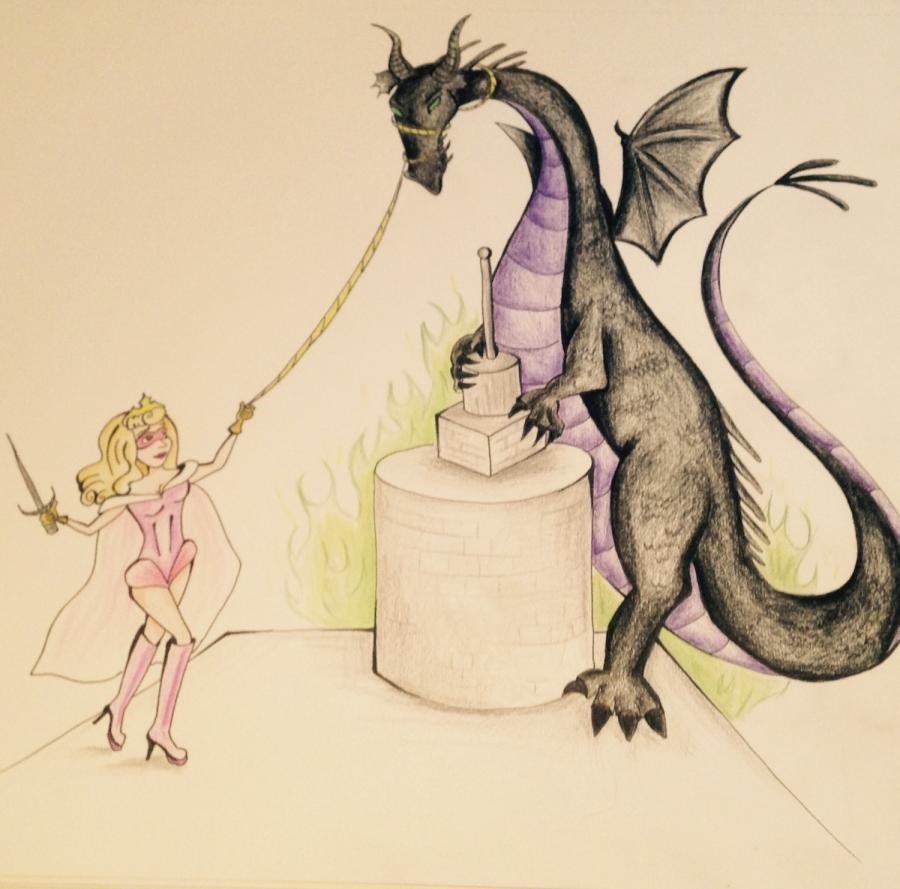 Here is one of the design sketches for the cake. This is the top of the cake and features Aurora defeating Maleficent in her dragon form. This version of Aurora definitely isn't sleeping on the job.
Also, check out these wonderful Disney Princess Cakes and Cookies and Cupcakes.