BeTeamRed – Inspire and Act to Create Change
BeTeamRed is a collaboration of 200 sugar artists from around the world focusing on World AIDS Day. This is one post of a series of posts that feature edible creations of cakes and cookies for December 1st, i.e. World AIDS Day.
Please click on the links below to contribute to The Global Fund to support their war on HIV/AIDS , TB, and Malaria in countries in need.
You can also purchase UN Sugar Art Magazine and the UN Sugar Art Tutorial Booklet to support The Global Fund.
The World AIDS Day cookies above were made by Kari Arroyo from Yankee Girl Yummies
Kari tells about herself:
"My cookie decorating journey started in the spring of 2011, after deciding to take a break from nursing. I learned the ways of royal icing by reading tutorials and LOTS of trial and error. I continue to learn and push myself creatively. I love putting together tutorials (most recently video tutorials!) so look for those as well!
When I am not in my kitchen, I am busy chasing around 2 boys!"
Made by Yanira Anglada from Cake Therapy in Juana Diaz, Puerto Rico.
Yanira talks about the inspiration for the piece:
"The HIV epidemic has touched probably every person I know in one way or another. I remember being young and scared the first time I heard about it, growing up in the 80's, when people had a lot of questions and unfounded myths about AIDS. I soon learned that it certainly could touch anyone, when my uncle got diagnosed in the early 90's."
"This humble creation is a celebration of Cuba, the first country in the world to receive validation from WHO [World Health Organization] that it has eliminated mother-to-child transmission of HIV, and a celebration for children and families everywhere."
"This wonderful achievement shows that ending the AIDS epidemic is possible. This is a major victory in the fight against HIV and sexually transmitted infections, and an important step towards having an AIDS-free generation."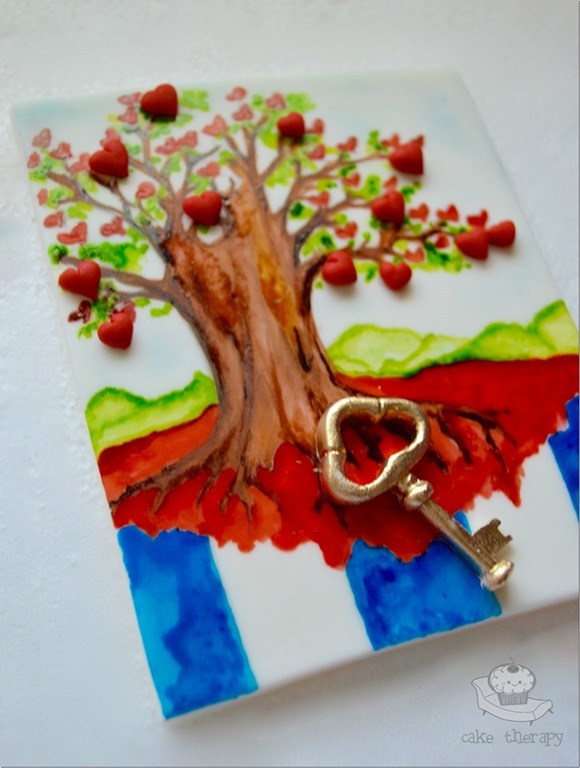 Made by Jill Wettstein from Jill FCS in Wisconsin.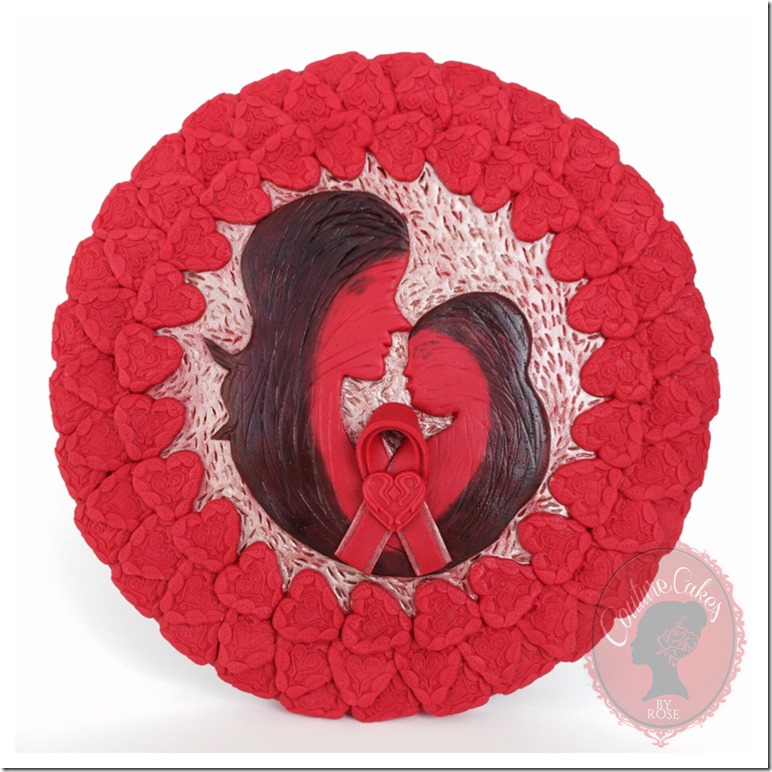 Made by Rose de Guzman from Couture Cakes by Rose in Warnick, South Carolina.
Made by Marta Torres from The Cookie Lab – Bolachas Decoradas Artesanais in Lisbon, Portugal.
Marta tells us about the inspiration for this cookie:
"The risk of a mother transmitting HIV to a child can be reduced. With this cookie, which is my sugar version of : "The Nestling" – original painting by Emily Ballet, 2008, I intend to call the awareness to it, with proper care, breastfeeding does not have to be a risk anymore. With this cookie I see the double protection a mother can give – the mother protecting the son with her powerful feathered wings, and mother Earth protecting both.
The credits of the Photo goes to: Photograph: Carlos Luz Studio : Luz Crescente, Lda
Marta Torres is originally from Lisbon, Portugal. She is married to a Spaniard and has one daughter who lives in the US with her husband and her son.
Marta started out her professional career in banking- a completely different world from cookie dough and piping bags-, but after marrying, her husband´s work took her to Brazil, Hong Kong, Japan and Spain. She worked as a free lancer for a few years translating technical manuals for digital equipment, but it was in Japan where she really began to cook and bake for fun, to entertain friends.
While her daughter attended college in the US, Marta took that opportunity and studied Culinary arts at the Culinary Institute of America.
While still in Japan, Marta was invited to collaborate in a project sponsored by the Portuguese Embassy to teach Portuguese Traditional Cooking to locals. She was soon after also invited by an International Cooking School to do the same.
Her sudden move from Tokyo to Madrid left her jobless. She attended her first cookie decorating class in Madrid and it was more for therapy than anything else. It wasn't love at first sight, royal icing was unfamiliar and challenging. It was only some time later after moving to Portugal that her daughter pushed her to practice and try it again. It was a new culinary art and with a lot of potential for her.
After 6 hard months of practice, Marta entered Julia Ushers Christmas Cookie Contest and won first prize (Julia Usher´s Cookie Connection site), she became well known among cookie artists and cookie lovers. After seeing her work, Marta started to get invitations to teach cookie decorating all over the world. USA, Switzerland, Italy, Ireland, Spain and Portugal are the next stops for her classes.
Marta´s work has been featured in magazines, blogs, even national television. A Portuguese Cake Decoration magazine Bolos Decorados created a Special Edition on just her work and other magazines in Spain, France and Portugal also routinely publish her work.
Marta continues to win awards and was one of the 3 finalists of The Cookier of the Year 2014 from the site Cookie Connection. This year of 2015, she was nominated as a Finalist for the prestigious Cake Magazine Awards 2015, in the Cookies Category.
Marta participated in the "Gardens of the World" group project featuring some of the top baking/culinary artists and is currently involved in 3 other similar projects.
Royal Icing and cookies has certainly changed her life, she looks back and then realizes it has only been 2 and a half years since she started decorating cookies but so much has happened between then and now that it is life changing.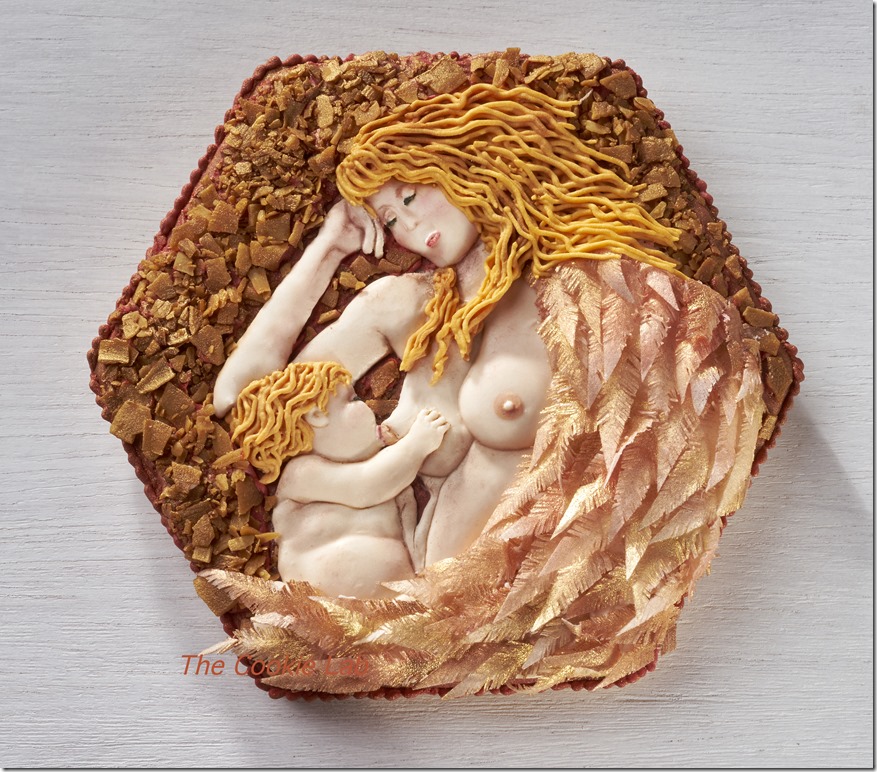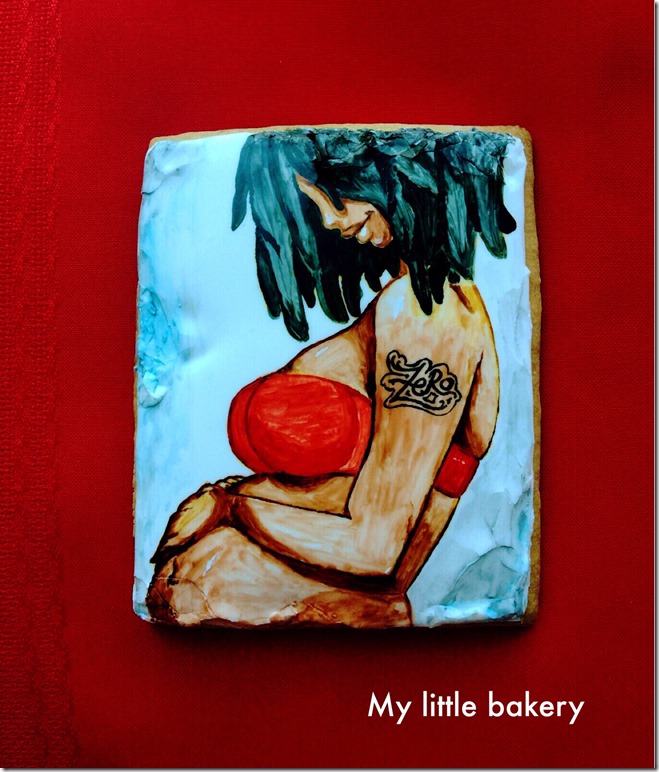 Made by Nadia Ka from My little bakery in California.
Nadia tells about herself:
"My name is Nadia, I live in San Diego, CA. My profession is teacher. I have many hobbies: glass painting, card making, cooking, music, all kinds of art and design. The favorite thing I like to do and which has been taking most of my time for the last 3 years is cookie decorating. My favorite decorating technique is lace. All patterns are done by hand. Photos of my work have been published in "Homes and Gardens", "Cake Central", "Tortdeco" magazines. I am also an author of "100 party cookies" book."
"The biggest memorial event this year for me was the CookieCon in Salt Lake City, where I was an instructor. I have met there many talented people from all over the world and made many friends. Also I am going to teach at San Diego cake show 2016. I hope to meet there also those who are a part of this collaboration with me. It is a great honor to be part of it!"