This You Can Make The Difference Cake was made by Silvia Mancini from Silvia Mancini Cake art & Co in Porto sant Elpidio, Italy
BeTeamRed – Inspire and Act to Create Change
BeTeamRed is a collaboration of 200 sugar artists from around the world focusing on World AIDS Day.  This is one post of a series of posts that feature edible creations of cakes and cookies for December 1st, i.e. World AIDS Day.
Please click on the links below to contribute to The Global Fund to support their war on HIV/AIDS , TB, and Malaria in countries in need. 
You can also purchase  UN Sugar Art Magazine  and the UN Sugar Art Tutorial Booklet to support The Global Fund.
The World AIDS Day cake above was made by Silvia Mancini from Silvia Mancini Cake art & Co in Porto sant Elpidio, Italy. Here's more pictures below.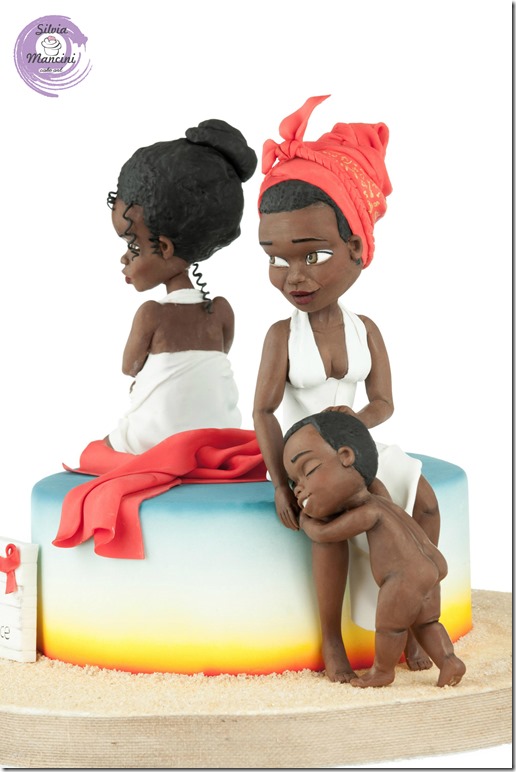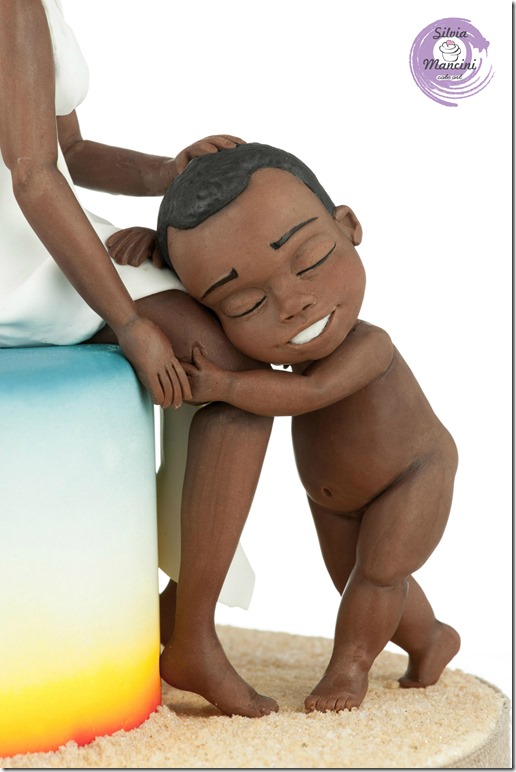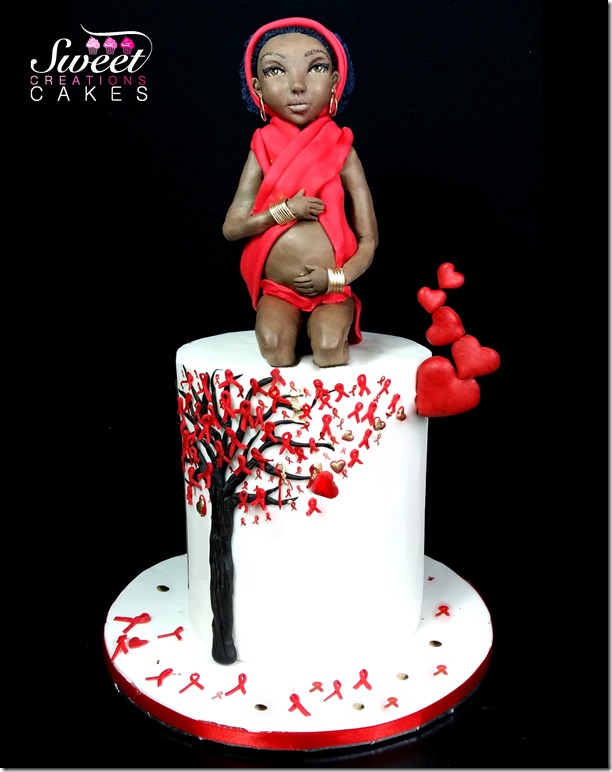 This cake was made by Bouchra Marir from Sweet Creations cakes in Paris, France.
Bouchra Marir lives in Paris, France. She works as an IT engineer and is a mum of four adorable kids. She had her first contact with cake decorating a few years ago when she wanted to make their birthday cake. She did not have any formal training or course in cake decorating. She is a self-taught artist and a great admirer of art and cake design.
Two years ago she decided to create a Facebook page Sweet Creations cakes, where she started to put some pictures of her cakes. Step by step, she participated in different events, including the first France cake designer championship, where she got a silver medal.
She says, "I was never expecting nor dreaming that someday I could create cakes at the level of those once only contemplated and admired. I love testing new technics, create, choose shapes and colors, apply materials and techniques. Each cake project is a real challenge. I also love making people happy by making cakes and figures, that encourages me to strive in achieving the my best potential. For me everything is allowed in cake design and Imagination has no limits."
Her inspiration was the tree of hope. A day no child will be born with HIV. Zero transmission, zero death, zero discrimination.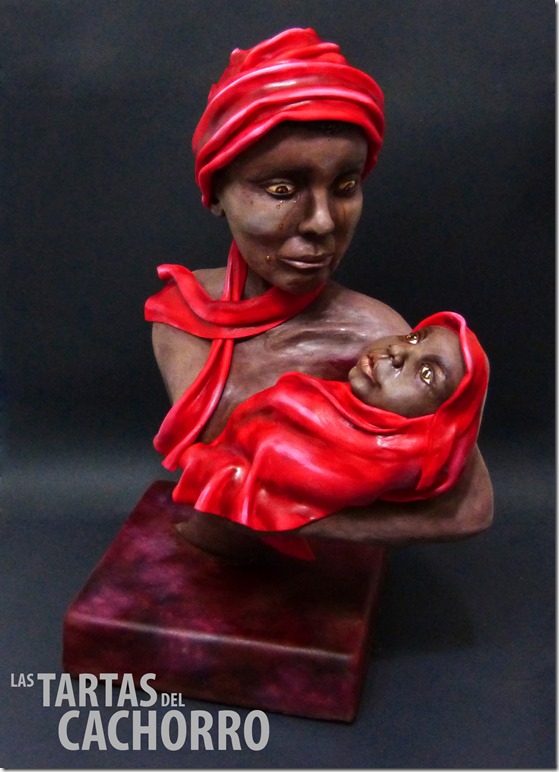 This mother and child cake was made by Daniel Perez from Las tartas del cachorro in Murcia, Spain.
Daniel Perez was born in the southeast of Spain in 1984. He discovered the world of sugarcraft while he was looking for an original birthday gift. The first time he took some fondant with his hands, he realized it would not be the last time.

He says, "I had been outside the kitchen for all my life but that discovery of creating amazing cakes from scratch changed completely my world."
"The Spanish collaboration 'Spring fable' was a turning point for myself. After that moment some new collaborations and teaching proposals arose. Nowadays I am developing these projects and, what is more important, I get maximum enjoyment. The ability to make people happier and develop all the creativity you have inside is something indescribable."
"I don't know what will happen in the future but I want to continue improving and learning more and, bit by bit, I would like to contribute with my small grain of sand in this creative sector."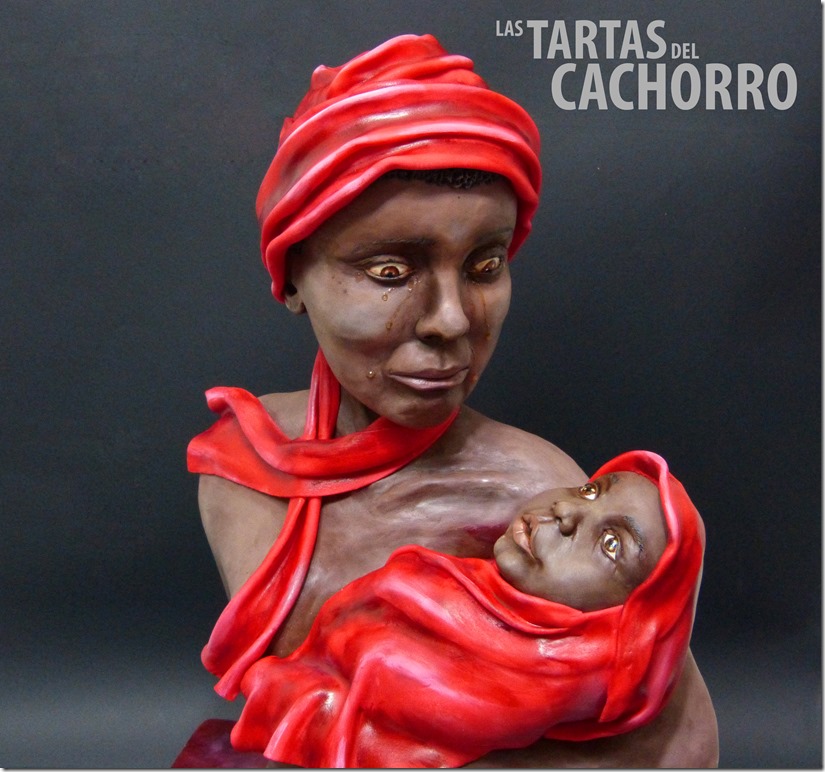 Eman AbuKoash from Sugar Puffs Cakes in Manama, Bahrain made this cake.  
Eman Abukoash is a Jordanian cake artist/ instructor currently living in Bahrain. He started his cake decorating journey over 6 years ago. It started as a fun activity with his friend then quickly turned into a home business with the support of friends and family. After attending two master classes specializing in sculpted cakes, his cake journey took a great turn. He became less hesitant to try different styles and just unleash his inner creativity with confidence.
He states, "There is always something new to learn in the cake world and that's what makes it interesting! I am now so passionate about cake decorating and want to help shed the light on this kind of edible art and show it to the world."
Fun fact: He loves traveling and meeting people from all parts of the world, trying new food and experiencing different cultures.
Eman AbuKoash from Sugar Puffs Cakes in Manama, Bahrain teamed up with Marta Godlewska from Rabarbar Cakery Bahrain to create this cake.
Marta Godlewska – Rabarbar Cakery Bahrain
Marta always loved cooking. Ever since she could make scrambled eggs she loved making up her own recipes and spending time in the kitchen. She started her cake journey after leaving her job and being at home for a while. She dove into cooking new exciting dishes every day, and for the first time in her life she tried baking. That was it. She was hooked. The oven was on everyday and after her friends tried her baked experiments,  they started asking her to make their friends and kids birthday cakes. Her first design cake was for a flatmate of hers. The cake was a vanilla strawberry and cream cake with ombre sponge and tiny ombre hearts on the outside to match. It took her 4 hours to cut them out with a small plunger. Three years later, she still makes that design from time to time.
Fun Fact:
"I used to get hiccups every time I  laughed:D which just made me laugh even more.."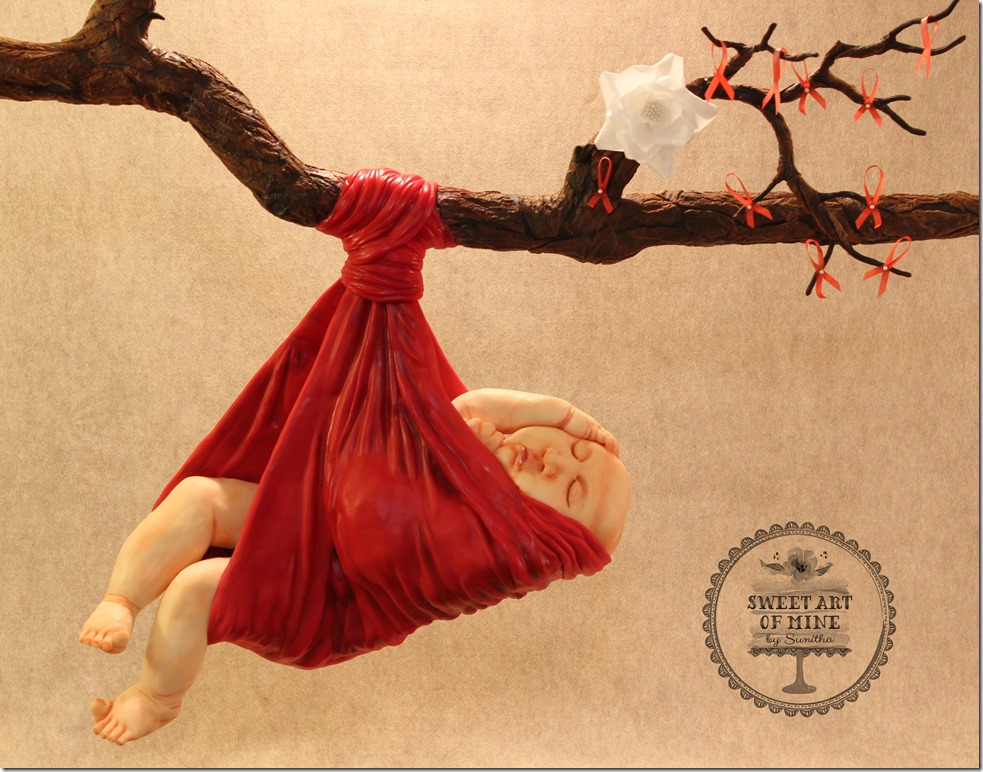 This Baby Hanging In a Tree Cake was made by Sunitha Kurian from Sweet Art Of Mine in Maryland.
Sunitha is a hobby baker.  Her cake journey started a few years back when she saw a cake show on TV. Prior to this she had never looked at cakes as an art form and had never heard what fondant was. The cakes on the show made her curious and she had to give it a shot. Her very first fondant cake was her own birthday cake.
She has made only a handful of cakes. She loves watching cake tutorials and using that as her inspiration to try something of her own.
She says, "I am so thankful to the amazing cake gurus out there for being so generous in sharing their knowledge and techniques. I am so honored to be a part of this amazing collaboration and a group of very talented cake artists. So thank you Zawadi for inviting me."
Her cake is inspired by the "No child born with HIV" campaign and the aim for an "AIDS Free Generation". She has chosen to do a baby in a Red sling where the red cloth represents the Red Ribbon which is the universal symbol of awareness, support and hope for those living with HIV. The baby in the sling symbolizes the hope for a future generation free of HIV.