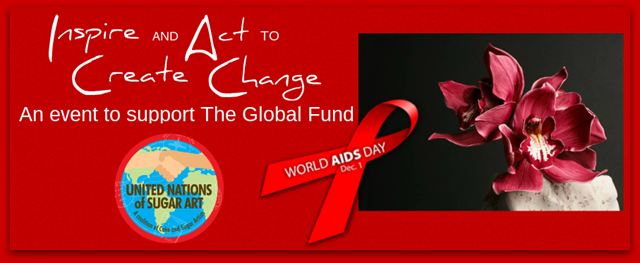 BeTeamRed – Inspire and Act to Create Change
BeTeamRed is a collaboration of 200 sugar artists from around the world focusing on World AIDS Day. This is one post of a series of posts that feature edible creations of cakes and cookies for December 1st, i.e. World AIDS Day.
Please click on the links below to contribute to The Global Fund to support their war on HIV/AIDS, TB, and Malaria in countries in need.
You can also purchase The UN Sugar Art Magazine and the UN Sugar Art Tutorial Booklet to support The Global Fund.
The World AIDS Day cake shown above was made by Uta Hornemann from Alma Pasteles in Munich, Germany.
Uta Hornemann grew up in the South of Germany. She always loved baking and never missed out on a special occasion to bake a cake. After finishing her studies in chemistry and in marketing she worked many years in Switzerland for worldwide leading IT companies being responsible for Advertising and Marketing Communications.
Alma Pasteles was founded in Spain where her family lived for 6 years. She remembers, "This is where I decorated my first cake (about 5 years ago) and I felt immediately in love."
The following year she baked and decorated many many children's birthday cakes.
Now since she and her company are located in Munich, Germany, Alma Pasteles mostly designs wedding cakes and cakes for Christenings.
Her theme of her piece is 'protection.'
Her original idea was somewhat like the word cloud on the bottom tier. She says of her design,
"When I saw the silhouette clip art that I used on the cake I had such a déjà vu and it caught me immediately. It's the way they look at each other. The love and trust in between them. For me this is the most intimate and happy moment I a mother can passively have. I remember these moments so well with my daughter. For me these have been probably the happiest moments in my life (as well as the one's with my son). And all you want to do is protect your baby, no matter what.
An HIV positive mom which is not passing the virus to her baby already protected it. And so she will do for the rest of her life. Like we all do."
"I tried to interpret this in a clean and simplified design. Including also the vision and enthusiasm of so many people in research and fundraising that help mothers to protect their babies by making treatments available."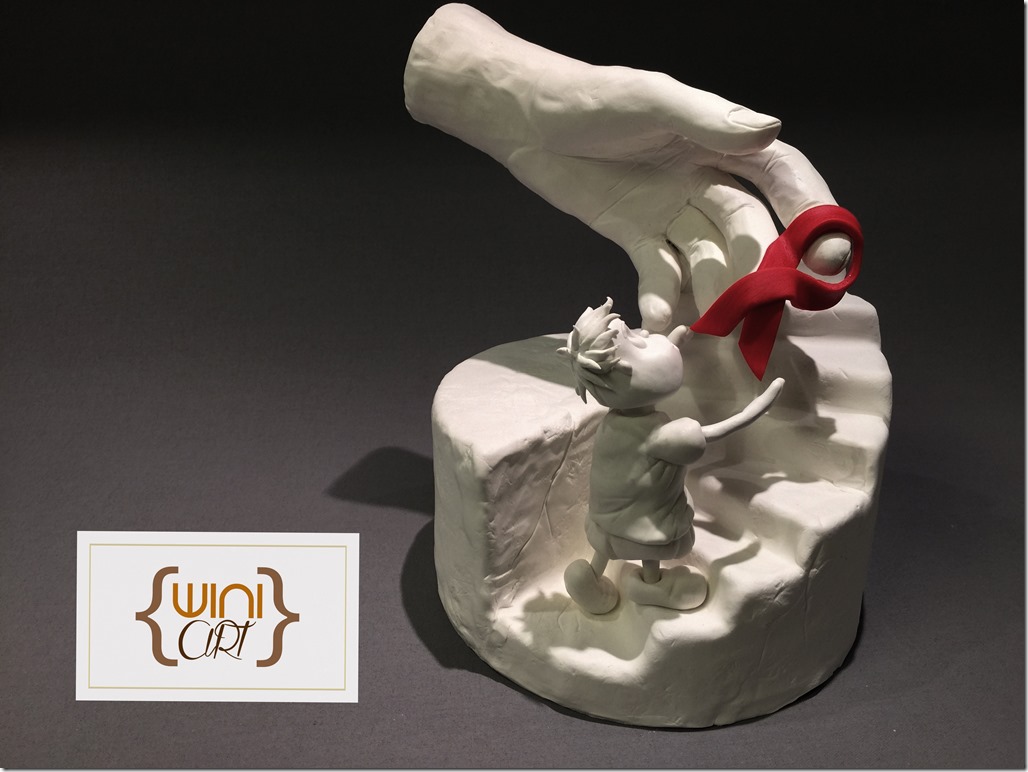 This cake was made by Javier Garcia Laparra-Sant from Wini Art located in Quirze del Valls-Spain
Javier Garcia has been a Cake Designer for 3 years. When he discovered this sweet world of baking, He quit his job to devote himself fully to it. He enjoys modeling and making cakes with very large structure.
Javier Garcia gives a description of his piece:
"In my room I want to represent the two worlds of adults with realistic hand is where we live and the children which is where we like to be with the child as if it were a drawing, the ladder of life symbolizing the disease and where the end always have someone to help us."
Con mi pieza quiero representar los dos mundos, el de los adultos con la mano realista que es donde vivimos y el de los niños que es donde nos gustaría estar con niño como si fuera un dibujo, la escalera de la vida que simboliza la enfermedad y donde siempre al final tendremos a alguien que nos ayude.
This cake was made by Valentina Terzieva from Valentina's Sugarland – Valentina's Sugarland Facebook – in Berlin, Germany.
Valentina Terzieva is a Bulgarian who has lived for 15 years in Germany. She discovered cake decorating in 2011 and instantly fell in love with modeling! Everything developed very quickly. She won Gold with her sugar figurines at Cake International 2012 in Birmingham and after that she started teaching cake decoration and writing tutorials for Cake Decorating Magazines.
She is currently teaching advanced modeling classes all over Germany, Austria, and Switzerland. She has become a judge for Cake Competitions in Germany and won Gold and 1st Place in the Christmas Cake Class at Cake International 2014 in Birmingham. This year she had the pleasure to shoot two video tutorials at Paul Bradford Sugarcraft School. She will soon be making a video tutorial in Germany for Makerist.
At the moment she is working on a book for modeling with Fondant for the German publisher Cake & Bake Verlag. The book is going to be published in 2016.
Here is what Valentina says about the inspiration for her piece.
"I was very happy to be invited to the United Nations of Sugar Art. Cakes and Sugar Art are mostly asociated with joy and happyness. But they can be use as medium to raise awarness and remind us that there so meny people on this earth that are feeling bad or are ill or are dealing with other issues. The theme for this first collaboration is Getting to Zero, the hope that one day no child of Hiv-positive mother have to be born with HIV himself.
So I choose this theme for my piece and got inspired of a pictures of a mom caring her baby on her back. I change the colors and use mix of painting, stencils, 2D and 3D Elements to express myself. The baby is hand sculpted out of modeling chocolate."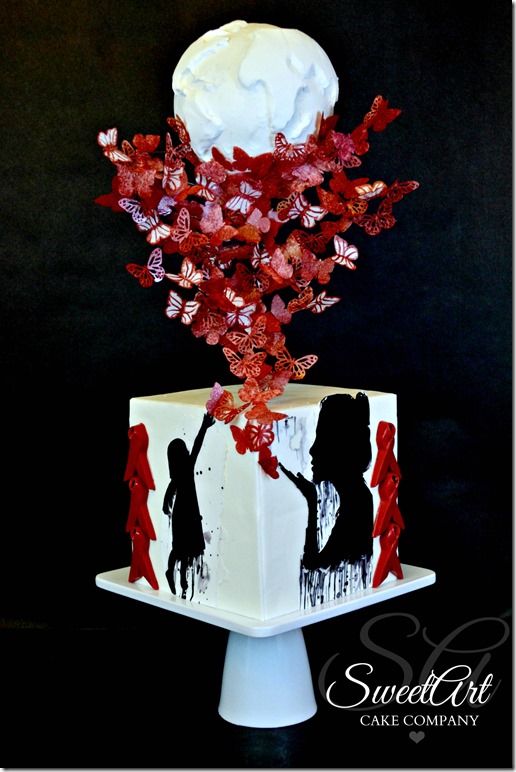 This cake was made by Shannon Patrick Mayes from SweetArt Cake Company in Wyoming
Shannon Mayes is an award winning cake decorator and the owner of
SweetArt Cake Company in Lovell, WY. Her background is in art and
graphic design. She has been decorating cakes professionally for around
5 years and specializes in coming up with unique and creative cake
designs. She loves using many different mediums and styles of
decorating to create edible works of art.
Fun Fact:
As a hobby she twists balloon animals and creates balloon sculptures.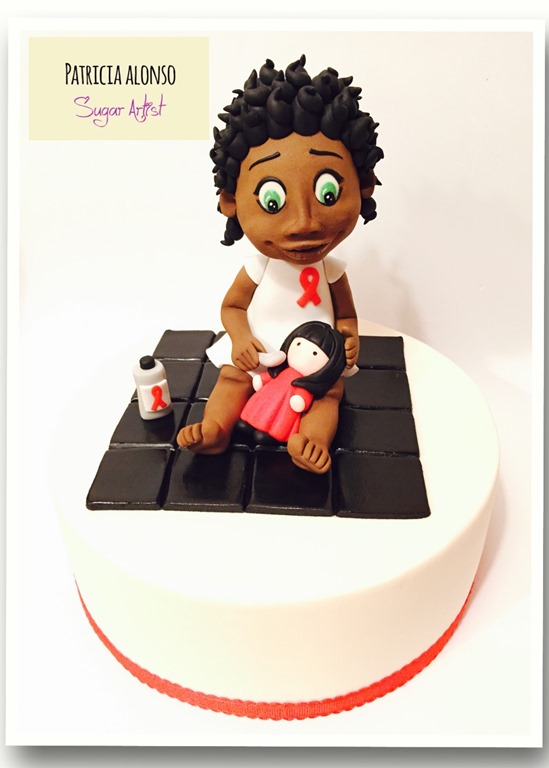 This cake was made by Patricia Alonso-Castellan from Patricia Alonso Sugar Art in del Valles, Spain
Patricia was born in Barcelona. Her life has always been linked to the world of art and cuisine. As if by magic in 2011 her two passions merged to become the backbone of her life. She has taken classes from an international and national teachers, always looking to grow and improve professionally. In 2013 she received an award of special recognition in Bcn & cake for her participation in the category of Fairy cakes with the cake Treasure Light. In 2015 she participated in Squires Kitchen Competition, in the category "Novelty cakes based on a Capital City", where she won First Prize and a Gold Medal, becoming the first Spanish in the history of the fair to win it. Today she teach courses in Sugarcraft in numerous Spanish cities while being the mother of her two dear children.
The inspiration for her work was her children.
She says, "Although I live very involved with my work as a teacher of Sugarcraft, the focus of my life is raising my two children. They were the inspiration for my work. Thanks to them I have learned more than ever the importance of educationing the new generations who will inherit the legacy we leave them. Every day I try to convey many values that I consider important. We must educate our children to know, assume and seek solutions to the problems of today's world. Therefore my work shows how a little girl heals her doll's wrist to release her from her illness. Through love and hope, her suffering is gone."
Párrafo sobre mi:
Nacida en Barcelona… Mi vida siempre ha estado ligada al mundo del arte y la cocina… Como por arte de magia en el año 2011 mis dos pasiones se unieron para convertirse en el eje central de mi vida… Mi vida ya no tendría sentido sin azúcar. A partir de ese momento me he formado con grandes maestros internacionales y nacionales, siempre buscando crecer y mejorar profesionalmente. En 2013 recibí un premio de reconocimiento especial en Bcn&cake por mi participación en la categoría de Tartas de cuento con la tarta Light Treasure. En 2015 participo en Squires Kitchen Competition, en la categoría "Novelty cakes based on a capital city", donde se me concede el Primer premio y la Medalla de oro, convirtiéndome en la primera española en la historia de dicha feria en ganarlo. En la actualidad imparto cursos de sugarcraft por numerosas ciudades españolas y lo compagino con ser madre de mis dos queridos hijos.
Inspiración sobre mi trabajo:
Aunque vivo muy involucrada con mi trabajo como profesora de sugarcraft, el eje central de mi vida es la crianza de mis dos hijos… Ellos fueron la inspiración de mi trabajo; gracias a ellos he aprendido más que nunca la importancia de la educación en las nuevas generaciones que heredarán el legado que les dejemos… Cada día intento transmitirles tantos valores que considero importantes.
Debemos educar a nuestros hijos para que conozcan, asuman y busquen soluciones a los problemas del mundo actual.
Por ello mi trabajo muestra como una pequeña niña cura a su muñeca para liberarla de su enfermedad, desde el amor y con esperanza de que desaparezca su sufrimiento…
Gracias por hacer posible este iniciativa llevada a cabo… Un abrazo!
Patricia Alonso
This cake was made by Jamila Jankipersadsing from Pure Cakes by Mila in Barendrecht, the Netherlands
Mila likes a lot of challenge in her life. In her daily life she works full time as an occupational health physician in the harbor in Rotterdam. To keep the balance in her life, she spends her leisure time with traveling around the world, photography, and decorating cakes.
Mila is a cake decorator for two years now. She took several cake decorating courses, like Wilton and PME, and attended classes by some well-known cake decorators. Her style is simple and tranquil, but refined, with accent on details, especially sugar flowers and modelling work.
Mila's work has been featured in magazines, like Cake Central, DIY Wedding Magazine, Cake Masters, Party Cakes, Sweet Magazine, Cake Magazine, Cake Craft & Decoration and Pretty Witty Cake Magazine!
The title of the cake is "Red Ribbon Doll." The cake was inspired by the cute Blythe dolls. She modeled "Red Ribbon Doll." While holding the Red Ribbon she has hope that there will be a better treatment. She is made of modelling paste.