BeTeamRed – Inspire and Act to Create Change
BeTeamRed is a collaboration of 200 sugar artists from around the world focusing on World AIDS Day. This is one post of a series of posts that feature edible creations of cakes and cookies for December 1st, i.e. World AIDS Day.
Please click on the links below to contribute to The Global Fund to support their war on HIV/AIDS, TB, and Malaria in countries in need.
You can also purchase The UN Sugar Art Magazine and the UN Sugar Art Tutorial Booklet to support The Global Fund.
The World AIDS Day cake shown above was made by Wendy Schlagwein from 4 The Love of Cake.
Wendy is a cake decorator from the Netherlands. She started baking about 10 years ago. She teaches different cake techniques and she is an author of a few cake decorating books. One of her books is Happy Cake Days.
Her inspiration for her cake was a children's painting that is one of the most recognized HIV/AIDS posters ever produced. This image of a child with outstretched arms accompanied by the message, "I have AIDS, please hug me. I can't make you sick" has become a worldwide icon in the fight against HIV/AIDS discrimination. Inspired by the experience of Ryan White, a 13-year old hemophiliac with AIDS who was barred from school in 1985 and became a symbol of the intolerance that is inflicted on AIDS victims.
She says,
"This story really brought it home to me. Because now, AIDS and HIV are not only in Africa but also over here. And a lot of adults and children are still very lonely because of it.
Because of this I made a modern adaptation of the poster. So I made a girl in her early teenage years. I can only imagine how lonely she must feel sometimes. I must admit a tear rolled over my cheek while I was making her and I wrote down those confronting words.
So let's all be aware, safe and fight this horrible thing called HIV/AIDS
But please do not forget to be a little more loving for those who are unfortunate enough that they have to deal with it now. A hug can't hurt anyone."
Fun fact.
"My hair is always a bright colour red. So I am perfectly adept for team red.
I am always recognisable from a far distends.
Very helpful for all of my cake friends in Birmingham and other cake events."
Here's more pictures of this cake.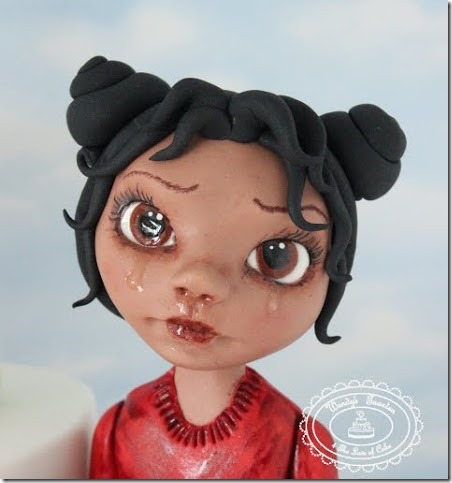 This World AIDS Day cake was made by Amar Ali from TnK Sweet Treats.
Ambreen (Amar is her family nickname) is a mother of two children. Her son is 8 and her daughter is 5. A few years ago, she moved to Mozambique and ordered a cake to celebrate her son's birthday. The delivered cake was so different from what she expected that she was driven to bake her own cake. In her own words, she says "I ordered a cake and yikes. .. it was sooooo not what a cake should be… from there I started baking and suddenly found something new in me…." She had a degree in computer science, but realized that she had a gift for baking. She has been seriously baking for two years for friends and relatives and loves "each and every moment of caking".
Her cake is called, Colors of Hope and here is what she says about it,
"For my work I had a couple of techniques that I wanted to try on this cake… so my search was actually in two directions. I wanted to try one of the techniques tried by Gulnaz Mitchelle in her cake for festival of lights so I searched Sarah Travis Art, Design and Illustration page… and that led me to search Internet for doodling and coloring pics having angels on them. My work ended entirely different yet I'll still include them as my inspiration. From the beginning this pic was my go for the top tier. I started with coloring water colors and then decided with the flow to incorporate 3d too, hence the flowers and angel hair. Also the background looked plain in white so on the spur of moment I tried airbrushing light blue and green…. For the bottom it had to be red… and I ended up doing mosaic I learned from Craftsy class by Valerie Pradhan. The top tier is where I loved working the most. My piece tries to show colors and the angel of hope emerging from a bloom of colors of nature. The red poppy on top also symbolizes hope of getting to zero in the fight against aids."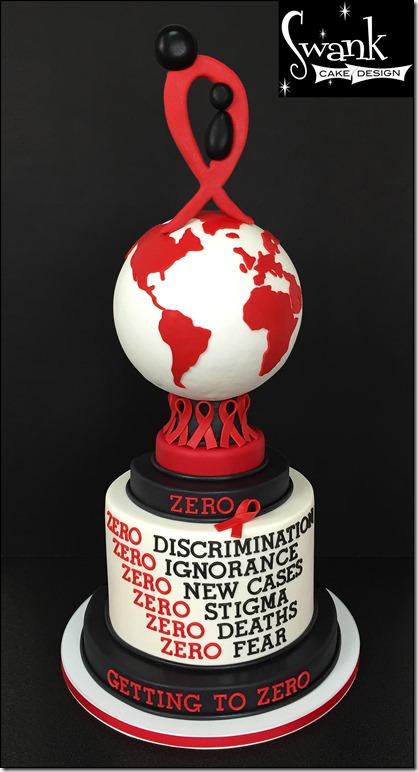 This World AIDS Day cake was made by Wayne Steinkops from Swank Cake Design.
Wayne Steinkopf, with Chuck Hamilton, is co-founder and co-owner of Swank Cake Design, a contemporary cake studio/school in Cary, North Carolina. With no formal pastry training and only a background in auto body repair, Wayne's career in cake decorating began in 1988 at a grocery store! Twenty years later, after several jobs at commercial bakeries, Wayne finally grew tired of the artistic limitations of working for someone else and decided to start his own business. In 2008, with the help of his partner Chuck, they opened a small cake studio, one that specializes in modern decorating techniques and chic designs. In 2011 they expanded their business to include a cake decorating school. 2014 started a new chapter in their ever evolving business as Swank Cake Design shifts the focus to education and retail sales of cake supplies exclusively!
This World AIDS Day cake was made by Ana Remígio from Cupcakes and Dreams.
Ana Remigio talks about the inspiration for her cake.
"World AIDS Day is important as it reminds us all that HIV has not gone away and that collectively, there is the need to increase awareness, fight prejudice and improve education. I saw Zawadi's initiative / Collaboration as a wonderful opportunity to support this amazing cause.
My cake represents what I would define as "ONE", exactly that! Let's unite worldwide and fight together, let's cherish and support one another, let's take care of our world as "ONE"!
I'm a Cake Design enthusiastic that likes to help and make a difference, for that I try to create unique pieces to support several causes and charity campaigns as well as fundraising's throughout the year, hopping to inspire others and make a change."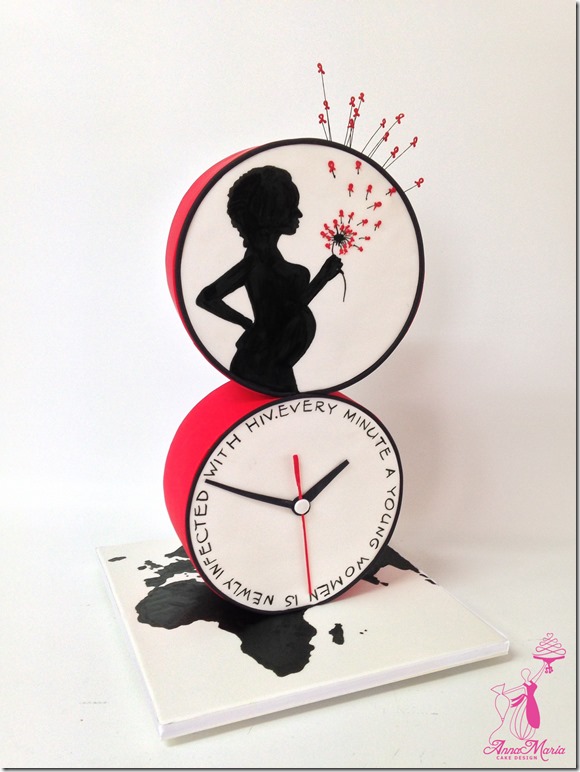 This World AIDS day Cake was made by Anna Maria Roche from Anna Maria Cake Design located in Sydney Australia.
Award-winning cake artist Anna Maria Roche has well over 25 years of industry experience. Trained as a qualified chef/pastry chef she worked for some of Sydney's top hotels and cake shops, including Sweet Art and Planet Cake, designing and creating cakes for people from all walks of life.
During her seven-year career at Planet Cake, she pioneered the teaching programmes for the successful school and was the creative force behind some of the most recognisable and original cake designs.
Anna Maria was also involved in several best selling cake-decorating books and her work has been featured in many magazines. She also was involved in the popular Lifestyle Channel TV series, "Planet Cake"
Anna Maria has successfully taken part in many prestigious cake competitions and has won many awards the last one being grand champion at the cake bake and sweet show in Sydney 2015.
In October 2013 Anna Maria founded her own business "Anna Maria Cake Design"
Besides designing and creating gorgeous cakes, she creates tutorials for companies to promote their cake decorating supplies and equipment.
She conducts private lessons and teaches at the prestigious Le Cordon Bleu and other private institutions across Australia and overseas.
She is very proud to see how her student's individual journeys have progressed. Many have gone on to have successful businesses of their own.
Her inspiration for this cake came from an image she saw on the UNAIDS website.
It was a clock with 12 facts about HIV titled "every minute a young women is newly infected by HIV".
She recalls, "Thinking of how to incorporate this in a cake was easy, I made a 2-tier version of my circle of love cake; the bottom tier being the clock with this strong message around it. The top tier was a siluette of a pregnant woman blowing a dandelion flower with aids ribbons, flying up the cake. The board was a map of the world Africa being the centre painted in black."
This World AIDS Cake was made by Anne Heap from Pink Cake Box located in New Jersey, USA.
Since the age of six, Anne Heap has had a love for baking that was first inspired by her mother. Now more than thirty years later, she runs Pink Cake Box, a specialty cake boutique in Denville, NJ. A graduate of Boston College, Anne left her career in Advertising in 2004, to pursue one in Pastry Arts. After graduating from The French Culinary Institute and apprenticing with Ron Ben-Israel cakes in New York City, Anne founded Pink Cake Box in October 2005.
Anne is known for her versatility of style, ranging from classic wedding cakes, to bright and whimsical topsy turvy cakes, to complicated sculpted cakes. Anne's work as been featured in countless blogs, magazines, newspapers, and television including the Food Network, TLC, WeTV, Bravo, Rachel Ray and CNN. In addition, she has been teaching her decorating techniques for the past ten years, in private, group and online classes.
"Fun Fact" : Anne began her college career as a chemistry pre-med major at Boston College