I am Karen Williams, the author of
BeTeamRed – Inspire and Act to Create Change
BeTeamRed is a collaboration of 200 sugar artists from around the world focusing on World AIDS Day. The collaboration launches on December 1st, i.e. World AIDS Day. As part of the countdown to the launch, for the past few days I have been interviewing sugar artists who are new to collaborations and I wanted to share my story since this is my first collaboration.
To tell you a little about myself. I first started decorating cakes with my mother. She enjoyed decorating cakes and when I was a teenager, I used to help her. I'm not a professional, but I make cakes regularly for family and friends. I've made everything from a chocolate grooms cake that weighed around 50 pounds to a two-sided cake with one side that was an Atlanta Zoo Cake featuring Touché Turtle and the other side a Doctor Who and Star Wars cake. When I'm not baking, I'm busy blogging. I'm a big fan of Disney, Star Wars, Doctor Who, Star Trek, Superman, and Batman. This pop culture cake blog allows me to combine these two passions. I'm happily married and have two kids who are growing up way too quickly. I volunteer with my son's Boy Scout Troop and as a Taekwondo instructor. This is my first cake collaboration and I am honored to be a part of it.
The inspiration for my piece. My husband used to work as a computer database support person for the people gathering data on the number of deaths caused by AIDS all over the world. I wanted to do something with the theme that people from all over the world need to band together and help to find a cure for AIDS. We should all respond to victims of AIDS with love and compassion. I chose to represent the people of the world with a world globe and hands from all different nationalities and ethnic backgrounds. AIDS has spread throughout the world and people from all over the world can be involved in helping to find a cure and show compassion and love to the victims of AIDS.
One of the challenges that I faced with participating in my first collaboration was figuring out what to do and which medium to use. Once I decided on my theme of Helping Hands and Loving Hearts, I had to choose my medium. I first had to decide whether to do a cake, or cookie, or chocolate sculpture, or cupcakes, or cake pops. I finally decided on cookies. It has been a pleasure to be part of this collaboration and I want to say a big Thank You to Zawadi for inviting me. It is great to be a part of a collaboration in addition to publicizing it.
Here's the top heart surrounded by two hearts.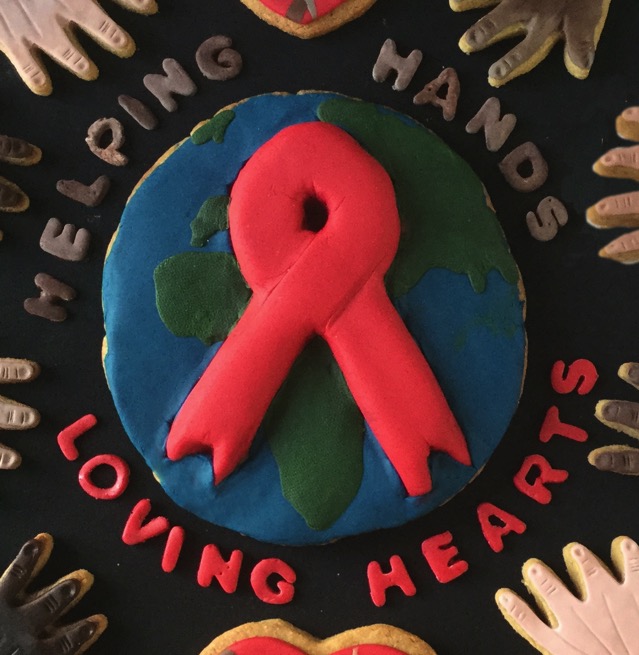 Here's a view of the world with the words Helping Hands and Loving Hearts.
Here's the heart at the bottom with two hands on either side.
Please click on the links below to contribute to The Global Fund to support their war on HIV/AIDS, TB, and Malaria in countries in need.
GoFundMe: https://www.gofundme.com/beteamred
BonfireFund T Shirts: https://www.bonfirefunds.com/unsa-beteamred