This Mother and her Bady cake was made by Mayer Rosales from mayer's cakes in Madrid, Spain.
BeTeamRed – Inspire and Act to Create Change
BeTeamRed is a collaboration of 200 sugar artists from around the world focusing on World AIDS Day.  This is one post of a series of posts that feature edible creations of cakes and cookies for December 1st, i.e. World AIDS Day.
Please click on the links below to contribute to The Global Fund to support their war on HIV/AIDS , TB, and Malaria in countries in need. 
You can also purchase  UN Sugar Art Magazine  and  the UN Sugar Art Tutorial Booklet to support The Global Fund.
Made by Mayer Rosales from Mayer's cakes in Madrid, Spain.
Mayer was born in the caribbean country of Venezuela and was raised surrounded by nature thanks to her father that runs an agriculture business. When she finished her BA in Advertising she moved to Spain where she met her husband, and together they started a family. To celebrate her daughter's first birthday she decided to make a fondant-decorated cake of her own design. She was immediatley hooked to baking and decorating and after many courses and many cakes she set up a small baking business "mayer's cakes" where she has spent the last couple of years educating herself, baking for clients and growing as a baker, always with lots of passion and dedication but focusing it as a hobby more than a livelihood.
This Mother and her Baby cake was made by Myron Guano from Antonio's kitchen in Arizona, USA.
Myron tells us about herself :
"I am based in Phoenix, Arizona USA, where I also work part-time as a Registered Nurse. Since I was in grade school I have always been exposed to the arts, since then I have always been painting on canvases using any medium available, then one day one of our closest friends who's been doing cakes for awhile encouraged me to convert all my knowledge in art into edible arts and cakes, that's how I started here in the cake world. My first cakes were for my kids then people started to like them, and then eventually started to have a small business out of it. In less than a year I got my first magazine exposure through Cake Central Magazine, then the collaboration projects came and eventually more magazine invitations from different countries follow."
"My style usually is contemporary and involves painting or drawing on fondant. Most of the time, I want my cakes to look different that's why I always get my inspiration from somewhere else than in a cake magazine."
Myron's inspiration:
"I got my inspiration from the theme, "No child will be born with HIV", the first thing that came to my mind is an image of a mother and child figure, I have done several mother and child paintings in the past but this will be the first time as a 3D figure and in sugar. I try not to get inspiration from other artist's sculptures of a mother and child because I want this to be my own, I used my own previous works as an inspiration for the techniques that I used in this piece."
This Mother and Child cake was made by Meenakshi Jamadagni from Spongy Affairs in Pune, India.
Meenakshi's cake making history:
"Hello friends, I am Meenakshi Jamadagni from city Pune, in India and I am a business baker. I have been baking & decorating for last 4 years now. An IT professional by qualification, I quit my lucrative corporate world job and pursued my passion for baking and decorating. I started my cake business as 'Spongy Affairs' in late Dec'11. My passion to deliver the best quality custom product to my clients has resulted in loyal customers who do not mind coming from far off locations to pick up their orders from my home. I also conduct different cake decoration classes from basic to advance since last 1.8 years. I love and enjoy my job to bits! "

Fun fact about myself:
"I am not sure if it's a fun fact or weird, I very rarely get bored! Yes, I can go shopping, roaming around alone and if not that, I enjoy just being myself, alone not thinking about anything, spending hours arranging things in closets until it looks the way I want and I am very particular about it!"
Meenakshi's inspiration for this collaboration:
"Being a mother myself, I realized the purest form of love is the love between a child and the mother. It's a divine blessing and a blissful feeling that is second to nothing. My heart goes out to mother child duo infected by HIV. My creation embodies my feeling that every mother and child should be free of HIV, all over the world. Only love and the right support can make that happen. Let love be free." 
"The abstract coloring on the cake indicates the grief, pain and dark struggle of their fight against HIV. My main inspiration are the mother and child figurines depicting playful love and freedom that we intent to see all over the globe."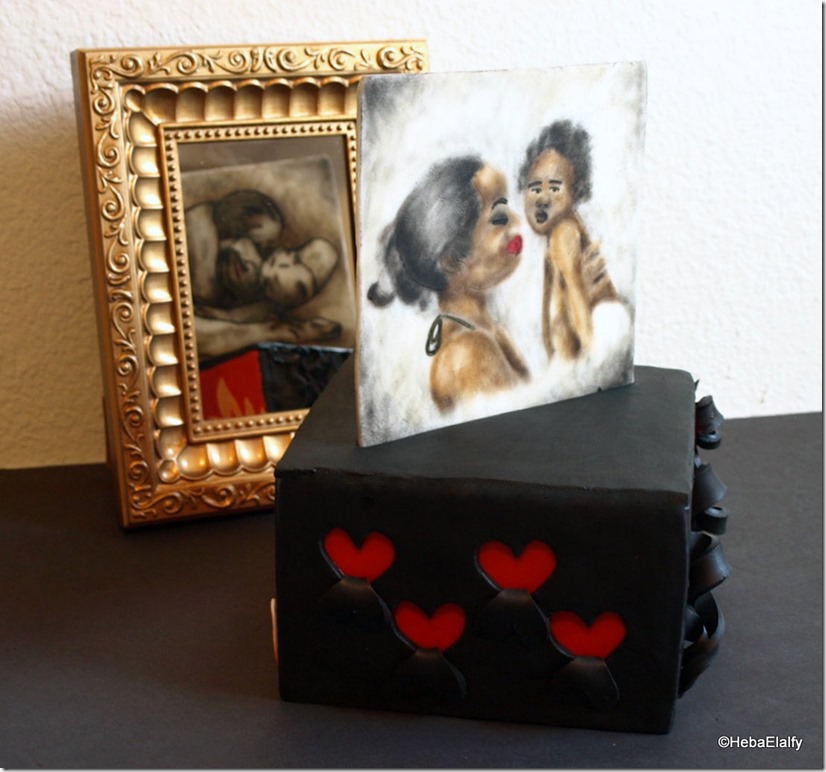 This two sided World AIDS Day Cake was made by Heba Elalfy from Sweet Dreams by Heba in Florida.
Heba's tells us about herself : 
"A few short years ago, I took my hobby for baking and decorating more seriously because of my children 🙂 Ever since then, my family and loved ones have been my greatest supporters and advisors, as well as my taste testers! I've met so many great people through Facebook who've stood by my side and who've forged true friendships with me. In more recent years, with the opportunities to partake in collaborations, especially, my skillset and comprehension in cake design, cake construction and decorating mediums has expanded quite a bit. My piece is made using Satin Ice and wafer paper and both images on the top plaque were hand dusted. Thank you for inviting me into this wonderful collaboration!"
Heba's piece : 
"Born and raised in Zambia, I saw first-hand what HIV/AIDS does to a sick person and the rippling effects on their family, and what it feels like to have this devastating disease. At the time, there were no life-saving medicines so it was a DEATH SENTENCE. Having lesions on the feet felt like one was walking on fire making it very difficult to move about. The front side of my piece depicts these feelings of pain and loss. More recently, new medicines prolong the lives of the sick and reduce the effects of the disease on a person's body, mothers with HIV/AIDS are now living more normal lives without transmitting the disease to their newborn. The back side of my piece depicts these feelings of happiness and tearing away the stigma that comes with HIV/AIDS."
Fun Fact : 
"I love to bake and decorate even when there's no special occasion. "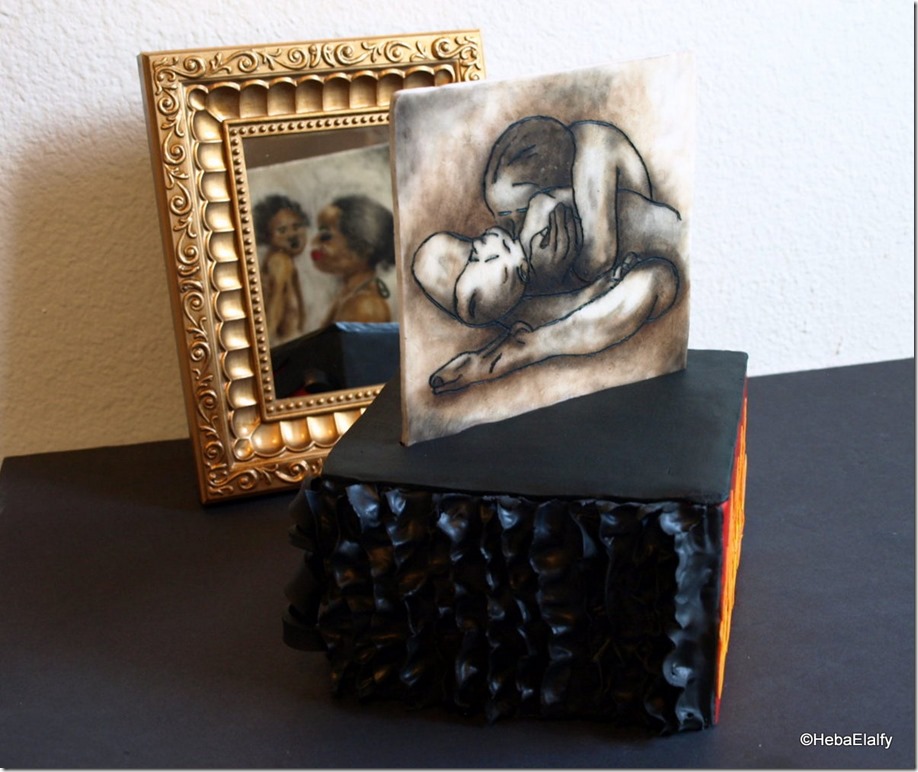 This World AIDS Day cake was made by Laura Davis from Laura Jane Cake Design in Walsall, UK.
Laura tell us about herself and her piece :
"Coming from an art background Ive always enjoyed drawing and painting portraits. Although I don't usually do this sort of style cakes, I knew straight away that it was something I wanted to do for my piece. An art project I did during school was my inspiration, where I drew similar types of emotional photographs using red biro pen. I used a photograph from the same photographer that I studied as inspiration, but wanted to change the emotion on their faces slightly, to fit better with the theme of the collaboration. As a whole I wanted the cake to be simple so the focus was on the painting"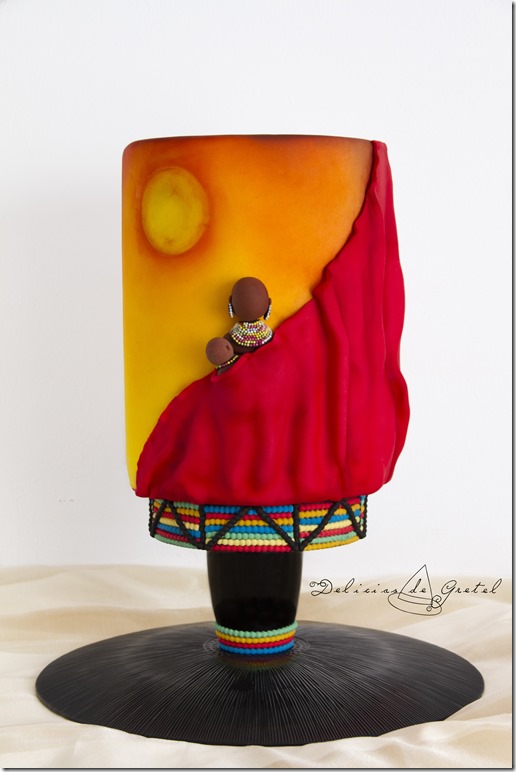 This World AIDS Day cake was made by Marta Soriano from Delicious de Gretel in Barcelona, Spain.
It all began in 2012 when Marta made her first fondant cake , for the tenth birthday of her daughter and since then has not stopped. She has continued training in creative pastry .
She has worked as a cake designer and photographer in the journal Bricoreposteria national and international edition , 2013 and 2014 .
She is a professional with over 10 years experience in analog and digital photography.  She is currently giving courses in Spain in photography and food styling .
Marta's inspiration for her piece:
"I was inspired by the Maasai mothers walking towards the horizon for a better future for their son / as future."
Delicias de Gretel
Todo empezó en 2012 cuando hizo su primera tarta de fondant, para el décimo cumpleaños de su hija y a partir de entonces no ha parado. No ha dejado de formarse en pastelería creativa. 
Ha colaborado como cake designer y fotógrafa en la revista Bricoreposteria de edición nacional e internacional, años 2013 y 2014.
Profesional con más de 10 años de experiencia en fotografía analógica y digital, actualmente está dando cursos por España de fotografía y food styling.
Descripción de la Tarta Getting to Zero
Me he inspirado en las madres Masais que caminan hacia el horizonte buscando un futuro mejor para sus hijo/as.
GRACIAS por dejarme ser miembro  en esta colaboración tan especial.
Saludos y abrazos
Marta Soriano
Delicias de Gretel