BeTeamRed – Inspire and Act to Create Change
BeTeamRed is a collaboration of 200 sugar artists from around the world focusing on World AIDS Day. This is one post of a series of posts that feature edible creations of cakes and cookies for December 1st, i.e. World AIDS Day.
Please click on the links below to contribute to The Global Fund to support their war on HIV/AIDS, TB, and Malaria in countries in need.
You can also purchase The UN Sugar Art Magazine and the UN Sugar Art Tutorial Booklet to support The Global Fund.
The World AIDS Day Cake above was made by made by Robyn Salisbury from Mad Hen Cakes.
Here's what Robyn said about her cake history:
"Like most people I fell into cake decorating by accident. All it took was a teaching colleague asking me to make a cake for her daughter and that was the start of this amazing cake journey."
"I'm self-taught and have been decorating 'seriously' for eighteen months. In June I took the plunge from making cakes as a hobby to now having a business."
"I wanted my cake design to reflect the love between a mother and her child. As a mother I would do anything to protect my child and to keep them safe and healthy."
Fun fact:
"My mum and dad are confused as to where this baking and creative talent has come from."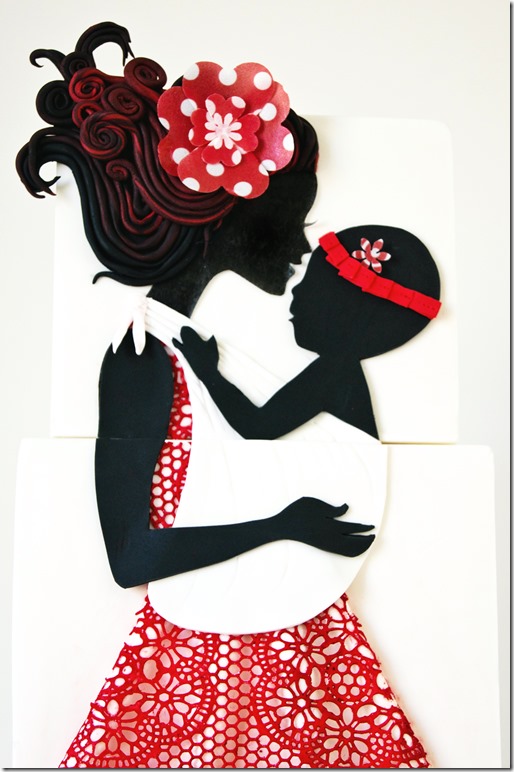 This World AIDS Day cake was made by Samantha Smith from The Hobby Baker.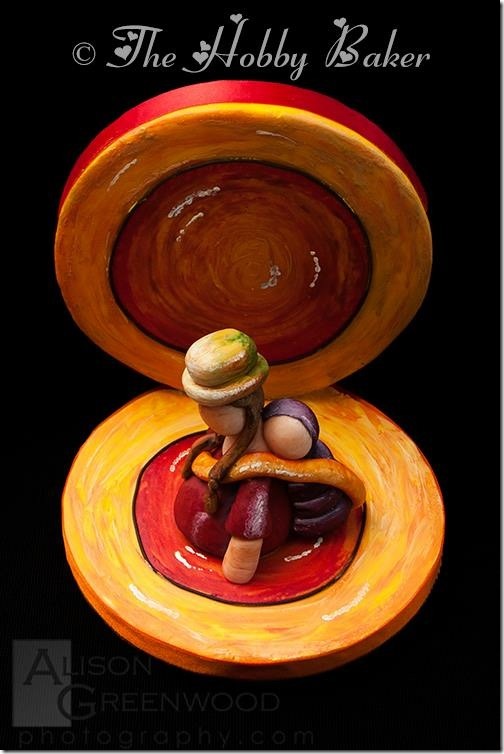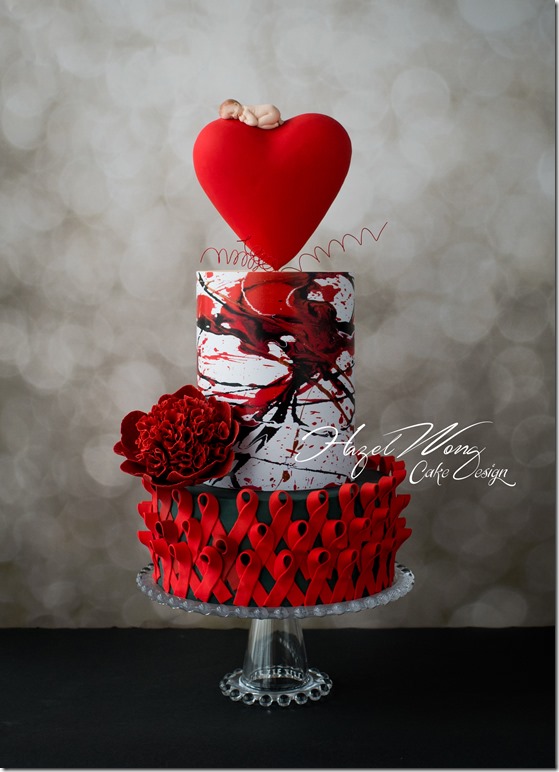 This Sleeping Baby Cake was made by Hazel Wong from Hazel Wong Cake Design in Singapore.
Hazel Wong is a cake artist and Satin Ice Artist of Excellence based in Singapore. Her unique creations are often inspired by her bounteous experience in the TV and movie industry. Always bold in colors, the cakes she creates often exhibit an abstract art element. Hazel strives constantly to explore new techniques and adapt her creativity through the art of decorating. Her cake creation is a symphony of perfect design, colors and embellishment.
Her works have been featured in Cake Masters, Cake Central, Cake France Design Magazine, Cake Craft Decoration, American Cake Decorating, Australia CAKE!, DIY Weddings Magazine, Pasteles de ensueño Spanish Magazine and other multiple online accolades.
To learn more about Hazel and her cakes, check out Hazel Wong Cake Design.
This Mother Daughter Cake was made by Renay Presley Zamora from Sweetface Cakes in Tennessee.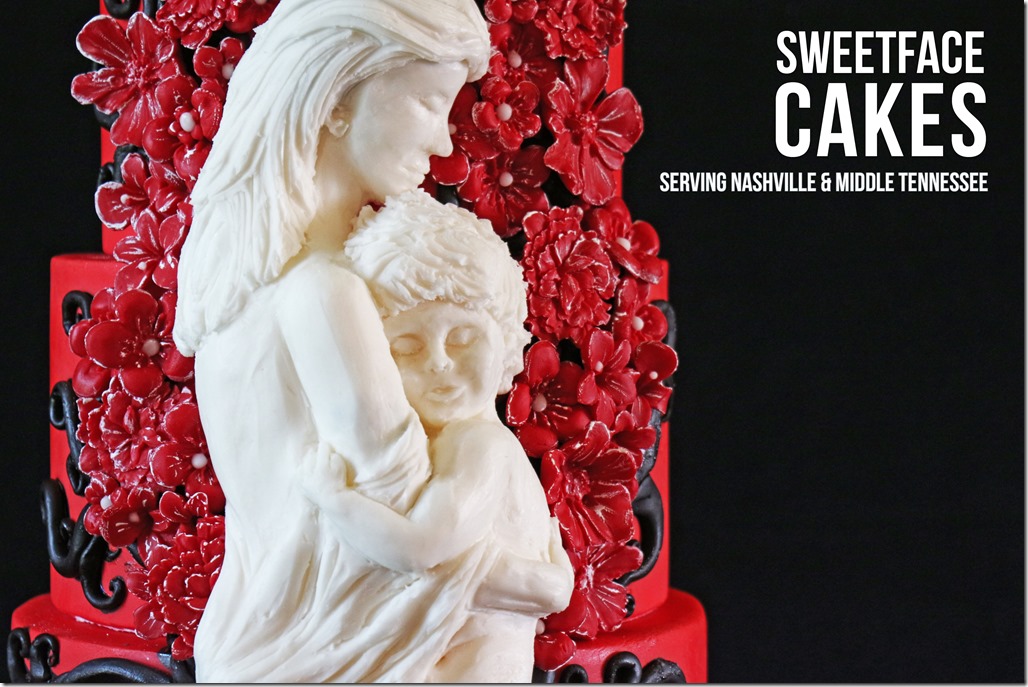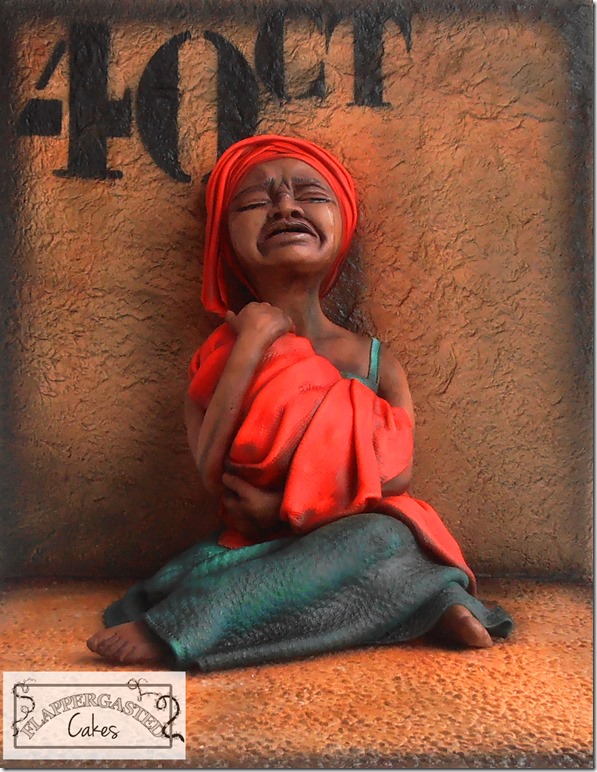 This World AIDS Day cake was made by Nathasja Flapper from Flappergasted Cakes in Heerhugowaard, Netherlands.
Here is Nathasja's description of her cake:
"This is Katura. A young woman who's world is collapsing all around her. Her child in her arms died, because she could not get medication. Medication that now costs around 40 cents per day. That 40 cents could have saved her baby, just some lousy 40 cents. Imagine what she must feel."
"I aimed my piece towards the deaths of children because of AIDS. Medications are very cheap these days. For US it is, not for them, not for the babies and their moms that are suffering from AIDS. A lot of these women don't have the money, or resourses are simply too far away."
"To make more contrast: We each spend between 1 and 10 dollars per day on just coffee, to keep us awake or just because of the habit or break during shopping. This is not right, medications are cheap and available, and still those mothers have to lose their children because they can't get their hands on these meds. This needs to change."
Nathasja's description of her cake history:
"I am Nathasja Flapper from Flabbergasted Cakes. I live in the Netherlands and am home based, I make cakes and give workshops in advanced cake decorating. My specialty is 3D cakes, realism, figurines, animals in cake or toppers."
"Im in business since april 2015, but already made cakes in 2014 for friends and family. I started somewhere end 2012/begin 2013, just tried it a few times and gave up, then tried some more and got the hang of it. Since then, it could not get crazy enough and soon I mostly did 3D cakes. I gave my first and second workshop in August this year. I love collaborations and competitions because they really allow me to do what I love, I can get as crazy as I want, without any restrictions, it really does bring up the real artist in me ;)"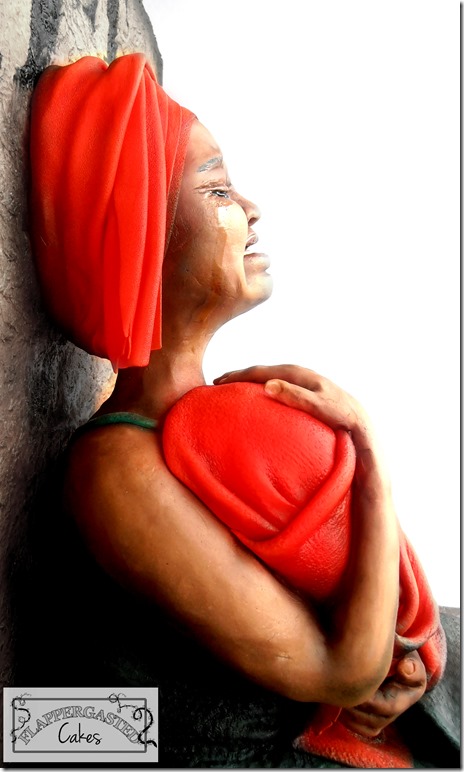 This World AIDS Day cake was made by Marissa Sagun from Sophie's Sweet Shop in California.
Marissa's description of her cake history and some about herself:
"I am a native of beautiful Southern California. I started making cakes in 2010 simply for fun and have always loved watching baking shows! Watching artists create fondant style cakes seemed to be the coolest thing ever! At first I simply wanted to challenge myself to see if I was capable of making a cake. And when I did make my first fondant cake for my mother I realized that I was on to something. Cakes are currently a part time passion. When I'm not baking cakes I do have a regular 9 to 5 office job where I work as a Website Coordinator for my company's IT Support Team. I love to spend my weekends reading, hanging out with family & friends, listening to great music and also watching movies. Sounds simple, I know, but I've got to admit that it doesn't take much to make me happy!"
"I am such a big foodie person! I have made it my mission to try as many different ethnic foods as possible. It's my way of exploring the world and experiencing cultures without having to get on an airplane."
Marissa's description of the inspiration of her cake:
"A lot of different inspirations came to mind when creating my design piece. The tree for me represents life, history, and growth. The ribbons as the leaves represents the unity in our stand against this terrible disease. The globe representing the world and how HIV/AIDS has no barriers or color lines and how we have come together in this fight. Lasty, it's topped with a heart of hope. Hope for a cure, hope for the end of this terrible disease, and a hope of generations born free of HIV."